Highlights of driving up through the Red Centre
See plenty of wildlife along this route also like Crocodiles (top third of Australia); emus, kangaroos, wallabies, vast range of birdlife and maybe even a camel
Learn about Aboriginal Culture, particularly in some of the well set up centres both around Uluru-Kata Tjuta and Kakadu National Parks
Explore the wetlands in the Top End
You'll see a number of commercial camps, low cost camps and free rest areas that allow overnight camping
Best travelled in the Dry Season (May to September)
Minimum time frame of 14 days; many of our retired clients take 28 days or longer
For more exciting details about this travel route, grab yourself a drink, sit back
and relax while you watch this 8 minute video giving you more insight about the route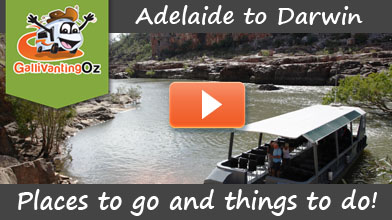 The sealed road between Adelaide and Darwin is perfect to travel by motorhome hire in Australia – so much to see and do!  If you are interested in the outback and a more remote experience, while getting to see some of Australia's iconic attractions you'll enjoy this.
It's roughly a 3,500 km trip from Adelaide to Darwin, visiting iconic Uluru and it really doesn't matter which direction you travel.  The time of year you travel is important though.
Heading north:
Enjoy Adelaide in style with wineries and gourmet food
Heading north up the Stuart Highway experience Coober Pedy. This is where they mine for opals and famous for its underground houses.  We recommend the Old Times Mine Tour – gives you a good taste of what life was like underground and also the mining aspect
Allow at least a week around the middle as there is a lot to see. The turn off to Uluru is about 300km south of Alice Springs, with a further 203km to see Uluru.  Nearby you have Kata Tjuta (the Olgas), which is also accessible by a sealed road.  There is an entrance fee into the National Park to see both of these
Make sure you visit Kings Canyon – we recommend getting up early and enjoying the rim walk.  Very rewarding and picturesque – aim to be walking by sunrise
Don't forget about visiting both the west and east MacDonnell Ranges. There's a number of national park camping and walks to see stunning land formations including gorges, canyons and gaps, plus some places to swim
Enjoy the culture around Alice Springs with this also being a good place to pick up some Aboriginal Art
Continuing north, you can stretch your legs at the Devil's Marbles – you'll also continue to see a number of rest areas that allow overnight camping
For a fun night, stop at the popular outback put at Daly Waters with an adjacent campground
Relax in the thermal springs at Mataranka – there's two separate springs, enjoy both at no cost
For those looking to spend a night at a working cattle station, there is camping available at Mt Bundy Station at the Adelaide River
World Heritage Kakadu NP is a must see  with its contrasting scenery of tropical and lush in some places and red and rocky in others, great opportunity to learn more about the Aboriginal culture ( there is an entrance fee to the park), plus both commercial camps and national park style camping available
One of our favourite national parks is on the other side of the Stuart Highway and is the beautiful Litchfield National Park.  Lots to see plus swimming opportunities in the dry season.  There are some 4WD tracks in this park, however plenty is accessible via 2WD too
Explore the wetlands
Enjoy a thousand star accommodation – stunning freedom camps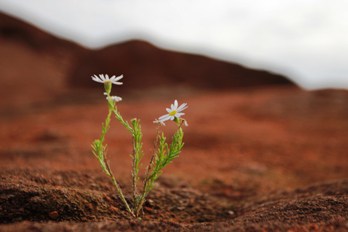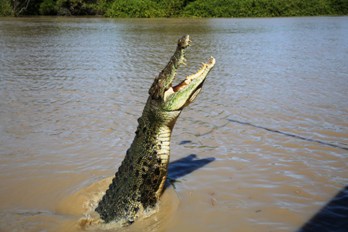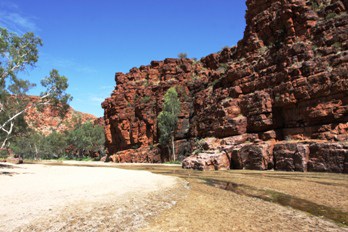 What Else?
As you'll be travelling in the northern third of Australia, it's important to understand the seasons and best time to experience.  This area is best visited in what is known as the 'dry season' which is roughly May to September, and through the winter months
The wet season, which is predominantly summer, is much hotter, more humid and there are some roads in the northern third of the country which may become impassable.  The main highway around Australia is usually open, but there can be times where it can be cut for a few days – so flexibility is very important if you do decide to travel outside of the season
 You'll find while in the centre of Australia,that it will be cool at night time, but the day time temperatures are much more bearable.  Pack a jacket
 We'd recommend a minimum of 14 days for this trip, but most of our retired clients take a minimum of 21 – 28 days to experience this route.  Some also include this iconic route as part of a circuit via Broome, Perth and back to Adelaide – most commonly allowing about 3 months for something like that
To experience this route, you can pick up your camper in Adelaide or Darwin; or for those with less time available, we also have depots in Alice Springs
You'll find helpful information centres along your route, and generally there is no need to book campsites in advance – except around Darwin.  Darwin can be very busy in the Dry season, so great even if you can book a few days ahead to avoid disappointment
There is plenty of freedom camping, which is free and low cost camping along this route. Some days there will be longer km's that you need to drive, and you'll see a number of rest areas that allow overnight parking – perfect while you're travelling in a self-contained camper.  Often with these, you'll see an area 'in behind' the rest area where you can be further away from the highway
 The Stuart Highway is a two lane sealed highway and while it does go through very remote parts of Australia you will see Roadhouses which is where you can get your fuel, basic grocery items and some also have an adjacent campground, if you preferred powered sites
During some sections there will be longer distances between the road houses and where you can get fuel, however there is no need to carry extra fuel inside your vehicle when travelling this sealed road.
Refer to the Camps Australia Wide Guide book for locations for freedom camps which can be purchased for AU$65 from us, or you can purchase along your route at some information centres, book or camping stores.  You can also purchase an app called 'Wiki Camps' if you use a smart phone or tablet, plus the information centres en-route are a gold mine for local information
On 1 September 2017, a Banned Drinkers Register began operation in the NT, in an effort to restrict access to alcohol for problem drinkers and make local communities safer.  What does this mean for you? When buying takeaway alcohol, you will be required to produce approved photo ID (primarily a drivers licence or passport) which will be scanned, triggering either a green or red light to indicate to the trader whether they may sell you alcohol.  No personal details are retained.  If you would like any further information on this, jump online and check out at  www.BannedDrinkerRegister.nt.gov.au.
For a personalised information pack for this travel route drop us an email or call us on +61 7 3314 1518 (Australia) or +64 3 547 3003 (New Zealand) and we can provide you with rates and vehicle options.
We have a wide range of vehicle options to suit your travel needs and you don't pay any extra to deal with us and you will benefit from our one to one customer service, experience and greater variety of vehicle options.