Camps Wide Australia Guide – what's it all about!
Camps Australia Wide is one of Australia's most comprehensive guide on where to find free and low cost camping including unique out of the way camp sites throughout Australia.
This comprehensive guide features nearly 4,000 sites, full colour and informative symbols that depict the facilities at each campsite. These show facilities such as toilets, maximum rigs, maximum stay allowed, dump point (where you empty your toilet and waste water), if pets are allowed, any fees applicable, mobile phone coverage and site access details.
Did you know that you can't just park up where you feel like it to camp overnight?
It is a really useful book to have and is incredibly informative and has even gone to the lengths of checking 'Freedom Camps' are legitimate and that they are approved for camping!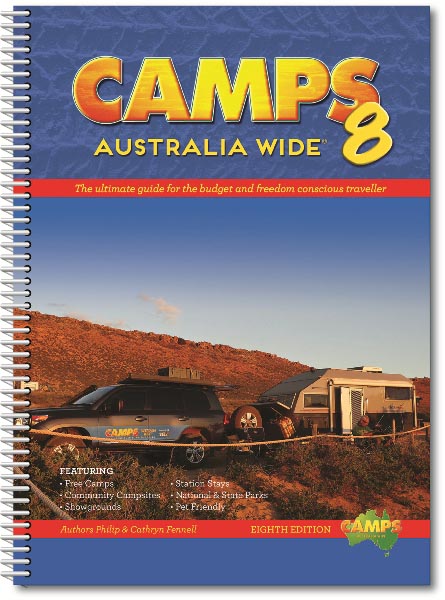 This book is great value for money and you'll find that after just a few nights of camping the savings you make will outweigh the cost of the book, and the time it saves is priceless!
Being able to plan a trip with stopovers that are free or low cost, knowing if pets are welcome and seeing facility availability at a glance, has proven to be a hit with travellers across Australia. It's easy to see why the Camps Australia Wide Guides are regarded as the travellers bible.
If you book a select Maui motorhome through us for a period of 21 days or more, you'll receive this informative book for FREE!
However, if you are still interested in getting your hands on the Camps Australia Wide Guide without a Maui hire, then Gallivanting Oz clients can grab a copy for just AU$65 including postage to Australia or New Zealand. For other countries, we can arrange for it to be waiting for you when you collect your vehicle at the depot.
For those that prefer an online version, this is possible through Camps Australia Wide Guides too, which saves the weight of carrying the book.
There is also another popular app for those who don't need a physical map book in front of them called Wiki Camps. The app, which is purchased for a small fee, also has reviews from other travellers which ensure the information is kept current with any changes due to the season or access to roads.
For the team at Gallivanting Oz when they travel, they use a mixture of the Camps Australia Wide Guide and the Wiki Camps app (can be used offline).
Get in touch with us now if you'd like to get a hold of a copy and check out this blog post if you'd like to find out more information on Freedom Camping.