In a Premium  Motorhome!
Gallivanting Oz provide two types of organised tours Escorted Tours and Customised Tours that will help make your time in Australia an experience to remember and completely hassle free.
Escorted Motorhome Tours
Your tour of Australia is escorted by members of our team and include a premium motorhome with the highest level of insurance,  all campground fees, entrance fees into many must see attractions a great range of specialised day tours, boat cruises and cultural experiences. Even the odd evening meal is provided!
These tours aim to provide you with a great mix of adventure, the outdoors, sightseeing, relaxing and socialising and are perfect for both first time motorhomers and more experienced travellers who enjoy the camaraderie of group travel.

During the day you are free to explore on your own, in small groups or you're welcome to hang on to our exhaust pipe, it's up to you!  
We'll make sure you know how to find the areas and activities that are matched with your interests.
Every evening the group catch up at the night's destination and share tales of the days adventure at 'happy hour' which could be around the camp fire, or overlooking a beautiful vista.
We get fabulous feedback on our tours – you'll find even on the longer days of driving that the tour leaders will have something up their sleeve keep it fun.
While this is a guided tour, you're encouraged to stop and do your own thing, or with others in the group, as we meander along to take pictures or make that all important stop for a cuppa.

Customised Tours
Are you a group of three or more motorhomes and like the idea of securing great rates on motorhomes as well as receiving a customised route which has many inclusions for you to choose from? Then these tours are for you!
Gallivanting Oz will work closely with you to put together a detailed and customised tour for you that will come with detailed notes to ensure you do not miss anything and you won't need to worry about planning everything before you leave home.
We will work with you and listen to what ideas you have and we'll help you create and plan your perfect trip across Australia.
You can decide how much or how little you need us to do for you, such as we can advise the best campgrounds to stay at or we can even go as far as booking them for you to take away the stress of securing the dates you need.
We can also include entrance fees into many attractions (important as activities can book out quickly on some tour routes) and ensure that you are receiving the most up to date information on these attractions.
Your customised tour could include a premium motorhome with the highest level of insurance for ease of mind, or varying range of motorhomes, depending on your groups needs and motorhome availability.
Booking a customised tour, you'll benefit from our years of experience of travelling in Australia and can offer guidance on the best times of year to visit, which tour might suit you and your group best depending on your interests and so much more information, advice and travel tips best suited to your chosen route.
Our customised tours suit those who enjoy the companionship of group travel yet don't feel the need for an experienced guide on the road, but are provided with detailed information and guidance that you feel confident to explore with your group knowing that the hassle of planning has been taken care of for you.
As our customised tours are exactly that, customised, we will walk you through the process and provide you with a 'cost upon application' for these tours.
Escorted Motorhome Tours 2019
Customised Tours 2019
Here's an online video of one of our recent escorted tours from Perth to Darwin.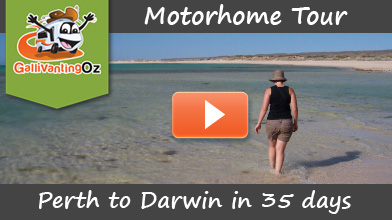 Benefits of touring Australia with Gallivanting Oz
The benefits of going on an organised tour of Australia with us are:
We've done all the work. Planning a trip like this takes a lot of time and if you are unfamiliar with road and weather conditions, you'll find an organised tour takes the stress out of this planning.
GPS car navigation units make for easy driving and UHF radios to keep in contact with your travel mates – all tours are supplied with a GPS navigator, walkie talkie and travel notes.
It eases any concerns about the safety when travelling on your own
Meeting likeminded people – enjoy the company of new and interesting people
Enjoy a no hassle holiday that doesn't require planning prior to departure
Benefit from our knowledgeable and experienced team and tour leaders
We believe in making sure the 'in-between bits' are as memorable as the 'must sees'
If you want to explore the beautiful countryside of Australia, but your friends aren't interested in joining your adventure, then the beauty of an organised tour is that you will be doing it with your 'mates'- you just haven't met them yet!
All you need to do is come along and enjoy one of our adventures. It is 'easy peasy' driving.
Come and join us for an amazing array of other experiences including life on an outback station, remote pubs and the local characters.  We visit national parks such as Kakadu NP where we include a boat cruise and all the 'must sees' for your particular route.  After your tour, you will be able to sit proudly in any Aussie pub or around a camp fire telling stories just like a local.
Avoid the disappointment of missing out as we restrict numbers on these tours to ensure the best experience for you and spaces fill up quickly.
If you would like to Tour Australia call +61 7 3314 1518 or 0410 388 933 or email us now to see how we can help you create the adventure of a lifetime and plan your scenic tour of Australia.