If you are planning a motorhome hire from Hobart, Tasmania and it happens to be late October or early November this year, there's a treat waiting for you in Deloraine.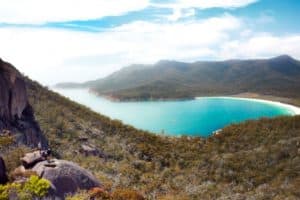 Nestled between Launceston and Devonport, picturesque Deloraine hold their annual craft fair (1st to 4th November 2019) bringing together an amazing array of talented artist and craftspeople.
From humble beginnings in 1980, the Tasmanian Craft Fair has risen to become the largest arts and crafts display in Australia – an event where there is really something for everyone.  With such easy access in your motorhome hire from Hobart, it would be great to add to your itinerary if you are travelling around Tasmania at this time.  For more information visit the Tasmanian Craft Fair

Visiting the annual Tasmanian Craft Fair, can form part of a longer campervan or motorhome hire in Tasmania, such as the experience to indulge in some of Australia's most spectacular mountains, delve into convict history, wander the white sands of Wineglass Bay and spoil yourself with seafood banquets fresh from the ocean. Tasmania's quality food and wine also attracts foodies from all over the world, and for good reason.
You can find anything from high-end restaurants, to local eateries to farmers markets which gives you the opportunity to try first-hand some of the best and freshest produce.  And not forgetting – Tasmania has an international reputation for some of Australia's premium wineries, breweries and distilleries.   That's one of the great advantages of travelling around Tasmania in a motorhome hire – being able to use your on-board kitchen to prepare the freshest ingredients straight from the farm gate.  And with so many fabulous locations to park up your motorhome while travelling around Tasmania, you can enjoy million-dollar views at the same time!
Are you thinking about motorhome or campervan hire in Tasmania but aren't sure which option is right for you?  It doesn't matter if it's your first trip, or you are a seasoned traveller, it's easy to become quickly overwhelmed with all the choices in the market. But don't worry, we can make it easy for you.

Talk to the team at Gallivanting Oz who are the experts in campervan hire Tasmania – well all of Australia for that matter. It costs you nothing extra to chat with us and a chance to benefit from our many years combined industry experience. At Gallivanting Oz, we use a range of suppliers to ensure we match the best motorhome and campervan hire to your needs.  We happily share our experience so you can have the best possible trip.
Get in touch if you would like to learn more about campervan rental in Australia by emailing [email protected] or completing our easy to use quote form.