Highlights of the Great Ocean Road and beyond
Experience one of the world's most scenic drives, The Great Ocean Road.  This is Australian National Heritage listed and is 243 kilometers stretch of road at the Melbourne end of the coastal stretch between these two interesting cities.

Discover the Grampians National Park and enjoy walks and the opportunity to spot kangaroos and koalas

It is home to the biggest collection of Koori rock art in the state, and is well known for its wildflowers, striking rock formations, 200 species of bird life, panoramic lookouts and well maintained network of many walking tracks
Enjoy world renowned wine regions for the Barossa Valley (near Adelaide) or the Yarra Valley (near Melbourne)
Explore the stunning Great Ocean Road and beyond where you'll see the huge rolling waves that have carved spectacular shapes into the limestone cliffs.  If you have time, explore more than just the 'Great Ocean Road' section as the rest is still spectacular but also has less people usually.
Pop out to Cape Otway National Park (sealed side road to a light house) for an opportunity to see koalas in the wild

There are a number of freedom camping (free or low cost camping) as well as commercial camps along this route. The Great Ocean Road Section does not allow free camping. Book ahead campsites when travelling on the Great Ocean Road section in particular during peak holiday periods
For more exciting details about this travel route, grab yourself a drink, sit back
and relax while you watch this 10 minute video giving you more insight about the route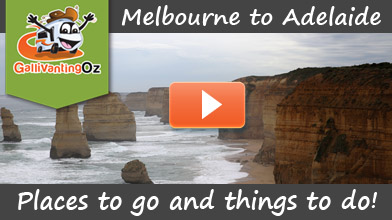 The spectacular drive from Adelaide to Melbourne (or vice versa) is a very popular area to explore in a camper.  For some, it's all about the Great Ocean Road, however once you start driving, you'll realise there is far more than this stunning iconic drive to explore. Many find it best travelling from Melbourne to Adelaide as you'll have the coast on your side of the road.
You can either travel along the coast or head inland to some spectacular and interesting national parks set in the remnants of a volcanic area leaving lakes and caves to explore.  It's not just about the stunning views and walks, there are also world class wineries and gourmet food to indulge in. If you travel from Melbourne to Adelaide you'll have the coast
Heading west along coast to Adelaide:
Experience the cultural and vibrant city of Melbourne with its lane-ways, shopping, fantastic restaurants or enjoy the historic Victorian Markets amongst other highlights
Heading to the Great Ocean Road there are many places to visit. Grab an informative brochure from the Information Centre which you'll find as you are heading towards Geelong
The stunning Great Ocean Road is the first 250 km stretch of your coastal journey from Torquay to Warrnambool
Allow at least a couple of days driving the Great Ocean Road, as you'll be stopping fairly often to have a look at stunning attractions, beaches, inlets, towns and rock formations
Explore waterfalls and rainforest around Otway National Park
Pop down the sealed road to Cape Otway for a chance to see koalas in the wild and beautiful scenery. Make sure you stop in a safe place, plus there is a nice little commercial camp near the lighthouse too
Shipwreck Coast – more than 50 ships have run aground here and you'll find the 12 Apostles, Loch Ard Goge and London Bridge. Viewpoints are signposted with information boards, boardwalks and parking
If you've got time, detour on the 12 Apostles Gourmet Trail to Timboon for cheese, wine, chocolate, whiskey and ice-cream. The Apostle Whey Cheese would have to be one of our favourites
Just before approaching Warrnambool head out to the coast and visit Logans Beach for a chance to spot Southern Right whales from May to September
Tower Hill also worth a look, which is a reserve where you may spot koalas, emus and kangaroos
If you've got time, detour up to the Grampians National Park. Created from a massive upthrust you'll enjoy stunning mountains and beautiful valley falls.  There are a number of walks, national park camping and pop into the Aboriginal Cultural Centre at Halls Gap which provides more information on the rock art, culture and history from this area
Surrounding the National Park, you'll also find some wineries including a couple like Best's Winery in Great Western, which allows you to see their underground cellar which was hand dug in the 1800's. There are a few free camping options in nearby areas.  Near the north west corner of the national park you'll also find a popular olive growing area if you'd like to taste test a few local olive oils
Heading back out to the coast, you'll pass through an area of extinct volcanos with a number of attractions. If you enjoy nature, pop into Mt Eccles National Park.  Complete with a camping area you'll enjoy the walks in the park to the old lava tube, visit the Crater Lake and explore old lava canals.  Keep your eyes open for wildlife like wallabies and koalas too
Another interesting detour is out to Cape Bridgewater where you have the opportunity to see blowholes and what appears to be a fossilised forest; really it is small lava canals, but quite interesting
Picturesque Nelson marks the start of the stunning Limestone Coast, and you'll continue to be amazed by this spectacular and different coastline to what you have just been enjoying
Before popping up to Mount Gambier, head out to Port MacDonnell and Cape Northumberland for your first taste of this dramatic coast
The volcanic area of Mount Gambier will not leave you disappointed. Visiting the Crater Lake, Blue Lake is a must see, where the lake changes colour through the seasons. In town check out sink holes, some of which have been turned into gardens and even have a light display at night time
Head back out towards the coast to experience beautiful towns like Southend, Beachport and of course the pinnacle, Robe. Or you might prefer to experience the Coonawarra wine region
It's an interesting drive as you head up the coast towards Adelaide with a mixture of free and National Park camping options if you prefer to stay away from the towns with the commercial camps
Coming into Adelaide there is again so much to see and do. The Adelaide Hills are a beautiful drive with the German town of Hahndorf a must see.  Enjoy the world renowned wine regions of the Barossa, McLaren Vale and Eden Valley
It's a beautiful drive to experience the Murray River too – enjoy a cruise on the river and the camping areas
If time permits, explore the Fleurieu Peninsular, Eyre Peninsular, or for some head onto Perth via the stunning Nullarbor Plains, or head north towards Darwin to see the iconic Uluru amongst many other highlights
Along this route you'll have the opportunity to spot some of Australia's native wildlife such has kangaroos, wallabies, emus, koalas and the elusive wombat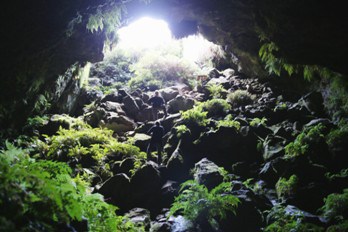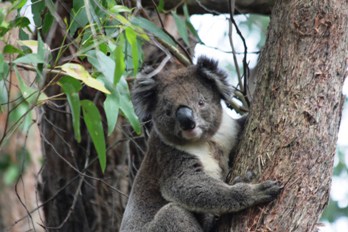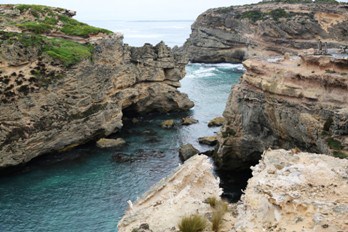 What Else?
While it's only around a 1000 km from Melbourne to Adelaide, it's easy enough to do 2,000 km by the time you do a few detours along the way
It's definitely a 7 day minimum for this route, however 10 – 14 days is more realistic if you would like a good look.  Our retired clients tend to take 14 – 21 days
Spring, Autumn and Summer are the best times to do this route with winter being quite cold.  That doesn't mean you can't travel then, just ensure you bring extra layers with you, plus you'll have the benefit of less tourists around
In this area, no matter what time of the year you travel, the weather can be quite changeable, so a good idea to pack layers for all seasons.  At times there can be quite cold winds blowing along the coast – although it could equally be hot!
Along the coast there is not much at all in the way of free camping areas, with the Great Ocean Road section not allowing this at all.  There is however, a range of low cost options and you'll find more free camping inland
A 2WD camper or motorhome is perfect for this trip, with it being a sealed road to most of the attractions en-route, even if you are getting off the main beaten path.  For those a little more adventurous, you may consider hiring a 4WD camper which will give greater flexibility to explore even more side roads, along this route
Refer to the Camps Australia Wide Guide book for locations for freedom camps which can be purchased for AU$65 from us, or you can purchase along your route at some information centres, book or camping stores.  You can also purchase an app called 'Wiki Camps' if you use a smart phone or tablet, plus the information centres en-route are a gold mine for local information
For a personalised information pack for this travel route drop us an email or call us on +61 7 3314 1518 (Australia) or +64 3 547 3003 (New Zealand) and we can provide you with rates and vehicle options.
We have a wide range of vehicle options to suit your travel needs and you don't pay any extra to deal with us and you will benefit from our one to one customer service, experience and greater variety of vehicle options.