Highlights of this inland / coastal Brisbane to Brisbane circuit
The popular coastal drive from Brisbane to Cairns will not disappoint with loads of beautiful beaches, islands and of course the Great Barrier Reef to explore
Take the time to explore around Cairns for your opportunity to spot a Cassowary, spend time in the Atherton Tablelands or head north on the sealed road up to Cape Tribulation
Enjoy the Queensland Outback and learn about life beyond the Black Stump and legends like the Min Min Lights
Experience an underground mine in Mt Isa
If you would like to see billabongs with abundant birdlife, you'll enjoy the drive from Normanton to the Karumba in the Gulf of Carpentaria
Plenty of opportunity to see wildlife like kangaroos, birdlife including emus, kookaburras and cassowaries, dingos – all in stunning locations, and maybe even a crocodile in the northern areas
Enjoy exploring a diverse range of National Parks all over Queensland and the many walks they offer
Refer to the Camps Australia Wide Guide book for locations for freedom camps which can be purchased for AU$65 from us, or you can purchase along your route at some information centres, book or camping stores.  You can also purchase an app called 'Wiki Camps' if you use a smart phone or tablet, plus the information centres en-route are a gold mine for local information.
For more exciting details about this travel route, grab yourself a drink, sit back
and relax while you watch this 10 minute video giving you more insight about the route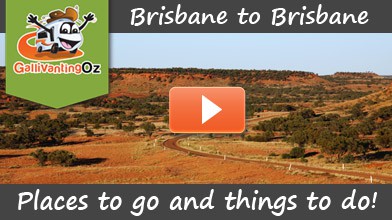 Queensland is one of the most diverse, out of all the touring routes in Australia. Experience tropical rainforests, beautiful beaches, produce, Aboriginal culture, wildlife and of course the friendly outback spirit of the locals.  For those on their first trip, this could be a great starting point as gives you a good taste of what Australia can offer.
Heading west from Brisbane:
Roma is the gateway to the Outback, it holds the largest cattle sales in Australia every week (with exception of Christmas). While Roma hosts the largest, a lot of small towns in Qld have these, if you're in town on the right day this is definitely something different to experience, or you might be lucky enough to see a local rodeo!

Along the main road through outback Queensland heading up to Longreach and beyond, you'll find the Stockmans Hall of Fame. An interesting display and tribute to Australia's outback hero's including information on bush life throughout the years.  The Qantas Founders Museum is also located here

Travelling in the Outback, you'll find many quirky things like the 'musical fence' in Winton.  Depending where where you hit the fence, you can make your own tune. The town of Winton is where Banjo Paterson wrote Australia's most well-known song Waltzing Matilda

Heading out of Winton there's a couple of ways to head towards Mt Isa. The most popular and direct route is via McKinlay which is home to the Walkabout Creek Hotel, which you'll probably remember from the original Crocodile Dundee movie. Our favourite is via Boulia to Mt Isa.  It is a sealed road, although only one lane sealed, and more remote.  We've always had memorable experiences such as the Outback pub in Middleton with its freedom camp across the road. Make sure you pop into the pub for a chat with the locals as you'll hear many eye opening stories as life in the Outback is so different to what most of us know!

It's very pretty around Mt Isa as you drive in, from whichever direction, surrounded by beautiful red ranges.  Well known for mining, and we recommend you visit the Hard Times Mine where you can experience mining life

Heading out towards Cairns you can take the main road straight out to Townsville. It's a fairly straight road passing through some interesting towns and if you've got an interest in dinosaurs and fossils, this is the way for you. Our preferred route, which is only suitable in the dry season is to head north at Cloncurry up the sealed road to Normanton, past all the magnetic termite mounds with its beautiful scenery. It is worth heading out to the Gulf of Carpentaria to Karumba as it's known for recreational fishing and a birdwatchers paradise with a beautiful drive through the wetlands to get there
Take the sealed Savannah Way to the back of Cairns
Visit the Undara Lava Tubes

It's not long before you find yourself in the Atherton Tablelands which is popular for a shorter trip from Cairns. Apart from stunning scenery including waterfalls, farmland, dairies and little towns to explore there is also a coffee plantation worth stopping at

There's quite a bit north of Cairns to visit. Northern beaches like Ellis beach and Port Douglas is popular too. Visit the Daintree River where you could join a boat tour to check out the local wildlife

Cape tribulation is also a stunning drive. There is a sealed road after taking a barge across the Daintree River, there are lots of stunning lookouts on the way.  Keep your eyes open for cassowaries too!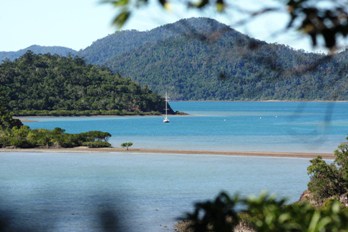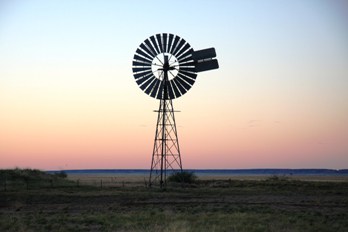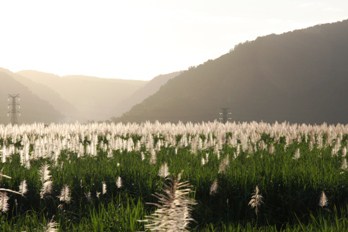 What Else?
Heading back down the coast there's more than just the world renowned highlights like the Great Barrier Reef, the Whitsundays and Fraser Island which are all highly recommended day trips.  Just driving this route is an attraction in itself really – with plenty of beautiful views
Mission Beach, a beautiful coastal village surrounded by rainforest and coastal farmland – keep your peepers peeled for a cassowary sighting
Enjoy viewpoints which look out over Hinchinbrook Island (with the best lookout near Cardwell ) on the way to Townsville
Townsville has a nice esplanade, good for a picnic and walk. Drive up Castle Hill for some amazing views over the city and out to Magnetic Island. If you have time, take a day trip out to Magnetic Island, via ferry (leave your Camper Hire on the mainland)
Bowen –snorkel at Horseshoe Bay; get some excellent views over the Whitsunday Islands from driving up Flagstaff Hill; Enjoy the murals in town and the memorabilia from the move 'Australia' which was filmed here recently
Airlie Beach, the gateway to the Whitsundays, which are stunning islands with long white beaches. Enjoy bush walks in The Conway Range behind Airlie Beach. The majority of the tours to the Whitsunday Islands leave from Shute Harbour, near Airlie Beach. You'll find markets on Saturday morning at Airlie Beach
Rockhampton spans the Tropic Of Capricorn and is the self proclaimed "beef capital" of Australia
Agnes Waters and The Town Of 1770 are a worthy detour from the Bruce Highway. Agnes Waters boast Queensland's most northern surf beach while 5kms away you'll find the laid back relaxed community of 1770
Enjoy 'the Larc' while in 1770, which is an amphibious vehicle that drives up the coastline of Bustard Bay to the isolated Bustard Head Lighthouse – the first lighthouse to be built in Queensland. Have a fantastic day, spotting an abundance of wildlife, spectacular scenery and learning about the history of the area
Bundaberg – another pretty detour off the Bruce Highway. If you visit 1770 first, take a secondary road down to Bundaberg which is a stunning drive. Bundaberg has attractions which are popular like finding out more about 'Bundy Rum' or 'Bundaberg Ginger Beer', which are both very popular drinks here in Australia. Head out to Bargara on the coast for more enjoyable scenery
Hervey Bay is one of the locations where you can take a day tour to Fraser Island. A great way, when on a limited time frame, to experience World Heritage listed Fraser Island (the largest sand island in the world) is on a 4WD day tour. You can see all the main highlights like the stunning Lake Mackenzie, enjoy a rainforest walk, see the spectacular and colourful sand dunes and even go for a couple of swims. There's a variety of different day tours available, and these can also be taken further south from Rainbow Beach if you have more time to head out to this beautiful seaside community
Noosa, at the northern end of the Sunshine Coast offers everything from boutique shopping and exquisite cuisine to picnics on the beach. Also enjoy the nearby Noosa National Park situated on Noosa's headland. It is full of great walks and wildlife
Enjoy the coastal drive from Noosa to Caloundra if you have time, through many popular seaside towns and past long golden beaches – plenty of campgrounds along this section. These can be busy during popular times like school holidays and Christmas
Glass House Mountains – these are large remnants of volcanic peaks that are quite stunning against an otherwise flat landscape and can be seen from the Bruce Highway, heading back to Brisbane
Australia Zoo, a very popular attraction made famous by Steven Irwin (aka the Crocodile Hunter)
Brisbane is also a great base to start and finish many other popular shorter and longer camper road trips. Both the Sunshine and Gold Coast, including the hinterlands are popular with those who only have a few days
For a personalised information pack for this travel route drop us an

email

or call us on +61 7 3314 1518 (Australia) or +64 3 547 3003 (New Zealand) and we can provide you with rates and vehicle options.
We have a wide range of vehicle options to suit your travel needs and you don't pay any extra to deal with us and you will benefit from our one to one customer service, experience and greater variety of vehicle options.