Highlights from Cairns to Darwin
As you're travelling in the top half of the country, this is best visited in the dry season, rather than the wet.

Enjoy the changing scenery on the sealed road from Cairns to Darwin, travelling the main highway south to Townsville, through Hughenden and Mt Isa to the Three Ways (the Three Ways is where the Barkley Highway meets the Stuart Highway)

Alternative route which offers diverse scenery is west from Cairns through the Atherton Tablelands, Undara Lava Tubes, Normanton (Karumba in Gulf of Carpentaria), south to Cloncurry and join up with the main highway to the Three Ways. Dry season only, sealed road
Another interesting alternative route is to take the remote Tablelands Highway to Cape Crawford and then back out to the Stuart Highway at Daly Waters for a fun night at the iconic outback pub. Sealed road, ensure you fill up with fuel at Barkly Homestead and Cape Crawford
You'll have the opportunity to see plenty of wildlife including emus, kangaroos, camels and crocodiles (when further north; top third of Australia)
Relax in thermal springs in Mataranka and Katherine, also enjoy the spectacular Katherine Gorge at Nitmiluk National Park
Many National Parks to explore like world heritage listed Kakadu National Park and the stunning Litchfield National Park near Darwin
Enjoy 'a thousand star' accommodation in the many beautiful freedom camps (free or low cost camping) and commercial camps along this unforgettable trip

No entry fee into QLD National Parks or NT National Parks, except Kakadu National Park (and Uluru-Kata Ujuta National Park) We recommend doing both the world heritage listed Kakadu National Park (fee) and Litchfield National Park (free entry) as they are quite different!
Video coming soon to provide you with more exciting details about this travel route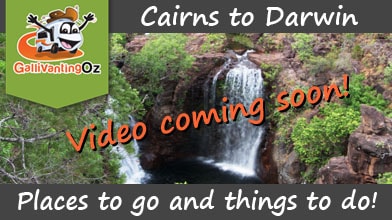 Cairns is very easy to navigate around and is the ideal starting point for many different trips. For example you could head north to Port Douglas, the Daintree and Cape Tribulation (sealed road) or you could travel west up into the Atherton Tablelands and over into the outback after visiting the Undara Lava Tubes. Don't forget about visiting the Great Barrier Reef and the Kuranda Sky Rail amongst other attractions.
There's a couple of different ways to explore the drive between Cairns and Darwin. One is to travel south from Cairns to Townsville and then drive west on the Flinders Highway towards Mt Isa. The other option is to travel through the Atherton Tablelands, pop into see the Undara Lava Tubes, and then head to Normanton. From there, a quick trip up to Karumba is a must to see the Gulf, before heading back towards Mt Isa. This second option is a dry season route, as it does see a lot of water during the wet season.
Both options meet at Cloncurry, a town a little east of Mt Isa and continue west towards an area known as the 'Threeways'. The 'Threeways' is where the Barkly Highway meets the Stuart Highway (the main road between Adelaide and Darwin).
Travelling to Cairns to Mount Isa via Townsville
If you're going to Townsville first, you may like to pop into Bingle Bay (small low cost camp); Mission Beach (range of caravan parks) and Cardwell – these are all lovely coastal towns ranging in size which make a great stop over.  The drive along the coast is picturesque with glimpses of the coast, Hinchinbrook Island, sugar cane, banana palms and a few pineapple plantations.
At Townsville enjoy the view from Castle Hill out to Magnetic Island. For those that haven't been to Magnetic Island, it's a great place for a day trip.   Turn off at Townsville, leaving the  Bruce Highway and head west along the Flinders Highway towards Charters Towers
As you leave the coast and head inland, you'll drive over the coastal range and it won't be long, until you find yourself enjoying the outback scenery. Keep an eye out for plenty of wildlife like emu's, kangaroos, cockatoos, eagles, galahs and farms with cattle and horses. You'll still see a reasonable number of trees and a couple of big river crossings, which offer freedom camping options. If you're travelling in the dry season, in may seem like the bridges are a bit of an 'overkill' for the small trickle of water, but we know in the wet, it is a totally different story and these trickles turn into raging
Charters Towers is a beautifully preserved town, complete with many restored buildings dating back to the 1880's. Enjoy wandering around the town learning about the history and looking at the murals – the visitor's centre is also a worthy visit. In addition to being friendly and knowledgeable, the visitor's centre has a short film to watch which explains more about the town's history. There's also nearby Tower Hill which offers a view over the town and surrounding history. Info boards explain more about the WWII bunkers that are all around the area. Definitely a worthy stop for any history buffs.
Hughenden and Richmond are also on the Flinders Highway with both well known for fossils and their dinosaur displays.
A detour just north of Hughenden is Porcupine Gorge which is worthy. Its a sealed road going from Hughenden – if you're in a 2WD camper you'll need to come back out the same way.  The Porcupine Gorge is known as the 'little Grand Canyon' – if you like nature and the outdoors, it's a worthy visit
The drive through the Flinders Highway does keep changing but there are a lot of long straights and flat grassy land – really feels like you are in the outback. The road is well maintained and easy to drive. There are a number of rest areas that are all well sign posted so good opportunities to stop and stretch as needed.
Travelling to Cairns to Mount Isa via Normanton
This route is only suitable in the dry season as some parts will go through flood plains
Head into the Atherton Tablelands and down the other side past the waterfalls on your way to Undara Lava Tubes.  There is a National Park Camp here and you can do guided tour of the old lava tubes which is quite interesting.  The sunset tour is also a bit of fun.
Have a stop at Innot Hot Springs on your way – there's a caravan park there; otherwise park up and pop your feet in the creek.  Nice if its a cool start to the day.
It's a nice drive on the way to Normanton – the Leichhardt Lagoon is a good place to stay (low cost camp) if you're there at the right time
Normanton is worth a stop – known as the barramundi capital of the north, maybe you'll have a chance to wet a line, or at least eat some (Barramundi is one Australia's favourite fish caught in the northern parts of Australia)
Head out through the wetlands for the opportunity to see birdlife and onto the fishing mecca town of Karumba.  It's worth the detour and the only sealed road out to the Gulf of Carpentaria
The drive down to Cloncurry is nice too – see loads of magnetic termite mounds
Travelling to Mount Isa to Darwin
The alternate routes from Cairns to Mount Isa meet up at Cloncurry.   Between Cloncurry and Mount Isa –you'll see beautiful scenery as you travel through hills of red rock and soft green tussock grass. If you time your visit earlier or later in the day, the sun seems to make the red rock even more stunning. This same scenery is all around Mt Isa, so whether you come in from the south or as we headed out towards the west, you can enjoy.
There's plenty to keep anyone entertained at Mount Isa and also a good opportunity to stock up on provisions. The popular things to do are the Underground Hard Times Mine Tour, visit the underground hospital, surface tour of a mine and the visitors centre at the 'Outback at Isa' centre.
Continue on our way to the Threeways, which is where the highway intersects the main north/south highway, the Stuart Highway.  You'll see a few rest areas and towns/road houses to stock up on fuel and maybe an ice cream too!
At the Threeways, you may like to head 20 minutes south to Tennant Creek, which is one of the larger NT towns and known for its gold mining history, Aboriginal culture, and the history with the Overland Telegraph.
Continuing north, Daly Waters is a well-known historic pub which most travellers stop at, for at least a drink, but many stay overnight in the campground. A sense of humour is a must to enjoy the pub. It is well set up for travellers with plenty of interesting things look at and to read around the walls.
Mataranka is well known for the thermal springs where many a weary traveller has relaxed after their adventures. The thermal springs are a perfect 34 degrees Celsius. There are two springs to relax in – the Rainbow Springs at the Mataranka Homestead and Bitter Springs. The Rainbow Springs are in a camping ground at the homestead and also have a few walks around the area. There are a lot of flying foxes that also enjoy the trees during the day around the springs at certain times of the year. They don't cause any problem and nice to see something different. Bitter Springs, the other thermal pool, is also worth a visit and is a little more open and does not have any flying foxes. Both are worth visiting.
Katherine is well known for the Katherine Gorge in Nitmiluk National Park. There are two areas to explore – the first is accessed by taking a sealed road behind Katherine for about 30km to the Nitmiluk Visitor's Centre. This is where you can join a variety of different cruises which take you into the gorges. Depending on your time and budget you can explore quite a number of gorges. For those with energy, you can also hire canoes here. There are also walking tracks, and a place you can cool off with a swim. It's important to only swim in the designated area, as the gorge is also a good place to spot crocodiles!
Heading north of Katherine after stocking up in town, drive to the access road to the Edith Falls. This is back into the Nitmiluk National Park, but a more northerly location. At Edith Falls there is a nice camping ground, and again places to swim. Take a walk up behind the first waterfall to another series of waterfalls for more swimming. Really is a beautiful area.
You'll want to make sure you spend time in both the Kakadu National Park and the Litchfield National Parks before having a good look around Darwin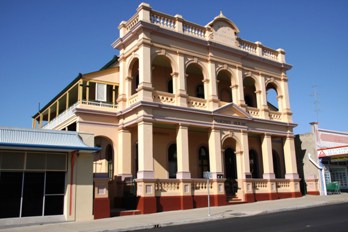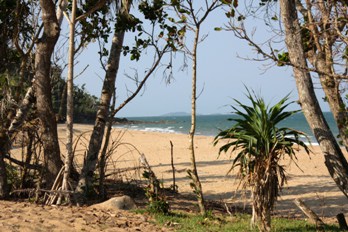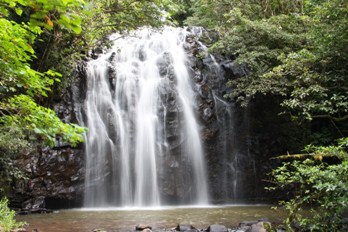 What Else?
See plenty of wildlife along this route also like Crocodiles (top third of Australia), Kangaroos, Wallabies, vast range of Birdlife including Cassowaries, Kookaburras and a range of parrots and maybe even a Dingo
A number of National Parks to explore with a range of scenery from long golden beaches in the south to the tropical rainforest in the north. You do not have to pay to enter the National Parks in Queensland or the Northern Territory except for Kakadu National Park. There is a cost for camping which can be pre-booked online or over the phone
This trip is popular as part of a circuit for those who have longer, including the outback of Queensland for a more diverse adventure
You'll see a number of commercial camps, low cost camps and free rest areas that allow overnight camping. Coastal commercial camps in popular tourist areas will be busy over school holidays, long weekends and Christmas. You'll need to pre-book during this time.
Refer to the Camps Australia Wide Guide book for locations for freedom camps which can be purchased for AU$65 from us, or you can purchase along your route at some information centres, book or camping stores.  You can also purchase an app called 'Wiki Camps' if you use a smart phone or tablet, plus the information centres en-route are a gold mine for local information.
Minimum time frame of 14 days for those in a rush; many of our retired clients take 21 days or longer
Travel in the top third of Australia is best during the Dry Season, so this trip is best May to September
On 1 September 2017, a Banned Drinkers Register began operation in the NT, in an effort to restrict access to alcohol for problem drinkers and make local communities safer.  What does this mean for you? When buying takeaway alcohol, you will be required to produce approved photo ID (primarily a drivers licence or passport) which will be scanned, triggering either a green or red light to indicate to the trader whether they may sell you alcohol.  No personal details are retained.  If you would like any further information on this, jump online and check out at  www.BannedDrinkerRegister.nt.gov.au.
For a personalised information pack for this travel route drop us an

email

or call us on +61 7 3314 1518 (Australia) or +64 3 547 3003 (New Zealand) and we can provide you with rates and vehicle options.
We have a wide range of vehicle options to suit your travel needs and you don't pay any extra to deal with us and you will benefit from our one to one customer service, experience and greater variety of vehicle options.