Highlights of the iconic Darwin to Perth road trip
Popular route for those looking to experience the Kimberley Region and drive the spectacular coastline of Western Australia with crystal clear waters. You'll love the constantly changing scenery as you drive the sealed road – gorges, beaches, canyons and outback scenery to name a few
Add a couple of day tours, right into the heart of the Kimberleys so you can enjoy the comforts of travelling in a 2WD camper
Scenic flight and land at the amazing Horizontal Waterfall, and/or explore the Bungle Bungles with the amazing beehive formations
If you're more adventurous, hire a 4WD camper to explore the seasonal Gibb River Road
Plenty of opportunity to see wildlife like Kangaroos, camels, brumbies, crocodiles, bird and marine wildlife
Visit the fringing coral reef at Ningaloo Marine Park (Exmouth and Coral Bay) to see whale sharks, humpback whales, manta rays, dolphins amongst other marine wildlife (check with us for best time to visit if this is of interest)
Western Australia is world renowned for having one of the most spectacular displays of wildflowers in the world. Time your visit from around June in the North –Nov in the South to see the brilliant blaze of colour
There are a number of National Parks (obtain a pass for WA to save on entry fees) and walking trails, along with plenty of freedom camping (free or low cost camping) and commercial camps
Doesn't matter which direction you're travelling it is more about the time of the year you're travelling
For more exciting details about this travel route, grab yourself a drink, sit back
and relax while you watch this 9 minute video giving you more insight about the route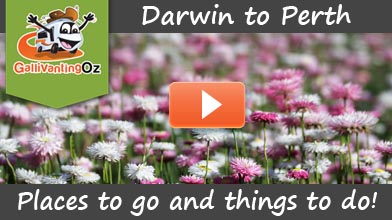 Travelling from Darwin to Perth or vice versa, is probably one of the most amazing road trips, with fabulous scenery and contrasting landscapes.
You'll see the brilliant red of the outback meeting the crystal clear waters in resort towns like Broome – in fact the entire western Australia coastline is stunning.  The dramatic landscape of the Kimberleys will leave you in awe, and the tropical lush Top End around Darwin has to be experienced. Western Australia is renowned for having one of the most spectacular displays of wildflowers in the world.  Time your visit from around June in the Top End to November in the south to see the brilliant blaze of colour.
Heading south:
Leaving Darwin the entire Top End is worth spending time – tropical and lush, red and rocky, waterfalls, walks and culture. It is worth visiting:

Kakadu National Park
Litchfield National Park
Nitmiluk National Park, where you will see Katherine Gorge and Edith Falls

Before turning west, head south to enjoy the thermal springs at Mataranka and an excellent night at the iconic outback pub at Daly waters
Heading west at Katherine towards the WA border via Gregory National Park with spectacular ranges and gorge scenery. Start to see your first taste of the boab trees. Restrictions apply for fruit and vegetables crossing the border into WA
Spend time at spectacular Lake Argyle.  A boat cruise is the best way to see the magnificent scenery and wildlife
Kununurra marks the gateway to the Kimberleys which has a good information centre if you are wanting to book any last minute day tours or scenic flights. Great scenery and opportunity for spotting wild and bird life around here
If travelling in peak time it's a good idea to book day tours in advance to avoid disappointment
The sealed highway travels through the eastern kimberleys and the way the majority of travellers go, who also add in a couple of popular day tours.  The majority of these can be taken from Broome, Derby or Kununurra, depending what you're doing
The Bungle Bungles is popular either by a 4WD day tour,or take a flight for a total different perspective of these beehive formations
Another not to be missed is a scenic flight to the Horizontal Waterfall – land and transfer to a jet boat for a thrilling ride as the water gushes out through a small opening.  Spend time experiencing the grandeur of this ancient and spectacular landscape and even try your hand at fishing.  This can be taken from Broome or Derby
By adding a couple of day tours, you can really experience the magnitude of this region, and enjoy the comfort and convenience of travelling in a 2WD camper
For those more adventurous, the Gibb River Road cuts through the middle of the Kimberly region.  This is a seasonal road, with winter being the time to experience this area.  Extra planning required if you are travelling this route
This trip does have a good mix of remoteness and the opportunity to enjoy cafes in resort towns like Broome,– where the red desert meets the white sandy beaches 
Enjoy sunset at Cable Beach and the pearling history
If time permits detouring to Karijini National Park is one of our favourite places with brilliant red and rugged landscapes, gorges, waterfalls and swimming holes
Loop from Perth along the inland highway to Port Hedland and back down the coast
Did you know, near Exmouth you can walk right off the beach to Ningaloo reef where you can snorkel amongst the coral.  At certain times of the year you can also take a cruise to see whale sharks; humpback whales; manta rays; dolphins and dugongs
See the ancient stromatolites at Hamlin on the way (oldest living organism on planet) to Monkey Mia and an opportunity to hand feed dolphins
You'll want to visit Kalbarri National Park, with gorges, lookouts, walks and striking coastal scenery
When you're getting close to Perth there's plenty to see like the Pinnacles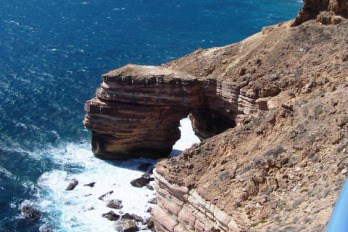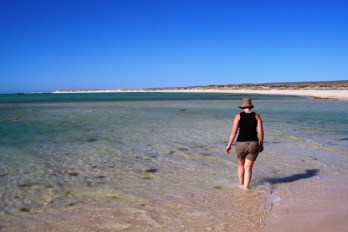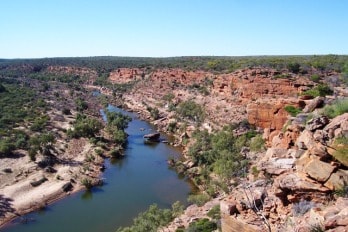 What Else?
As you'll be travelling in the northern third of Australia, it's important to understand the seasons and best time to experience.  This area is best visited in what is known as the 'dry season' which is roughly May to September, and through the winter months
The wet season, which is predominantly summer, is much hotter, more humid and there are some roads in the northern third of the country which may become impassable.  The main highway around Australia is usually open, however flexibility is very important if you do decide to travel outside of the season
It doesn't matter which direction you travel for this route – it would be more about the time of year to ensure you are at the Top End at the right time.  It is best to travel one way only, and while there is the option to pick up or drop off some of our campers in Broome, there is a remote location fee which does add to the cost.  This is a good option if you are short on time, or have already visited part of this area before
We'd suggest a minimum of 25 days for this route, however longer is better to give you a chance to really experience the area.  Many of our retired clients look at around the 5-6 week mark, some even longer
There's plenty to see south of Perth too – if you're travelling later in the season, you might like to enjoy more of the spectacular wildflower display usually from September to November in the South West
Refer to the Camps Australia Wide Guide book for locations for freedom camps which can be purchased for AU$65 from us, or you can purchase along your route at some information centres, book or camping stores.  You can also purchase an app called 'Wiki Camps' if you use a smart phone or tablet, plus the information centres en-route are a gold mine for local information.
On 1 September 2017, a Banned Drinkers Register began operation in the NT, in an effort to restrict access to alcohol for problem drinkers and make local communities safer.  What does this mean for you? When buying takeaway alcohol, you will be required to produce approved photo ID (primarily a drivers licence or passport) which will be scanned, triggering either a green or red light to indicate to the trader whether they may sell you alcohol.  No personal details are retained.  If you would like any further information on this, jump online and check out at www.BannedDrinkerRegister.nt.gov.au.
For a personalised information pack for this travel route drop us an email or call us on +61 7 3314 1518 (Australia) or +64 3 547 3003 (New Zealand) and we can provide you with rates and vehicle options.
We have a wide range of vehicle options to suit your travel needs and you don't pay any extra to deal with us and you will benefit from our one to one customer service, experience and greater variety of vehicle options.