Nullarbor highlights
Explore the beautiful Eyre Peninsular, brimming with fresh seafood, friendly locals and idyllic beaches
Spot plenty of wildlife, including the Southern Right Whales from the Bunda Cliffs as you head towards the Nullarbor (May to Sept)
You'll drive Australia's longest straight road, and you'll find the scenery is continually changing as you head towards Norseman, passing the world's longest golf course, the Nullarbor Links
Norseman represents the end of the crossing (or beginning) and is where you can make a decision to head out to the spectacular WA coastline, or continue your journey via Kalgoorlie, through the Golden Outback
Travelling south would be more popular, time permitting, with the turquoises waters framed with white beaches
Whilst in WA you do pay to enter National Parks however you can get a holiday pass which covers the majority of these.  In South Australia, you also have to pay to enter some National Parks so consider a pass for this state too, depending on your plans
Can be very hot in summer.  At times the crossing can be notoriously windy (July/Aug tend to be windier) – pack layers if travelling in winter as can also be quite cold at night time
For more exciting details about this travel route, grab yourself a drink, sit back
and relax while you watch this 8 minute video giving you more insight about the route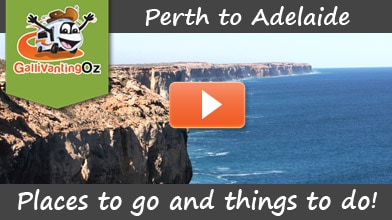 You won't be disappointed crossing the Nullarbor, driving between Adelaide and Perth with fabulous scenery and contrasting landscapes. While crossing the Nullarbor Plain is a bucket list item for many, some may be surprised to see there is far more than a 'treeless' plain to this popular trip!
Heading east:
Leaving Perth and heading east you can make your way to Kalgoorlie if you are interested in Australian mining history and then head south towards the spectacular south western Australian coastline where you'll come into Norseman and will see salt lakes fringed with the red dirt of the Outback

Heading out away from Norseman and making your way to the border you'll hook up with the coastline and experience Australia's longest straight road
There are quarantine inspections for fruit and vegetables when crossing the border from SA into WA (the quarantine point when travelling from West to East is at Ceduna; 5 hours from the border)
Continuing your drive from Border Village, you'll be surprised at how close the road is to the cliffs, with opportunities to stop at parking areas and marvel at the spectacular coastline
The word is that you're guaranteed to see Southern Right Whales from June to September
Stopping at the Head of the Bight Centre is highly recommend, especially if you are travelling May to September which is when the Southern Right Whales come in the Bight to mate and give berth.  You don't even have to go out on a boat, the viewing platforms on the coast, give the perfect view.  The scenery is amazing too!
Make sure you keep your eyes open for wildlife, which are particularly active around sunrise and sunset – best not to drive this route at night
There are roadhouses and rest areas to break up the journey along the way
Ceduna is the first big place you'll see as you start to arrive closer to Adelaide. Make sure you try the oysters here!
Just west from Adelaide, we'd recommend exploring the Eyre Peninsular, featuring beautiful beaches and delicious seafood.  The locals are super friendly and you won't be disappointed with this detour.  Make sure you allow at least 3 days, and will be cold in winter

Even if you don't have time to explore the Eyre Peninsular, you can take a road to Venus Bay, for beautiful camping right on the coast, stopping at the popular Streaky Bay too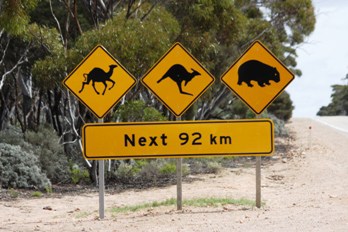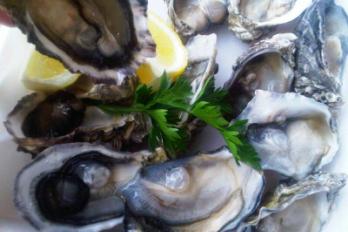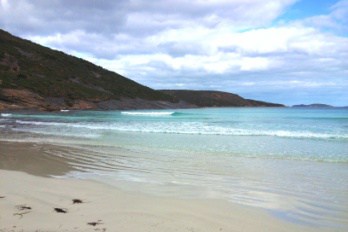 What Else?
Sealed road – perfect to travel in a 2WD camper
Time your visit from May to September to see the Southern Right Whales playing in the Great Australian Bight
It's a tough one to give the best advice on when to travel, as the weather can be quite changeable in this area, it's probably more about what you want to see and what you're doing, before and after this trip
The Nullarbor itself (about 1200km) can have fairly strong winds at times, and they can come from either direction and throughout the year
Some say, it is better to travel Perth to Adelaide direction so you don't have the sun in your eyes in the afternoon, we've never really found that to be a problem and tend to leave fairly early in the day anyway, So we don't think it really matters which direction you travel and have done both
Summer can be hot during the day, at times up to 50°C, with winter being around the 25°C mark during the day.  It cools down at night time to around 7°C in winter, and 17°C in summer
If you're interested in seeing the wildflowers once you get over to WA, then heading around late August to October works well
It's a wide sealed road across the Nullarbor, with road houses, which is where you can get fuel, and basic supplies every 200 km or so.  You'll also find numerous well set up rest areas to break up your journey (in the remote areas, expect to pay about 30% more for fuel than in the cities)
We'd suggest a minimum of 14 days for this route, however longer is better to give you a chance to really experience the area, plus it depends if you are looking to explore the southern coast of WA, and spend time around the Eyre Peninsular, or perhaps even travelling onto Melbourne
Refer to the Camps Australia Wide Guide book for locations for freedom camps which can be purchased for AU$65 from us, or you can purchase along your route at some information centres, book or camping stores.  You can also purchase an app called 'Wiki Camps' if you use a smart phone or tablet, plus the information centres en-route are a gold mine for local information
For a personalised information pack for this travel route drop us an email or call us on +61 7 3314 1518 (Australia) or +64 3 547 3003 (New Zealand) and we can provide you with rates and vehicle options.
We have a wide range of vehicle options to suit your travel needs and you don't pay any extra to deal with us and you will benefit from our one to one customer service, experience and greater variety of vehicle options.