Highlights of this scenic drive
Explore the numerous national parks, beautiful coastal towns and beaches as you travel along the coast
Discover the most eastern point of Australia; Byron Bay
Detour to Waterfall Way between Coffs Harbour and Armidale to experience the national parks, tree top walk enjoying the natural flora and fauna in this area
Travel May – September for a chance of seeing the migration of the Humpback Whales along the coastline
Enjoy the wine region of the Hunter Valley (near Newcastle) which is Australia's oldest wine region, and known for its Semillon and Shiraz varieties. The area also produces tasty cheeses and boasts some great olive farms
If you have more time, do this as a loop – travel the Pacific Highway and return via the New England Highway to experience the Highlands, country towns and more national parks
There are some freedom camping (free or low cost camping) along the coast, however on this route there are more commercial and national park camping grounds
Video coming soon to provide you with more exciting details about this travel route
There are many routes that can be explored when you travel between Brisbane and Sydney. The most common two are following the New England Highway or the Pacific Highway –the 'Inland' or 'Coastal' route. Both routes are roughly the same distance of approximately 950 kms and there are ways you can travel parts of both or meander somewhere in between for a fair amount of the time.  Either way, allow at least seven days – easy to fill in more time if you have it.
The Coastal Route from Sydney to Brisbane direction
Leaving Sydney on the Pacific Highway, you'll be in for a treat as you have the opportunity to explore numerous National Parks. You may even like to pop into one of the most well-known the Blue Mountains National Park, just west of Sydney before heading north
The highway skirts past Ku-ring-gai Chase National Park, giving you beautiful views very early on. At Gosford, you can leave the freeway, and head on the Central Coast Highway out to the coast.
The drive from Gosford, via The Entrance all the way up to Newcastle is spectacular. The Entrance is definitely worth a visit – so many pelicans, and a very picturesque coastal town. Further on, Lake Macquarie is Australia's largest permanent coastal saltwater lake, which is four times the size of Sydney Harbour.
Check out Australia's second oldest city, Newcastle, which is also near to the Hunter Valley inland, and Stockton Beach on the coast
Nelson Bay has a great mixture of calm beaches, surf beaches, wildlife and of course marine life which make it a popular holiday stopover. For those thinking of doing a whale watching tour, or perhaps are keen on seeing dolphins – this is the place to do it. You can also check out nearby Tomaree National Park
As you continue heading north, if you can take the opportunity to head away from the main highway on coastal drives.  Myall Lakes National Park is a worthy detour – there are also some lovely camping and picnic spots in Booti Boot National Park.
South West Rocks, which is roughly half way between Sydney and Brisbane is another worth detour. There's a beautiful loop out to the coast and a pretty nice campground which offers lovely views
The drive up to Nambucca Heads is pretty, and you'll probably see the oyster farms – maybe an opportunity for a taste test or two!
At Coffs Harbour, you can head along the 'Waterfall Way', which is a great detour if you have time, with a high concentration of national parks, and not surprisingly waterfalls! There are lots of opportunities to stretch the legs and also enjoy the tree top walk near Dorrigo at the Rainforest Centre.  This road meets up with the New England Highway (inland route).
Coffs Harbour is home of the Big Banana and has a lovely beach to stroll along
Coastal towns continue to impress.  Stop by Yamba and enjoy to enjoy some lovely walks and cafes,  and Evan's Head, which is fantastic for surfing, fishing and relaxing on uncrowded long sandy beaches. You might like to check out Razorback Lookout for great views – wonder if you'll see the lighthouse at Byron Bay?
In Byron Bay, it's easy to lose time relaxing in the cafes near the beach, swimming and of course exploring the headland and the lighthouse. Seeing the sunrise from the lighthouse is popular.
It's not all about the bright lights at the Gold Coast. The area is renowned for its beautiful beaches and the hinterlands. You've also got the 'fun parks', which are popular with families.
The Inland Route from Brisbane to Sydney direction
Leaving Brisbane on the New England Highway, you'll head west via Warwick close to the border of Queensland and NSW and most likely near Stanthorpe. This is a popular area for tourists to spend a few days as they enjoy the Granite Belt and local wineries. Nearby Girraween National Park is a popular location for hiking amongst the dramatic scenery of massive granite outcrops and precariously placed boulders.
Pop into Glen Innes, which is a beautiful town rich with Celtic history. In a nearby park overlooking the town, are the Standing Stones, which is a monument to the pioneering Celts of the New England Tablelands. There are 40 massive granite stones which are solar aligned and function as a clock, calendar and compass.
You've probably heard of the country music capital of Australia, Tamworth, which also has the largest country music festival in the southern hemisphere.  Have a stroll on the riverbanks and have your pic taken in front of the famous 'golden guitar' which is 12 metres tall.
This route brings you into the Upper Hunter Valley. While all of the Hunter Valley is picturesque, the Upper Hunter Valley does have its own unique charm. The best thing is to pop into one of the friendly tourist information centres for a local map of tourist drives which really show off the area. While there are some wineries in the Upper Hunter you'll also see the lush horse stud farms and historic homesteads. You might be interested in the largest sundial in the southern hemisphere in Singleton, – one of the beautiful country towns in the area
Before making your way into Sydney, it's worth checking out a cellar door or two in the Hunter Valley wine region, and also try some of the local produce at the farm gates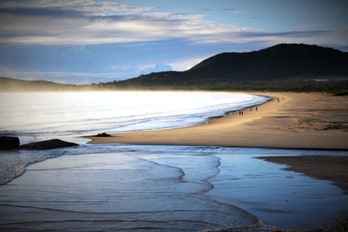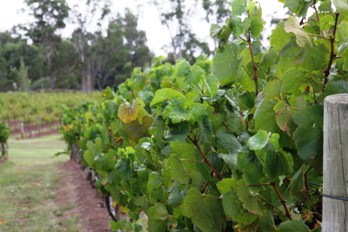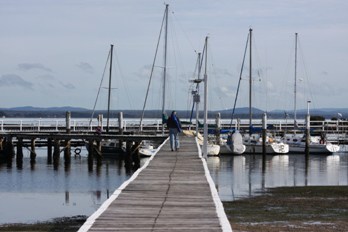 What Else?
See plenty of wildlife along this route also like  Kangaroos, Wallabies, vast range of Birdlife including  Kookaburras and a range of parrots
A number of National Parks to explore with a range of scenery from long golden beaches in the south to the rocky inland parks.
This trip is popular as part of a circuit for those who have time to travel both the inland and coastal route.  Allow a minimum of 7 days, one way
 You'll see a number of commercial camps, low cost camps and some free rest areas that allow overnight camping. Coastal commercial camps in popular tourist areas will be busy over school holidays, long weekends and Christmas. You'll need to pre-book during this time.
Minimum time frame of 7 days for those in a rush; many of our retired clients take 14 days or longer.

You can travel this route anytime, but will be cold in winter

Refer to the Camps Australia Wide Guide book for locations for freedom camps which can be purchased for AU$65 from us, or you can purchase along your route at some information centres, book or camping stores.  You can also purchase an app called 'Wiki Camps' if you use a smart phone or tablet, plus the information centres en-route are a gold mine for local information
For a personalised information pack for this travel route drop us an email or call us on +61 7 3314 1518 (Australia) or +64 3 547 3003 (New Zealand) and we can provide you with rates and vehicle options.
We have a wide range of vehicle options to suit your travel needs and you don't pay any extra to deal with us and you will benefit from our one to one customer service, experience and greater variety of vehicle options.