When to hire a 4WD or when a 2WD motorhome hire will suffice!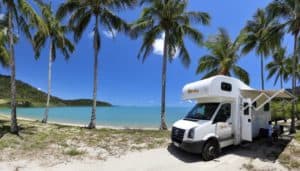 A couple of questions to ask yourself when working out whether you need a 2WD or a 4WD camper hire when exploring Australia are:
Consider where you are travelling
Consider what the holiday experience is you are looking for
For some of our clients, the decision is an easy one. If you would like the comfort and convenience of a toilet and shower in your motorhome when exploring Australia, you will be looking at a 2WD motorhome hire as there are no toilets in the 4WD campers (however you can take a portable toilet with you in the 4WD camper hire).  If you are looking for a fully contained motorhome hire then there are loads of places that can be explored.
This brings us to the ultimate question of where it is that you are wanting to explore in Australia!
Travellers sometimes wonder whether a 2WD motorhome hire will be suitable. It really comes down to the roads that you will be travelling on – if they are sealed, a 2WD motorhome hire is suitable. If they are unsealed, then we'll need to dig a little deeper.  It is possible for most 2WD motorhome hires (with a toilet and shower on board) to go up to 12 km on a well-maintained unsealed road for example to a recognised campground. The words 'well maintained' should be considered here – some unsealed roads in Australia are notorious for becoming quite corrugated.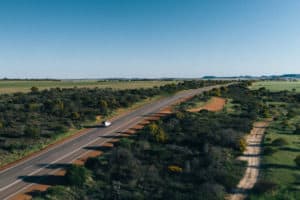 The internal fit-out of a 2WD motorhome hire is not suitable for this constant jarring and may cause damage to the motorhome, hence the restriction. The vibrations can also cause damage to the aircon pipes of the main unit in the living space also. You may also be interested to know that most motorhome hires have tracking on them for client safety.
You'll be surprised by the number of locations that now have sealed road access which is certainly increasing the locations that can be visited by travellers in a 2WD motorhome hire. An example of this is Kalbarri National Park over in Western Australia.  The amazing rock formations of Nature's Window and Z Bend used to be only accessed by a rough unsealed road.  This access road is now sealed meaning those travelling in a 2WD motorhome hire, can access.
Some areas, of course, are still only accessed by 4WD or unsealed road.  For some of our clients who do prefer the comfort and convenience of a toilet and shower, there are certainly some solutions when limited to a 2WD motorhome hire. You'll find in areas, such as when exploring the iconic route from Perth to Darwin, for example, local tour operators will take you on day trips in areas within the remote Kimberley region or Karijini National Park for example. This can end up being a great compromise and end up being around the same bottom-line cost.
Hire a 2WD motorhome hire and add in some 4WD day trips on the Darwin to Perth route
Many of our clients enjoy the features and benefits of travelling in a 2WD motorhome hire such as the creature comforts of an onboard kitchen, seating and dining areas as well as having an onboard toilet and shower which can make for a more comfortable experience in terms of the living space than the 4WD's for most travellers. There are, at time of writing, some areas which are currently not accessible in these vehicles but may want to be explored.
We would strongly suggest using a local operator and joining a day trip into these areas and calling ahead as not all tours operate daily or may be fully booked. While this area is remote, it is also very busy during the dry season.
Purnululu National Park is home of the amazing Bungle Bungle Range. You can join a range of different operators who offer 4WD day tours within the park, or you may like to opt for a helicopter flight for a different view.  There is a very rough slow track into this NP, only suitable for 4WD campers.  Day tours operate from Kununurra or the caravan park directly outside the entrance into the park.  Helicopter flights can be arranged from this caravan park also or nearby Warmun.  Fixed-wing flights can be arranged from Kununurra if you are also wanting to take in the Ord Irrigation Scheme and Lake Argyle.
Windjana Gorge and Tunnel Creek – this area is unlike anything you may have experienced before. As you explore the stunning gorge, be amazed by the number of freshwater crocodiles and explore the fascinating Tunnel Creek cave system in the beautiful Kimberley Region. Pick up a day trip from Derby and sometimes Fitzroy Crossing – doesn't operate every day so do check what will work best for you.
Cape Leveque and the Horizontal Falls – Pick up a day trip from Broome that can take you to explore this stunning area. The Horizontal Falls themselves are accessed by plane, from either Broome or Derby and does book out often quite far in advance.
Karijini National Park – this national park has some unsealed roads in it that are not suitable for a 2WD motorhome. The road has usually very rough corrugations to the west section of the park to visit the deep red gorges. Dales Gorge, in the east of the park, is accessible by a sealed road.  You can pick up a day trip from nearby Tom Price.  Enjoy a mine tour from Tom Price too while you are there
Quite often, we see with our clients when they hire a 2WD two-berth motorhome with a toilet and shower on board and factor in the cost of some of these days tours, they still end up paying less than if they had hired a 4WD camper giving them access to the unsealed roads.  Because of demand, 4WD campers are at a higher rate through the very popular winter months (May to September) which means those that only want to visit a few areas and enjoy a more comfortable motorhome are happy with their choice to join a few day trips.  They sometimes also appreciate learning more about the area from the locals as you often get chatting and are really submerged into the culture and you may sometimes find it helpful to learn how to pronounce the location names correctly!
Of course, if you are interested in really getting off the beaten track and having more flexibility and not at all worried about having an onboard toilet, then the 4WD camper is a perfect choice for you.  We have a large range of options, from roof tents, stand-alone tents to the more 'camper style' where you can sleep inside the camper. Some have more features than others, and we can certainly help you work out which one will be best for you for your big adventure. If the Gibb River Road is on your bucket list, you'll be needing to travel in a 4WD camper for this.
At the end of the day as to whether you are better off with a 4WD camper or a 2WD motorhome hire really comes down to your personal taste such as the comfort you are after and possibly the cost of the hire. Both options are great fun and give you the flexibility to explore this fabulous country.
If you are planning to explore Australia in a motorhome hire but aren't sure if you should look at a 2WD or 4WD options for your trip, get in touch with us and have a chat. If you let us know what your plans are and where you are thinking of going, we can advise you the best vehicle options for your Australian adventure!