If there is a large group of you or a family of four or more, then a 6-berth motorhome hire could be the perfect way to explore Australia.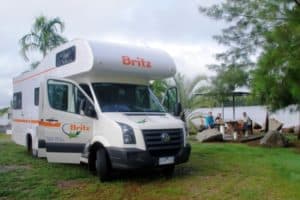 Depending on who's travelling with you, the 6 berth RV hire in Australia is the perfect hire for 3 couples who are on a budget. We also find families of four tend to lean towards a 6 berth RV hire as the extra bed configuration can offer families a little more flexibility with sleeping arrangements.
They all have seat belts for up to 6 people – this means if there are more than six people travelling, you'll need to book anther motorhome hire. It is also worth noting that some of the vehicles vary in how many and what type of child/booster seats or baby seats can be fitted. You'll see that in each of our motorhomes (regardless of size or category), it will tell you how many child or booster seats can be fitted. Please have a chat with us if you are bringing an infant under 6 months of age, as most of our motorhomes do not allow travel in their motorhomes with children this young and in a rear facing seat. We do have a couple of six berth RV hire options in Australia though. This will ensure you feel confident in finding the right 6 berth motorhome hire for you next adventure.
All 6 berth RV hire options in Australia come with a basic kitchen kit which includes items such as plates, bowls, knives, forks, spoons, bottle opener, can opener, mixing bowls, colander, saucepans, frying pans, cooking utensils, chopping board, kettle, teapot, toaster and tea towel. Electrical appliances are also supplied in these motorhomes for use when you plug into power at a caravan park.
They also come with personal linen kit of sheets, blankets or duvets, pillows, pillowcases and towels. Most also include general equipment such as pegs and clothesline, dustpan & brush, fire extinguisher, bucket, hose and broom. Pretty much all the basic essentials to ensure you have just what you need while you are out on the road.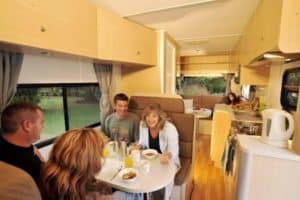 With regards to the size of a 6-berth motorhome, you'll find that generally the 4 berth and 6 berth motorhome hire (within the same brand of supplier) are of the same or similar size and layout. The main difference is that the six berth will have the extra bed option, so whether you go for a 4 berth or 6 berth hire is really down to your personal preference. Sometimes families who book a four berth motorhome with a couple of our suppliers may get lucky and have a free upgrade at time of pick up to enjoy the 6 berth at no extra cost. This is down to each depots discretion and is based on any surplus vehicles at that time and cannot be requested. It's an added bonus if that happens to you!
With regards to space, some of the 6 berths can feel a little more spacious than others and they are identified in our Vehicle Options within its respective 'Features' or 'Specification' sections. It is worth reading through these when looking for the right 6 berth motorhome as some do have more spacious bathroom layouts which some prefer. We also advise taking soft suitcases as these are easy to fold away and store for the duration of your trip.
Its not unusual for a couple to book a 4 or 6 berth RV hire in Australia too – this gives more space while on the road. Great for keeping a bed made up during the day and a separate seating area. Also the bed above the cab can become a storage area for bulky suitcases if bringing soft bags is not an option. The bathrooms are also bigger in a 6-berth motorhome hire than a 2-berth which is appealing to some couples also.
We have lots of time saving, space saving and money saving tips here on our Travel Tips page. You'll also find a stack of information within our blogs offering all types of advice and useful information on the best way to travel Australia. If you have any questions, please get in touch with us as we'd love to chat with you and make sure you get the best deal for the motorhome that is going to suit your needs for your next adventure in Australia.