Thinking about a 6-berth motorhome hire and considering where to travel?
You'll find so many amazing areas to explore in Australia to explore in a 6-berth motorhome hire so just picking the 'Top 3' was a tough job!
With plenty of campgrounds and freedom camps nationwide, the hard choice you have to make is deciding where you're going to go. If you are planning on mixing your travels with freedom camping then a self-contained 6-berth motorhome will be just the thing for the job!
So here's our top 3 suggestions:
Esperance, WA
Where pure white sands meet clear blue sea – the beauty of this place will take your breath away! With some of the whitest beaches and the most brilliant turquoise blue waters, this southern gem is worth the visit. Esperance Great Ocean Drive is a 40 km circular loop easily explored in your 6-berth motorhome hire and features a range of stunning beaches, small bays, rocky headlands and hidden ocean pools. There's something for everyone to enjoy here with a mixture of snorkelling, swimming, surfing, bike riding, whale watching (in season) and bush walking.
Esperance and the southwest corner of WA is ideal to visit if you have picked up your 6-berth motorhome hire from Perth or are making your way to through to Adelaide across the mighty Nullarbor. If you want the warm weather we suggest doing this anytime between October and April. This is one corner you don't want to miss!
Tropical Lush Top End
We have slightly cheated with this one as it was too hard to single out just one location in the Top End, but these are some of our favourites. If you pick up your 6-berth motorhome from Darwin you are set to explore the tropical lush Top End – some of these are our favourite spots to visit:
Litchfield National Park – with its natural wonders and stunning waterfalls you'll marvel at the landscape and witness first-hand the series of tombstone-like field of giant termite mounds, find yourself beside a waterfall where you can swim beneath the tumbling waters of Florence and Wangi Falls. You can also get a birds eye view of Wangi Falls, Tjaetaba and Tolmer

Waterfalls and the Lost City if you head out on a helicopter ride. You can either park up your 6 berth motorhome hire in the national park camping (first in first served), or stay just outside the park at one of the nearby full facility caravan parks.

World Heritage-listed Kakadu National Park – experience remote and rugged scenery, adventure and explore one of Australia's biggest national parks – just a three-hour drive east of Darwin. You'll explore lush rainforest, rock art galleries up to 20,000 years old and rugged escarpments. Take a dawn cruise on Yellow Water billabong – considered one of the best places in Australia to see wildlife in its natural habitat. Take some time to enjoy one of the many walks in the area. Sit quietly at the top of the escarpment and take in the picturesque green flood plain below. For the more adventurous who like to take a 4WD hire, you can head to Jim Jim or Twin Falls to take a swim beneath cascading water. If you arrive before the 4WD track opens and are travelling in your 6-berth motorhome hire, you can take a scenic flight from Jabiru for a birds eye view, or once the track is open, grab a day trip from Cooinda.
Nitmiluk National Park – with its majestic gorges surrounded by spectacular sandstone cliffs that illuminate in the changing light of the day, it's just 30km on a sealed road north-east of Katherine and just over a three-hour drive from Darwin. You can explore the impressive world-famous park on foot, by boat, canoe or take to the air to get a birds-eye view and soak up the landscapes. The most popular way to see the renowned Katherine gorge is via a boat cruise which run at various times through the day.
Nearby, Leliyn (Edith) Falls, is also worth a detour up the sealed road. Take a dip at both the upper and lower pools and swim among picture-perfect rock formations.
There are campgrounds located at or near each of these locations making them the perfect get away in your 6-berth motorhome hire. If you plan on visiting the Northern Territory, the best time of year is between May and September.
Tasmania
Known for its vast, rugged wilderness and almost untouched landscape it's like stepping back in time on this isolated state off Australia's south coast. While some do it in 10 – 14 days, many clients go 21-28 days to see all the amazing gems along the way.
Picking up your 6-berth motorhome hire in Hobart, it doesn't really matter which direction you travel the 'circuit' – its more about making sure you have enough time to see everything you'd like to see and do. Some of our favourite spots are:
Queenstown, gateway to the west coast has a rich and rugged mining history and because of that it has a unique 'moonscape' scenery, which Mother Nature is slowly sorting out by creeping back into the landscape, and with its scenic drive into the town down a spiralling road with over 90 bends is still nothing short of spectacular and a testament to the brutal reality of Tasmania's mining past. The train ride here is pretty spectacular.

Picture postcard Cradle Mountain-Lake St Clair National Park made up of protected rainforests, alpine heathlands and untouched mountains and makes for a wonderful few days, if you can spare them, with plenty of walks around this magnificent place
If you're brave enough, visit the Edge Of the World at Arthur River where on a calm day the waves reach 10 ft high, it's quite a surreal experience as looking out over the waters the next land mass is all the way over in Argentina – which makes for incredible rough seas and quite spectacular to watch. It's a pretty drive through the Tarkine Forest as an added bonus!
Along the northern coast, visit the tiny town of Stanley and take the chairlift up to the top of its most distinctive landmark 'The Nut' – an old volcanic plug
Check out the riverside city of Launceston famed for the Cataract Gorge, panoramic views and walking trails
Cruise on down the east coast on your way back to Hobart making sure you make a stop at Bicheno and visit the Blue Penguins. Nearby, pop into Coles Bay and the picturesque Freycinet National Park. Enjoy a variety of walks within the national park or a boat cruise around to the crystal clear waters of Wineglass Bay – a moment you'll treasure for life!
If you have time, it's worth making a stop at Port Arthur – only a 90-minute drive from Hobart and immerse yourself in what life was like in a 19th century penal settlement. The World Heritage site and arguably the worlds most beautiful prison, is a former convict settlement and is a big-ticket attraction and worth a visit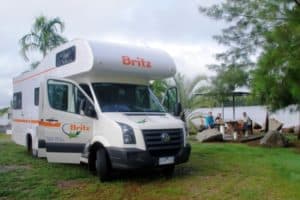 You'll find lots of campgrounds in Tasmania to park up your 6-berth motorhome hire, along the way but if you are travelling during peak season, we do strongly suggest you book ahead as they do get very busy. Best time of year to travel Tasmania is between November and March.
The joy of a self-contained motorhome allows you to stay overnight without power sometimes along the way and experience national parks or areas off the beaten path a little. We love to mix up our travels with full facility caravan parks and the odd night off power. Depending on your power usage and how much driving you are doing, you'd normally need to plug into power every 2nd night.
These are just 3 out of many of our favourite places you can visit Australia. Picking up your 6 berth motorhome hire for your trip is easy. Check out the vehicle options here and then get in touch to see how soon you can get out and hit the road and explore some of these magnificent spots in Australia!