We believe that driving around Australia is the best way to see and experience this vast country and makes for a great family road trip in a 6-berth motorhome.
Why a 6-berth motorhome?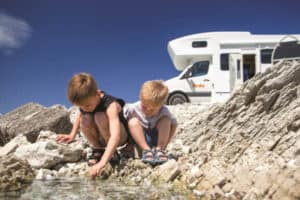 If you are a family of three then a smaller motorhome would probably do you, but if you are a family of four or more, then we recommend a 6-berth family motorhome hire as it can provide you with the most flexibility when it comes to sleeping arrangements.
6 berth motorhomes sleep up to 6 people, 6 adults in fact, but at the end of the day your personal preference for a different layout, may be a large contributing factor to the decision you make about hiring a 6-berth motorhome.
You get 3 double beds with slight variation in sizes. There is a double bed at the rear which is either permanently made up (some even have an innersprung mattress) or is made up using the rear seating area and its cushions and is usually a decent double bed size. There is a second double bed also referred to as the 'Luton bed', situated above the driver's cab. Although the bed above the cab in the 6-berth motorhome is a good-sized bed, it is above the cab so doesn't offer a lot of headroom for adults. In the most part there is enough room for an adult to move around up there, but not to sit up properly and read a book for example. Access to this bed is via a ladder also. This bed above the cab is best for kids and it does have a safety net, not advisable for really young children.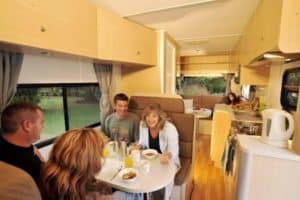 Also, in the 6-berth motorhome you'll find the middle dinette seating area also converts into a double bed (slightly smaller in size though) which is a great option to place younger children to sleep and is also suitable for adults too. This bed is not usually as wide as the other two beds.
Families who hire a 6-berth motorhome tend to have the parents sleeping at the rear bed (and often leave this made up during the day) and then have the children spread over the other two beds. Depending on the ages of the kids you may have the kids sleeping across ways with the bed above the cab, which means you could even have three kids up there – as long as they all get on of course! This would save making up the middle dinette bed each day, as that is also where the kids sit when travelling.
A motorhome holiday is such a fabulous way to make many lasting memories for your family – we often hear how easy it is with kids, as no need to pack and unpack each night. The children have the same bed each night so get into a familiar routine easily. Having an onboard kitchen, not only makes it easy for preparing family meals, but also saves money as no need to eat out all the time.
Deciding on what size vehicle you want really comes down to how many people are travelling in your party, your personal taste and what features you are after. We have known couples to take a 6-berth family motorhome hire so they can store their belongings in the Luton bed above the cab, keep the rear bed made up and use the middle seating area for sitting and dining at – it really depends on your preference!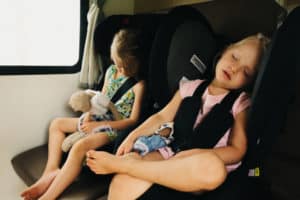 Depending on the size of your family and age of the children will also be the determining factor on whether you wanta 4 or a 6-berth family motorhome hire. When travelling in a motorhome all people (even young children) must be harnessed with a seatbelt (or child seat which also needs the seatbelt). If your family are 5 or 6 people, you will need the bigger motorhome. If you are unsure, please chat with us and we can work with you and help you make the decision if a 6 berth motorhome hire is right for you. If you would like to look at some indicative pricing, check those out here and you can see what vehicle options are available here.
We will be more than happy to provide you with a quote when you are ready for the exact dates you'd like to hire a 6-berth motorhome. The rates change regularly based on supply and demand and throughout the year too. Let us know if you have some flexibility with travel dates so we can save you some money. If you are looking to hire a motorhome during the school holidays, make sure you get in early!
At Gallivanting Oz we use a number of suppliers to ensure we can match the right vehicle to your needs. There is no extra cost for dealing with us, however you'll benefit from our service, experience and variety of vehicle options. Bookings are made directly through us, and we can help with questions you may have during the planning and preparing for your trip. We believe in good old-fashioned service.