While of course no one ever has to drink, many do enjoy a drink or two with 'happy hour' at the end of the day.   If you're travelling throughout Australia, it's worth knowing that in some areas alcohol restrictions are in place.
What are the alcohol restrictions?
Alcohol restrictions vary throughout Australia, and from state to state so it is important to know exactly what the law is where you are.  What makes this tricky is that these restrictions are constantly changing so please use this information as a guide only.
The term 'restricted area' or 'dry area' refers to an assortment of by-laws, regulations and other statutes all of which restrict or forbid the consumption of alcohol within a certain area. As you travel across Australia you may see signs which let you know when you're entering such an area.
Usually what this means, is that there are some places with a total ban on alcohol (for example Northern Territory has over 100 places or communities with a total ban) or other places, which is probably more the case for the average traveller,  have restrictions on the times and amount of alcohol you can purchase.  If you're going off the beaten track, the regulations for some remote communities won't even allow you to travel through with alcohol in your camper unless you follow specific guidelines.  Local information centres can assist with specific information for where you're travelling.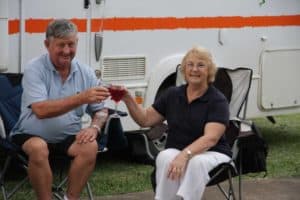 Buying takeaway alcohol
Some of the areas you may find restrictions for purchasing alcohol include the Kimberleys, parts of the Pilbara, some of the Northern Territory, including Kakadu National Park, Katherine, Tennant Creek and Alice Springs.  Some remote parts of Northern Queensland also have restrictions.
The sorts of restrictions you may encounter are:
Bottle stores may only open between 12:00 – 20:00, Mon – Sat and closed on Sunday
There are often limits on the amount of alcohol that can be purchased at one time (for example max 2 cartons of beer or 6 bottles of wine, or in some cases a maximum of 1 litre of cask wine). Usually ID is required.
In some areas, if a specific liquor product is available from the manufacturer in a non-glass container, then it must be sold this way (not in glass).
In some areas you may not drink alcohol in a public place
Generally, for the majority of our clients, when you're travelling on the main tourist routes (sealed roads) it is fine to carry the alcohol inside your vehicle, even if restrictions are in place for purchasing it. We do suggest you follow all signs that indicate what the current rules and regulations are at the time you're travelling. Remember the information centres which are marked from the highway with a yellow 'I' are a gold mine of information for the most up to date detail on this too.
Where are the restrictions?
Go to this list of alcohol restricted areas in the Northern Territory
Visit this site for travelling in alcohol restricted areas in Queensland
If you are travelling around Western Australia check out this site which gives you a comprehensive list of restricted areas
Because regulations in each state are continually updated, it is best to check ahead of your travels to find out what restrictions you may encounter along your journey.
If you are looking to organise your own campervan adventure across parts of Australia, we have a list of Travel Routes where we provide you with heaps of information so you can tailor your journey to exactly what it is you are looking for.
Alternatively, you can join us on one of our many Motorhome Tours either escorted or packaged depending on your requirements, get in touch if you'd like to speak with us.