If you are heading over to the north-eastern coast of Queensland to the Mission Beach area and are looking for some where to stay, then you could consider Bingil Bay!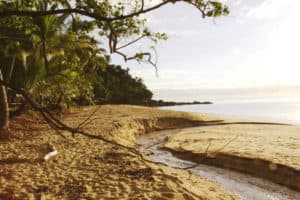 Located just 5km north of Mission Beach, on the Cassowary Coast Region of Queensland, Bingil Bay has an eclectic population of 369 locals who love to make you feel welcome.
Surrounded by beautiful beaches fringed with coconut trees, the town consists of a scattering of holiday homes, one campground and one convenience store/café/bar/restaurant – which is in keeping with the laid-back charm of this area.  Make sure that a walk around to Brookes Beach and up Bicton Hill are on your list!
We loved our visit to Bingil Bay and enjoyed the campground too. There's nothing quite like enjoying a relaxing few drinks while munching on some lamb kebabs cooked on the communal BBQ after and watching the magnificent sunset colours filling the sky.  In fact, the location was so beautiful we ended up spending more time here than planned, before heading south to Mission Beach.
If travelling through this pretty region in a campervan, you are in for a treat! Apart from Bingil Bay, there are a number of other council-run campgrounds that are privately leased and operated, all of which are very reasonably priced and have the most lovely settings; choose from Johnstone River frontage, beachfront or a lush rainforest backdrop…you'll be spoilt for choice.  You can check out some of the Cassowary Coast campgrounds here.  If you are looking for motorhome hire, check out our vehicle options here
There are also 3 dump points in the area: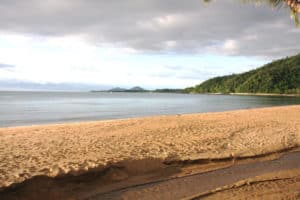 Mission Beach – 53 Porter Promenade (next to Mission Beach Caravan Park)
Innisfail – 3 River Avenue, Hadrell Park (Bruce Hwy)
Tully – Tully Showgrounds, Butler Street (situated to the left side of the showgrounds gate when entering)
Please be aware of where you can camp. Parking up outside of the designated camping spots might result in a hefty fine for you.
If you are planning your trip along this stunning coastline and would like more information on your motorhome hire, get in touch as we'll work with you to find the best deal!
This blog has been updated July 2017, to ensure that all information provided is up to date.