Border Crossing Rules – Darwin to Perth and vice versa
One of Australia's greatest  adventures is the epic 5,000 km journey in a motorhome between Darwin and Perth, which takes you along though some of Australia's most ancient and spectacular scenery; through vast deserts, remote and jaw-droppingly beautiful national parks, past endless white sandy beaches sheltered beneath jagged coastal cliffs and over remote floodplains teeming with birds and other native wildlife.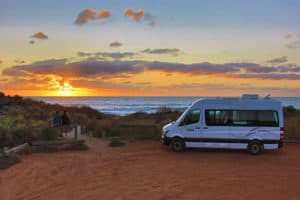 It all sounds incredible doesn't it?  We're going to hazard a guess that right now the very last thing that you're thinking about when organising this amazing campervan hire adventure, is crossing the State border.  Why is that important to a traveller? Apart from the 1.5-hour time difference making it a very real risk that you may arrive late for dinner, there's also the consideration of quarantine restrictions.  Non-adherence to these strict laws (whether accidental or not) can lead to the make or break of many agricultural businesses, local native ecosystems…and even your holiday! Read on for the lowdown on what you will need to consider when crossing the NT/WA State border, and some other things that you may not have thought of too!
Planning
There are many ways to travel this route, from throwing a tent in the boot of your car, to joining an escorted motorhome tour with us, or enjoying the flexibility and comfort that comes with campervan hire from Darwin to Perth (or vice versa) on your own!
But before you tackle this route though from Darwin to Perth in a motorhome, planning is key.  With incredible distances in between settlements (sometimes without internet or mobile coverage), it's vitally important to know in advance which route you want to take in your campervan hire, the attractions you want to see, where the fuel stops are and where you can pull in for the night.  Here are a couple of ideas to make life on the road a lot easier:
Do some research before you go by checking local visitor information centres or online travel guides, such as our Gallivanting Oz website, which outlines Australia's best campervan hire travel routes and not only lets you in on all key attractions along the way, but also the distances between stops, the best time of year to travel and truckload of useful blogs, ideas and other little titbits, like tips on what to pack. It's also a good idea to look into mobile phone providers, and see which ones offer the best coverage for the areas you'll be travelling through.  In Australia, Telstra provides the best reception by location.
Download a couple of good quality apps such as Google Maps (and don't forget to download offline maps of your route before you go!) or Wikicamps, which gives you access to details and reviews of free and paid campsites, attractions and fuel stops that are constantly updated by thousands of travellers and are perfect to enjoy with your camper hire from Darwin to Perth too. Technology is every traveller's BFF these days…but in the outback it's always a good idea to have a good old-fashioned road map as a backup when you set off on your campervan hire!
Like anywhere that you travel in the world, it's important to make sure that you're aware of local laws or restrictions (see below).
Alcohol Restrictions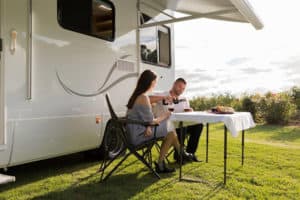 In this part of the world, one of these is alcohol restrictions, which are in place in many communities across WA and NT, and range from 'dry' or completely restricted areas (no alcohol to be purchased or consumed in these areas) to controlled areas, where there limits placed on the volume and times of day that alcohol is available for purchase.  It's also important to remember that in Australia, it is an offence to drive while your blood alcohol concentration (BAC) is 0.05% or above.  If in doubt, stick to a soft drink!
More information:
Northern Territory, the NT Government's Department of Health webpage has a comprehensive interactive list entitled 'Takeaway alcohol sales and restrictions by localities'.
Western Australia, the WA Government's Department of Racing, Gaming and Liquor has a handy interactive map entitled 'Western Australia restriction areas' which outlines all liquor restrictions across the State.
In some areas with alcohol restrictions it is ok to still carry alcohol in your campervan hire cupboards, although please be mindful of local restrictions and consumption of alcohol in restricted areas.  An example of this is Kakadu National Park in NT.  You may carry alcohol inside your motorhome from Darwin to Perth, but can only consume in the commercial caravan parks, not anywhere else within the national park.
Quarantine Restrictions
Another incredibly important consideration which is sometimes overlooked is quarantine restrictions. Everyone knows about Australia's strict quarantine laws when entering the country, but did you know that there are also quarantine laws in place when crossing State and Territory borders, and that even some regions within the same State/Territory are subject to restrictions?
If you are travelling interstate or through fruit fly or other exclusion zones, it is your responsibility to be aware of these restrictions – regular searches are conducted and there are hefty on-the-spot fines for bringing any restricted items across the border.  Pests, diseases and weeds can travel with you as you visit different areas of Australia and their introduction into a production area can have devastating consequences which can cost industries and the community millions of dollars.  Restricted items can include fruit and vegetables, honey, plant material, flowers, soil and some animal products.
Eat it, or Bin it! There are interstate quarantine bins at domestic airports, ferry terminals and state and quarantine zone borders, so if you have any restricted items, just pop them in the bin to ensure that you won't give a pest or disease a free ride into new areas.
 Restricted Items into WA & Kimberley
Travelling Darwin to Perth direction in a motorhome hire.
This border crossing is the strictest in Australia for quarantine, because not only are you entering Western Australia, you are also entering the Ord River Irrigation Area, which is a major tropical fruit growing area, and the only area in Australia that is free of fruit flies.
Here are the restricted items:
Fresh fruit and vegetables (including home-dried fruit; commercially dried, frozen or cooked is fine – exceptions below)
Dried mangoes, if the seed is still inside
Frozen grapes, guava, onions, potatoes (unless skinned and cooked)
Fresh herbs (dried herbs and spices are fine)
Honey (bees can get diseases and mites)
All seeds, except for commercially processed popcorn, split peas, lentils, pumpkin and sunflower seeds.
Walnuts in their shells and unmilled rice, (other nuts are fine)
Used agricultural bags and containers (potato sacks, fruit and veg cartons/styro boxes)
Plants, seeds, cut flowers, firewood
Soil, sand (wash dirty shoes)
Restricted Items into NT (from WA)
Travelling Perth to Darwin direction in a campervan hire.
 Although there is currently no signage at the border crossing, restrictions apply in this direction too.  The 'unofficial line' from NT Biosecurity is that fruit, vegetables and honey which have been purchased in a supermarket (or are frozen or dried) can be taken across the border into the NT as they have been treated for pests and diseases, but anything which you have purchased from a farmers' market or roadside stall will need to be binned… despite the 'official legislation' stating that no fruit, vegetables or honey can be taken across the border.  It's up to you, but we say better safe than sorry – quarantine is everyone's responsibility and vitally important to protecting Australia's agricultural sector and native ecosystems.
Fresh fruit and vegetables (particularly if from a farmers' market or roadside stall)
NB: Fruit which are at risk of carrying the Mediterranean fruit fly are: bananas, citrus cucumber zucchini, melons pumpkin tomato passionfruit and leafy salad vegetable.
Fresh herbs (dried herbs and spices are fine)
Used agricultural bags and containers (potato sacks, fruit and veg cartons/styro boxes)
Honey (unless commercially processed and heat treated; most honey purchased from the supermarkets falls into this catagory)
Soil, sand (wash dirty shoes)
Fishing bait and yabbies
More information:  Australian Interstate Quarantine have an excellent website (www.quarantinedomestic.gov.au) Information is reviewed and updated daily.
If you are interested in exploring Australia in a motorhome hire then you can check out our vehicle options here, peruse our Travel Route suggestions or perhaps take a look at our world renowned Escorted Motorhome Tours.