There are many locations and experiences to enjoy with a Brisbane motorhome hire, with one of our favourites, if travelling at the right time of the year, incorporating a loggerhead turtle experience.
This is perfect if you are considering motorhome hire from Brisbane to Cairns for example, over the Christmas school holidays.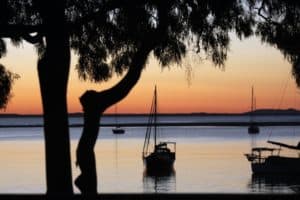 To visit the world-famous Great Barrier Reef (which runs along the Queensland coastline for an astonishing 2,300 km) most visitors head their motorhome hire towards tropical Cairns or to the perfectly white beaches of the Whitsundays…but, have you ever heard of Bargara?  Just south of the regional city of Bundaberg (4 hours north of Brisbane), this pretty little beachside town is worthy of a visit in its own right, but between November and March every year there's an even bigger reason to swing by!
Just north of town in the Mon Repos Conservation Park is a 6 km stretch of beach which supports the largest nesting population of loggerhead turtles in the whole of the South Pacific!  These beautiful endangered gentle giants have been known to travel from as far as 2,500 km away in order to return to the beach where they hatched and lay their own eggs.  Visitors have a unique opportunity to see them nesting (November to January) and the hatchings emerging from nests (January to March) by joining a ranger-guided Turtle Encounter tour.  Tickets must be purchased in advance, either online or through the Bundaberg Visitor Information Centre.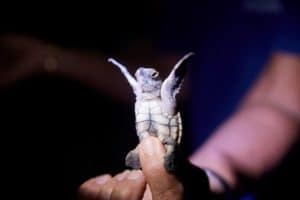 On the evening of your visit, park your motorhome at the big council carpark (no overnight camping) next to the entrance of the park and just before dusk, a small fleet of shuttle buses ferry visitors to the brand-new Mon Repos Turtle Centre, an architecturally impressive interpretative centre crafted entirely from local spotted gum.  There is an interesting film, interactive displays and scientific information boards, plus a café and a gift shop to keep you entertained while you wait for your viewing group's turn to be taken out onto the (strictly light-free) beach, when a turtle arrives, or a clutch of hatchlings begins to emerge.
Once your group is called you are quickly guided along a pathway through bushland that lies behind the dunes which eventually leads out onto the beach.  Prepare to get wet feet, be windswept and possibly hit by flying sand being dug up! It's all part of the experience and having the opportunity to come so close to these incredible creatures honestly feels like one of life's greatest privileges – goosebumps guaranteed! The rangers are a friendly and professional bunch who know all that's worth knowing about these turtles, so even if there's some waiting involved there's not a dull moment throughout this fascinating experience.  As well as acting as tour guides, while you are with them on the beach the rangers carry out the important work of measuring, counting and tagging.
Our verdict? This is something that should be on everyone's bucket list and we guarantee that you'll remember it forever.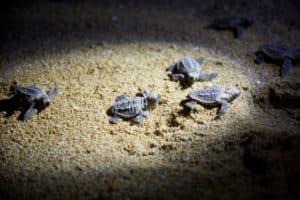 It is worth noting, if going all the way to Cairns in the motorhome at this time of the year (to coincide with the longer school holidays and seeing the turtles), that 'climate wise' this is not the best time, especially as you get closer to Cairns.  The northern parts of Australia experience the wet season during this time, which may disrupt travel plans and is usually pretty hot and humid.  Having said that though, it still is a popular time for Australians to travel this route to take advantage of the holiday period.  Alternatively, you can pick up and return your motorhome hire back to Brisbane if you like.
The turtle experiences are very popular with families.  We have up to a six berth motorhome hire available from Brisbane.  Its not uncommon for two families to travel together for this experience too. If you are wanting to hire a motorhome over the Christmas period, we suggest booking your camper as soon as possible to avoid disappointment with availability.
Where to stay:
Bargara has a number of caravan parks to choose from. The nearest to Mon Repos is the Bargara Beach Caravan Park, which located at the best swimming/surfing beach in town too and has great facilities, such as a camp-kitchens, a playground, dump-point and entertainment in the high season.
 Our top tips for visiting the Loggerhead Turtles:
Book as far ahead as possible – people are taken out in the order that they booked.
Be prepared to wait, take food and activities for young children.
Wear warm clothes (even in summer) as it gets very cold on the beach at night.
Wear good, stable shoes – you'll be negotiating sand dunes in the dark.
If you are looking for motorhome hire from Brisbane or from anywhere else in Australia, check out our vehicle otpions here, organise your itinerary here and get in touch when you know your location and dates and we'll help find you the right motorhome for your needs and work with you to create the motorhome holiday or your dreams!