This article is intended to help you consider your options if you are unsure whether to buy vs rent a motorhome during your trip to Australia.
If you are considering a holiday of a lifetime and want to travel this beautiful and expansive country, it bears to consider what your options are for the type of vehicle you should use and for how long.
Buying vs renting a motorhome in Australia – Our Guide
We often get asked this question and have worked with many of our customers over the years to help them decide what is the best vehicle for their needs. There is no right or wrong answer to be honest, it is about what's right for you.  Have a read of our guide below to which poses a few thoughts to assist with your decision making.
Try before you buy your first motorhome
If you've never been on a motorhome holiday, it might be worth hiring a motorhome first to check out the lifestyle. Regardless of how long or where you want to travel, if this is your first motorhome holiday, we strongly suggest that you at least try out a motorhome holiday first – it might simply be to make sure that a specific layout is right for you or that you are ok with driving a larger sized vehicle with the kids in tow, or perhaps just to even make sure that you like the freedom this style of holiday provides!
Our suggestion on this though, if you do think you will buy, is to head to Tasmania and hire a camper there first. There is a costly ferry ride to get over there if you plan on taking your camper, so if you plan on hiring when you reach Tassie, you'll be ticking off somewhere you want to go without the expense of taking your own motorhome and also ensure you're comfortable living in a motorhome for an extended period of time.  Our advice – the best time to visit Tasmania though will be around the summer months and not winter.
Buying vs renting a motorhome in Australia – Be Prepared!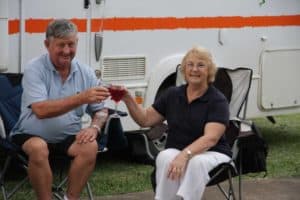 If you are a seasoned traveller of Australia it might then be worth thinking about advanced considerations such as how comprehensive your breakdown insurance is. It is worth checking if you buy your own motorhome, just how comprehensive your Insurance is going to be and be sure to check out the small print and that it covers you for every possible eventuality. These things can happen and it's sad to see some people who have broken down, didn't have comprehensive enough insurance and have spent much of their holiday trying to get themselves out of this dilemma.
When hiring a motorhome, speak with us and we'll go through the insurance options with you. We can help you decide which cover is best suited to the trip you are planning and have peace of mind so that you can enjoy your trip without this worry.  There are variances with the hire companies insurance cover too – we'll make sure you understand the key differences.
Buying vs renting a motorhome in Australia – What are your restrictions?
If you are considering buying a motorhome, it might be worthwhile considering the amount of time you can take for your holiday as well as distances you feel comfortable travelling in one trip. If you live in Australia, you'll have to consider the fact that you need to return home with your vehicle.
It's worth considering that if you live in Queensland but would like to explore the stunning Western Australian coastline with its turquoise waters and red gorges, is a trip that far away viable for you from Queensland?
In this instance, it is worthwhile considering one-way motorhome hires, which means you can pick up from one location and drop off in another, offering you plenty of flexibility and freedom on where to go and for how long without having to worry about going full circle back to where you started from. However, some holidays you're planning may only require a round trip and suits you to pick up and drop off at the same location. This then may make sense to buy a motorhome if you're travelling for three months or more and these restrictions sit well with your purpose.
Buying vs renting a motorhome in Australia – Outback and off roading or cruising the Australian coastline?
Getting the right vehicle for the right trip will make or break the holiday you are planning!

A 2WD motorhome is perfect for cruising around most of Australia as the majority of must see places are easily accessible as many roads are sealed. Cruising around the coastal roads of this expansive country is ideal for soaking up the beautiful scenery, taking in the coastal towns and meeting plenty of like minded people along the way
Now we're not saying you only need to have a 4WD to see the Outback as there are plenty of sealed roads around, but on our travels around this beautiful country, we love hiring a 4X4 also and going on an adventure to see some of the most undisturbed places in this country.
For example, some roads around our amazing National Parks are only accessible by a 4WD vehicle, it might be worthwhile considering what type of holidays interest you as these are not accessible by 2WD vehicles. Therefore, hiring or buying a multipurpose vehicle if travelling for a longer period of time, can offer you the flexibility on a holiday by holiday basis.
Buying vs renting a motorhome in Australia – what size?
Is your family size about to increase or are the kids reaching an age where they are fast approaching to fly the nest? Would you like friends to join you or maybe you're looking for a gentle cruise around Australia just for two?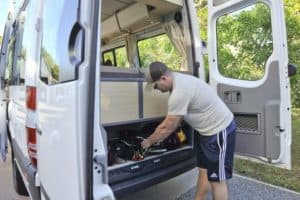 In our years of experience, we've found that with an increase in the size of families who then go on to reducing in size once the kids start to choose their own holidays and leave home, the need for changing the size of your motorhome can change with the times. If you have invested thousands of dollars to purchase a motorhome, it doesn't become very cost effective over time if you need to change its size or at least feel disgruntled if you've ended up buying the wrong sized vehicle for your needs.
This is where hiring can offer you the most flexibility and offers the most choice when times change and holiday tastes can change over time.
Do you know if you'd prefer a fixed bed or a bed that will need making up each night? Remember that a fixed bed takes up space, space that you might need to use during the day if there's too many of you using the motorhome. Or if spending time in the lounge is important to you, you could go for a motorhome with a lounge area either at the front or the back that makes up a double bed at night time.
It's important to hire a motorhome that sleeps the number of people you are going to be travelling with. If you are planning on going on an extended holiday, don't expect someone to bunk up on a single berth for long periods of time!
For safety, you'll also need to check that there are enough seat belts for everyone that you are planning on going on holiday with, no person should travel without a seat belt.
If you've not yet seen the comparison in sizes of motorhomes on offer, then be sure to check out the dimensions of the location you intend to store it if you intend on buying one. If you've got family to store the motorhome in a specific location, are you sure they're happy for you to leave the motorhome there when not in use for possibly long periods of time? These things can take up a large proportion of space and they also require ongoing maintenance to make sure it's roadworthy and also requires vehicle registration duty (calculate your potential rego costs here).  Please note that different states have different rules with regards to costs and requirements for vehicle registration. If you aren't planning on travelling much in a year, you might find it more cost effective to hire a motorhome.
Cost variations all year round when hiring a motorhome
If you are looking to get more bang for your buck and are flexible with travel dates, then don't forget that the time of year you travel can offer good value for money. For example, travelling in school term times is far cheaper than trying to book a motorhome holiday in peak seasons such as Bank holidays and/or Christmas.  Booking early for school holidays can offer some excellent savings too. If you can be flexible, then hiring a motorhome is likely to benefit you the most and provide you with more amazing holiday options nationwide.
We find that usually it is most cost effective to hire for 3 months or less, but depending on your specific needs and how often you're travelling, then anything longer, purchasing may be the better option for you – although some clients hire for the 6 month mark and this works well for them.
There are a few tips when it comes to hiring that will affect the overall cost of your holiday.  The date you pick up the motorhome will affect the overall cost hire – chat with us for further details on this.
You may be interested to know that May and June are the cheaper months for hiring a camper – which is also a great time to explore the northern parts of the country.
Here's a checklist that may help you weigh up the pro's and con's
Initial outlay of the vehicle VS rental costs

What are the running costs of buying a motorhome per year (rego & maintenance)?

Consider yearly insurance costs and what level of cover will that include

How many holidays do you intend to take a year

How far could you travel in your own motorhome VS hiring a motorhome

Are you flexible with your travel dates?

What size of vehicle should you buy?

Are you needs likely to change over the lifetime of the motorhome?

What style of holidays are you after? i.e. will you require 2WD or 4WD

Do you have somewhere suitable to store your motorhome?

Are you mechanically minded or do you have someone to look over the motorhome you're considering purchasing?
We hope you have found this guide helpful so that you can consider all the relevant details in order to make an informed decision. We know how much of a financial commitment buying a motorhome can be, so be sure to know all the facts and perhaps, if you haven't done so yet, consider trying one before you buy!
If its motorhome hire you are interested in but would like to find out more information on what your options are such as travel routes, insurance, travel plans and dates etc. please get in touch with us as we'd be happy to talk through your travel itinerary with you and make sure we get you the best deal to suit your needs.
We have heaps of information on our website such as Travel Tips and even Travel Routes. You can also check out your Vehicle Options here and start planning your holiday now!