The gateway to Queensland's tropical north and Australia's Great Barrier Reef, Cairns is a laid-back city in tropical Far North Queensland best enjoyed outdoors with a Cairns motorhome hire being very popular.
You'll find brilliant cafés, bustling markets and plenty of beaches nearby. Relax by the campground pool or spend your days exploring this tropical oasis.  Check when the best time of year to arrange a motorhome hire from Cairns.
With its hot and humid summers and mild dry winters you'll find that Cairns is generally best considered to visit in winter, although this is also the busiest time.  For that reason, sometimes travellers prefer to visit Autumn or Spring and have a fabulous time.
The weather in Cairns
Summer months are between December and February so it's generally hot and humid this time of year with average temperatures ranging between high 31oC and low of 23oC (88oF – 74oF), however this is also when the wet season is building up so you can expect to see rainfall this time of year.
Autumn months are between March and May and its still considered very warm throughout the day and night with temperatures averaging between highs of 29oC and 21oC (84oF – 70oF). The rain begins to subside from around April however the weather can get a bit windy through to August with the prevailing south easterly winds.
Winter months are between June and August which brings with it cooler temperatures and less humidity with highs of 26oC and lows around 17oC (78oF – 63oF), this also brings with it the tourists as this is peak tourist season but with little to no rainfall it's a perfect time to visit.
Spring months are between September and November with average high temperatures of 29oC and lows of 20oC (84oF – 68oF) and is the end of the dry season so you'll start to feel the humidity building up as they go into the onset of the wet season and the reef comes alive with the annual coral spawning!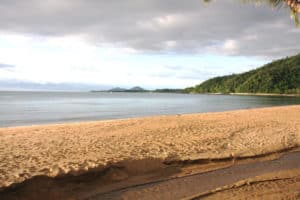 Cairns motorhome hire is a great place to start, as you can either head northwest over to Darwin (2,848 km via Flinders Hwy read ore about that route here) or head south towards Brisbane (1,700 km coastal route or you could go inland – check that route out here) or you could even head into the iconic Outback and reach the Red Centre!   One-way motorhome hire from Cairns to Brisbane is not a problem – in fact going this direction sometimes has lower rates than going the other way.  If it suited, you can also do a one-way motorhome hire from Cairns to Darwin, or if you prefer a campervan hire form Cairns to Alice Springs or beyond that is ok too!
Regardless of your final destination, Cairns is a great spot to start your exciting adventure of Australia and if you are looking at motorhome hire from Cairns, check out our vehicle options or get in touch. and we can work with you to help tailor your trip to best suit your needs!