Camper van hire in Australia – travelling for the first time
We are lucky enough to speak with all sorts of travellers and potential travellers.  Some have taken a camper van hire in Australia with us several times already and know exactly what they want, some own their own motorhome in their country of residence, and then there are others who've never set foot in a motorhome or camper before in their life.   This post is for you.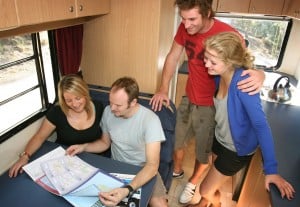 What is a berth?
Starting with the basics, camper van hire in Australia is often referred to as a 'two berth' or 'four berth' for example.  This means the number of people that can travel and sleep in the vehicle.  It does not necessarily mean the number of beds, as generally they are doubles.  This means if you are not travelling as a couple, careful consideration will need to be made in choosing the right vehicle.  We do have camper van hire in Australia which have single beds (two berth), or perhaps you'll need to look at a larger motorhome to ensure there is the appropriate number of beds.
If you are travelling with babies or small children, they will still need to be included in the maximum number of people travelling, as a six berth vehicle for example, has a maximum number of six seatbelts – even though they small child may sleep with the parents and not need their own bed.
Toilet and Shower
You have a choice when looking at camper van hire in Australia whether you would like to have an on board toilet and shower.  If you are planning on freedom camping (free or low cost camping), then this would be necessary as generally you'd need to be self contained.  If you are planning on spending every night in a commercial camp ground and stopping in parks etc during the day that have facilities, then you may not see the benefit in paying extra to have your own on board toilet/shower.  With camper van hire in Australia, usually the toilet/shower is in the same space and is pretty simple to use.  You'll have a complete run down when you pick up the vehicle on how to empty the toilet/waste water and to work it.
Cooking Facilities
Most of the camper van hire in Australia we hire have an on board microwave (which works when plugged into 240 volts in a camp ground), and a gas stove.  Some of the larger motorhomes also have an oven or grill which is handy.
If your motorhome has an on board toilet/shower you will have hot and cold pressurised water to the kitchen sink.  For the hi top vans, which you can stand inside but don't have a toilet/shower on board, they only have cold water to the kitchen sink – sometimes it has a hand pump, others have an electric pump.  Either way, the water can easily be heated on the gas stove to wash the dishes.
4WD Campers and the small 'regular height campers' do not have a microwave on board, but several do have cold water to the kitchen sink.  All have some kind of cooking facilities – either a gas cooker or meth cooker.
They all come with cooking equipment, plates and cutlery.  By being able to cook in your vehicle you will be able to enjoy local produce and save money by not eating out.
All motorhomes and most campers also have an electric fridge which works on the ancillary (spare) battery or switches across to 240 volts when plugged into a camp ground.

Where are you going?
This is an important question to ask yourself.  If you are planning to travel on 4WD tracks or dirt roads, then you will need to consider a 4WD camper for your trip.  We do have some hi top campervans and smaller campers which are allowed to go unlimited distances on unsealed roads (not 4WD tracks) which are popular with some of our clients looking to explore a little off the beaten track.  Have a chat with us for more information on this.
Check with us or online that you are travelling to your preferred destination at a time of the year which won't lead to disappointment.
For example, travelling around Darwin in January is the middle of the wet season.
It is very humid and some roads are closed because of the wet.  Some people prefer to travel then as less people around and they get to see the countryside in a different light to many, however for most, they prefer to travel when more roads are open and the weather conditions are a little more favourable.
Time of the year?
Weather conditions to vary across Australia as it is a large country.  Many of our camper van hire in Australia have air conditioning/heating in the living area of the vehicle.  This works when plugged into 240 volts in a camp ground.  Pretty much all of our vehicles have air conditioning/heating in the driving cab for use while travelling.
That's a few things to think about when first looking at camper van hire in Australia.  We'd suggest as a starting point making contact with us when you are ready for information.  Based on what you're looking for, we'll send you some vehicle options with rates and floor plans as a great start in helping you understand the options available.  From there, making a choice will be easy as you'll have all the information and an understanding of the benefits of each vehicle.
If you're interested in campervan hire for Australia, get in touch with us through our easy to use quote form and we'll be able to help you select the right vehicle for your needs and criteria.