If you are planning to hit the road for the very first time in a campervan hire – it's likely you'll have a few questions about how it all works, how it is different from your usual holiday experience and what sort of things you need to consider in your planning.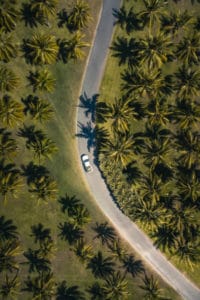 Here at Gallivanting Oz, we often have first time travellers both locally and internationally who are setting out for their first campervan hire experience and have questions about how it all works. For our team, it's important to ensure that when you contact us about campervan hire – we ask all the right questions to understand how you like to travel. We share our very best top 7 campervan hire Australia tips to get your started.
Australia is the perfect destination for campervan hire and we have a number of suppliers which we can utilise to match the right vehicle to each traveller's needs.
Here are our top 7 tips for first-time motorhome and campervan hire Australia:
Tip 1 – Talk to the experts (and do it early)
Talking to the people who are specialist and experts in the field of motorhome and campervan hire Australia will help you avoid making costly mistakes such as jumping into the first campervan or motorhome you see, booking in the wrong season, not making good use of discounts/promotions or entering into a hire agreement that you just don't understand.
There are so many benefits to discussing your campervan hire with a 'real' person who has travelled the roads themselves – they will tell you those little bits of information that could make or break your campervan hire Australia experience. Many websites will allow you to book a motorhome or campervan then send you on your way but that's not what motorhome and campervan holidays are about!
One of the best parts of a motorhome or campervan adventure is the time spent planning your routes and stops along the way – so check out the business's website and assess how much information they provide about travel planning. For many, its the campervan hire Australia tips and tricks we offer that makees all the difference with their holiday experience.
Tip 2 – Have an idea of what you would like to spend, but consider all the vehicle options and check the fine print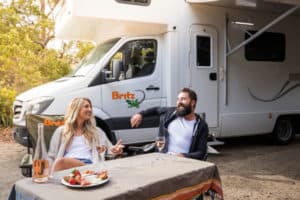 It's great to have a ballpark figure of how much you want to spend, but it's important to have some flexibility about what each vehicle might offer you – different vehicles offer different layouts, inclusions, features and benefits so consider what is important to you to ensure you get the right vehicle to suit your travel style.
As they say – you 'can't put a price on comfort' so if you are after those extra inclusions, or vehicle layouts with features such as a permanent fixed bed, or a vehicle with a bigger bathroom, then there are options available for you and you can set your budget accordingly.
Also, don't forget when you receive a quote to check the fine print – things like one-way fees and remote location fees should always be included so you don't have any nasty surprises upon your campervan hire Australia pick-up
Tip 3 – Consider all the insurance options and the implications on what you need to leave as a campervan hire bond.
We find that 95% of our travellers love the inclusive insurance option as their liability is reduced and they don't have large bond amounts charged to their credit card.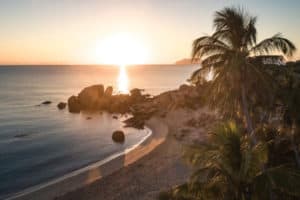 It's important to understand that when you are reviewing the insurance information, that terms and conditions can vary from supplier to supplier. Sometimes there are variances (even if you do take the inclusive insurance) such as not being covered for vehicle rollover or overhead damage. Knowing this information helps you when you are out on the road as well, for example if you decide on a vehicle that doesn't cover overhead damage, be extremely vigilant when parking in your camp spot at the end of the day where low hung branches could cause some damage. We'd always suggest if you are parking in these sorts of areas, that you have a 'spotter' as even if you are covered, no one wants to deal with the hassle of resolving a hole in the roof!
Understanding your bond requirements is also vital too. If you are taking the full cover (known as 'inclusive package') then there is no 'bond' payable, rather a credit card authorisation of $0 (or a small amount for some vehicles), as long as you bring the vehicle back within the standard terms and conditions of hire (such as returning the vehicle with a full tank of fuel).
Conversely, if you are taking the standard liability and bond options then your credit card is charged and held for the duration of the rental so it's important to understand that this is actually charged to your credit card upon the collection of your camper (credit cards are only accepted) not just held – this amount can range from around AUD$5,000 to AUD$7,500. When you return the vehicle at the end of the trip with no damage, in line with the terms and conditions then the bond is refunded back to your credit card.
Tip 4 – Have a campervan hire 'held' while you confirm your flights or other travel plans
Once you have decided on your preferred vehicle and insurance options – it can be tricky to coordinate booking flights and leave from work often for multiple people!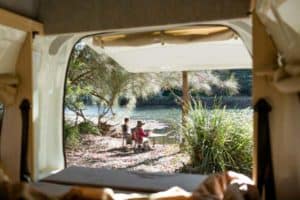 Put your mind at ease by requesting a hold on your preferred vehicle to ensure all your planning runs smoothly – this can be done generally for 24-48 hours to give you some breathing room while you line up all your other travel plans.
This will also save you work in the long run if availability is short due to peak season, or close travel dates meaning you don't need to review and assess other vehicle options if your first pick of vehicle is booked while you are securing your flights.
Tip 5 – Utilise low cost, and free resources for campervan hire
Wherever you book your motorhome or campervan hire Australia from, they should be able to provide you with plenty of free material and easily accessible information (such as websites) to help plan your trip. Things like route planners and access to information including travel tips, travel guides and even DVD's are great low or no cost resources you can use for planning your motorhome or campervan hire.
In Australia, the Wiki Camps App is becoming increasingly popular with the online reviews being very useful for booking the best caravan park and campsites in town! It costs around AU$8 and can be downloaded to your smart phone/tablet and is a great low-cost option to get the latest information. It also has the most useful trip planner feature to help you keep a track of all of the fabulous places your friends and family will be raving about.
Tip 6 – Don't overpack and pack 'soft' – avoid hard suitcases while out on the road
Once you have secured your vehicle, planned your travel route and the holiday is getting closer it becomes time to think about what to pack. The golden rule when it comes to campervan hire Australia is that soft bags are the way to go because (depending on the vehicle) storage space might be limited and soft bags are easier to store and move around the vehicle.
Packing for any holiday can be tricky – as you don't want to pack too much or too little. However, being aware of not overpacking will mean that you will have more space to kick back and relax, and ensure the safety of all travellers in the vehicle. If you are arriving into a city or township (as most people do) keep in mind you can visit the local shops before you take off on your adventure.
If you are heading 'outback' be aware that shops and pharmacies might be limited – so pack any medication before leaving (most vehicles come with a first-aid kit as standard).
Tip 7 – Listen carefully during the vehicle briefing
It's finally hire day and you are ready to collect your campervan hire or motorhome hire – remember the staff at the depots are used to travellers hiring for the first time and are more than happy to answer any questions you might have on how to operate the vehicle.
They will also let you know what is expected in terms of how the vehicle is to be returned – and understanding these requirements (such as bringing the vehicle back with a full tank of fuel) will ensure you don't incur any extra unexpected charges upon return of the vehicle.
Once you have hired your first campervan or motorhome, we have no doubt you'll be back for more!
Many of our travellers' trial short trips to start with, then come back for 'bucket list' trips exploring other parts of Australia often for three months at a time! Breaking Australia into chunks and exploring that area thoroughly is definitely the more popular thing to do rather thank trying to do too much in one visit. This is one of our most mentioned Campervan Hire Australia tips.
Are you thinking about campervan hire in Australia but still aren't sure which option is right for you?
It doesn't matter if it's your first trip or you are a seasoned traveller, it's easy to become quickly overwhelmed with all the choices in the market. The great thing about choice is that it gives you the opportunity to narrow down exactly what is important to you on your trip, and what isn't.
Talk to the team at Gallivanting Oz who are the experts in campervan hire Australia. It costs you nothing extra to chat with us, however you do get the benefit of our many years combined industry experience. At Gallivanting Oz, we use a range of suppliers to ensure we match the best motorhome and campervan hire to your needs, we happily share our experience so you can have the best possible trip.
Get in touch if you would like to learn more about campervan rental in Australia by emailing info@gallivantingoz.com.au or completing our easy to use quote form.