Is a campervan hire in Australia on your bucket list but you haven't quite got there yet?
We'd love to help you make it a reality in 2020!
When asked about Australia famous travel writer and author Bill Bryson once said:
"The people are immensely likable— cheerful, extrovert, quick-witted, and unfailingly obliging. Their cities are safe and clean and nearly always built on water. They have a society that is prosperous, well ordered, and instinctively egalitarian. The food is excellent. The beer is cold. The sun nearly always shines. There is coffee on every corner. Life doesn't get much better than this."
Australia is the unexpected …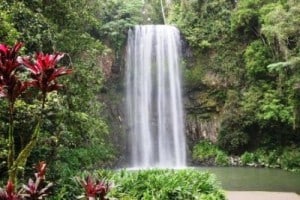 A diverse landscape, easily explored in a campervan hire where one of the world's oldest cultures share dreamtime stories through song and dance under the glittering night sky of the outback, a continent surrounded by bright blue waters and secluded spots where you might be lucky enough to spot a sleepy koala or two, majestic national parks where time stands still as you wind your way through rugged wilderness and a foodies paradise spoiling visitors with diversity of culinary experiences from farmers markets, cheerful pubs through to high end dining, don't worry there's a fit for every appetite.
And the truth is, you'll never really know – unless you experience it for yourself. Australia is a curious country, full of hidden gems, just waiting to be discovered in your campervan hire.
Is Australia on your bucket list but you haven't quite got there yet?
We'd love to help you make it a reality in 2020 through a campervan hire in Australia. Or perhaps you've had a taste already, and are ready to sample more? A campervan hire is really the best way to see Australia – allowing you complete freedom to wander and meander your own pace and explore to the beat of your own drum.
Not sure where to start with your campervan hire in Australia?
We would love to help you out, as we know all the ins and outs of campervan hire!
It doesn't matter what type of traveller you are; we have campervan hire to suit your needs from a two-berth campervan to a larger more spacious six berth motorhome and everything in between – we have a campervan hire vehicle to suit your needs.
If you are wanting to stretch out with a bit more space then we can show you our extensive range of six berth motorhomes which comes with all the modern cons such as larger 190 litre fridges, cutting edge design, permanent beds, capacity for up to six travellers and practical living spaces. It doesn't matter if you are two people or six (or any number in between) you'll adventure in comfort and style with our range of larger motorhomes.
Or perhaps you want to get off the beaten track and explore a little wider with a 4WD campervan hire in Australia? Well, no worries, we have been there too and have a range of options to offer you. 4WD hire can feel like it's very complicated but we don't believe it needs to be. We can talk you through all the ins and outs of your 4WD hire, make sure you are comfortable with the 4WD vehicles capabilities, 4WD specifications and how to get the best value for money and the best peace of mind cover under your 4WD insurance options.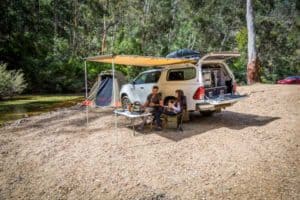 As the experts in campervan hire in Oz, you'll experience the "Gallivanting Oz" difference the moment you make contact with us – we are passionate about "good old fashion service" and that's evident in the number of testimonials we receive from happy travellers, repeat clients and word-of-mouth referrals. Quite simply, our team love to share their expertise and experience to help you select the right vehicle for your trip and plan that perfect holiday. At Gallivanting Oz, we have access to an excellent range of campervan hire so we usually have the perfect one to fit your needs and budget – and the best bit, you don't pay a cent more to deal with us!
Love the idea of a motorhome holiday, but find the organising daunting? We have you covered as well; our Escorted Motorhome Tours are the perfect solution. Sit back, relax and unwind knowing that all the hard work has been done for you. We included all the 'must see' highlights as well of those hidden gems that are often missed. We have a jam-packed tour schedule in 2020, and some of our tours are already sold out. Perth to Adelaide, Adelaide to Darwin, Brisbane to Darwin, Darwin to Perth and Tasmania – we have hand selected the best routes to provide the perfect mixture of adventure, the outdoors, sightseeing, and relaxing.
Our tours give you lots of choice including hire of either a two or four berth premium Maui motorhome with peace of mind insurance coverage. The four berth motorhome is prefect for a couple that likes the larger bathroom and modern spaces to stretch out a little more, while the two berth is perfect for those who are new to motorhome hire, or experienced travellers who prefer a more compact campervan with the external BBQ.
Check out our motorhome hire website today to find out more about campervan hire in Oz or perhaps you'll join us on one of our Escorted Motorhome Tours.