We're often asked about the things there are to explore when considering campervan hire from Cairns.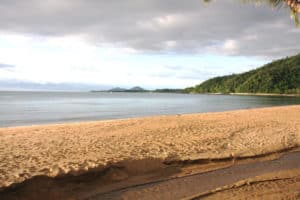 The answer is there are plenty of activities, many of them free or low cost to do in a campervan if you hire in Cairns.  Speak to us for hire options and travel ideas.
Having your own campervan complete with kitchen and bed means you can have an adventure, whatever your time frame from Cairns.  Generally there is no need to book campgrounds, rather have an idea of the direction you'd like to travel and stay for a while in the places you love.  This also gives you the flexibility to move on a little more quickly if the weather turns.
If beaches are your thing, then heading south to Mission Beach would be an excellent option to travel with your campervan hire.  This takes a couple of hours, depending which way you head to Mission Beach.  Either head down the highway, or take your time with one of the many scenic routes out to the coast and wind your way along stunning beaches.
A personal favourite for us, is Bingle Bay which is about 7km north of Mission Beach.  There is a council run campground there, and was $15 per night at the time we visited.  There are toilets and a hot shower right next to a stunning beach.  This is a small campground, however Mission Beach is only 7km away, so if it is full, it's only a short drive to many camping options.  It is really only suitable for 'smaller rigs', however all campervans we hire will be fine at this location.
The reason we liked this beach is that you park your campervan right next to the beach – back it in, and open up the back door for an amazing view – for only $15.  Unbelievable!  There is even a free gas bbq which is useful.
We enjoyed this campground so much; we ended up staying an extra day than planned.  Bingle Bay is a great beach to explore or relax beside.  Any worries you had before arriving will seem a million miles away.
Mission Beach itself is definitely worth exploring too.  Having a supermarket, many eateries and bike hire make it popular with fellow campervanners.  The council is in the process of making a bike path connect north and south Mission Beach which will be a pleasant ride.  There are also several parks nearby which are perfect to stretch the legs and enjoy nature.  Some offer fairly decent walks, or there are shorter tracks.  The local information centre can provide a map and suggestions depending on your timeframe and interests.
This area is also popular to spot cassowaries, so make sure you have your eyes open.  If you go into any of the state forests near Mission Beach, you'll probably also see evidence of the cassowaries if you are not lucky enough to see one.
If you would like more information on visiting the Cairns area with Campervan Hire, please contact the team at Gallivanting Oz.  We'd be more than happy to help! Complete our simple info sheet so we can assist by suggesting the best campervan that will suit your needs and budget.  Pay no extra to beneft from our experience.