Imagine escaping the daily grind relaxing in the great outdoors in your campervan hire with dinner cooking on the fire. Balmy nights with a crackling campfire is when you know that camping season is in full swing!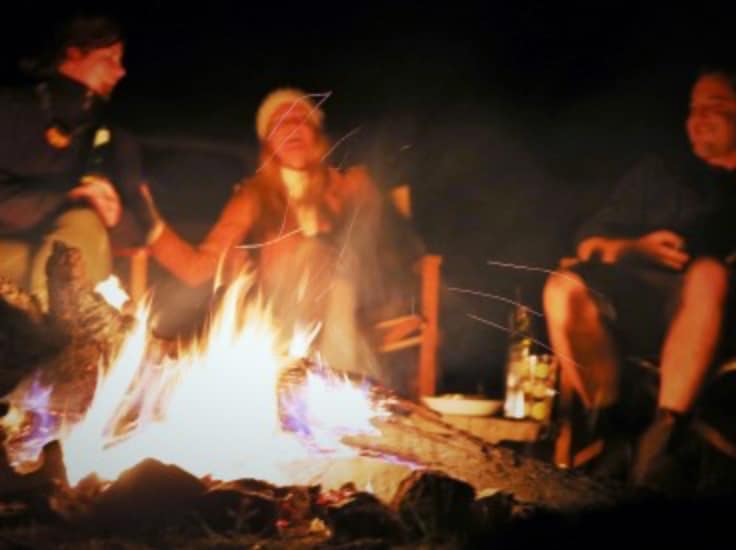 If you are new to campervan hire as a holiday, you might not have explored the option of campfire cooking. Well we have some great options for you to explore if you're feeling adventurous!
In case you didn't know, you can pretty much cook everything and anything you would otherwise normally cook in your kitchen!
Cooking with cast iron cookware
If you are planning on cooking some serious meals over the campfire then a piece of cast iron cookware is essential. Grab yourself a frying pan or a camp oven (Dutch oven) and away you go! If you are in a campervan hire and planning on a bit of campfire cooking, we'd suggest grabbing some cast iron cookware from camping stores or department stores like K-Mart or Target. You'll usually find one of those stores easily accessible as you're heading out of the city. In case you're wondering, your campervan hire comes with kitchen cooking equipment – just not for putting in the fire!
When cooking on the fire, its key to get the fire pit right. We suggest setting up a large fire and set aside one section for cooking and the other section to continue to burn fresh coals. You'll also need a few flat rocks to sit your frying pan just above the coals. Or if you have a Dutch oven, that's even simpler as you can just sit it in the fire with some coals on top and let the fire do the work!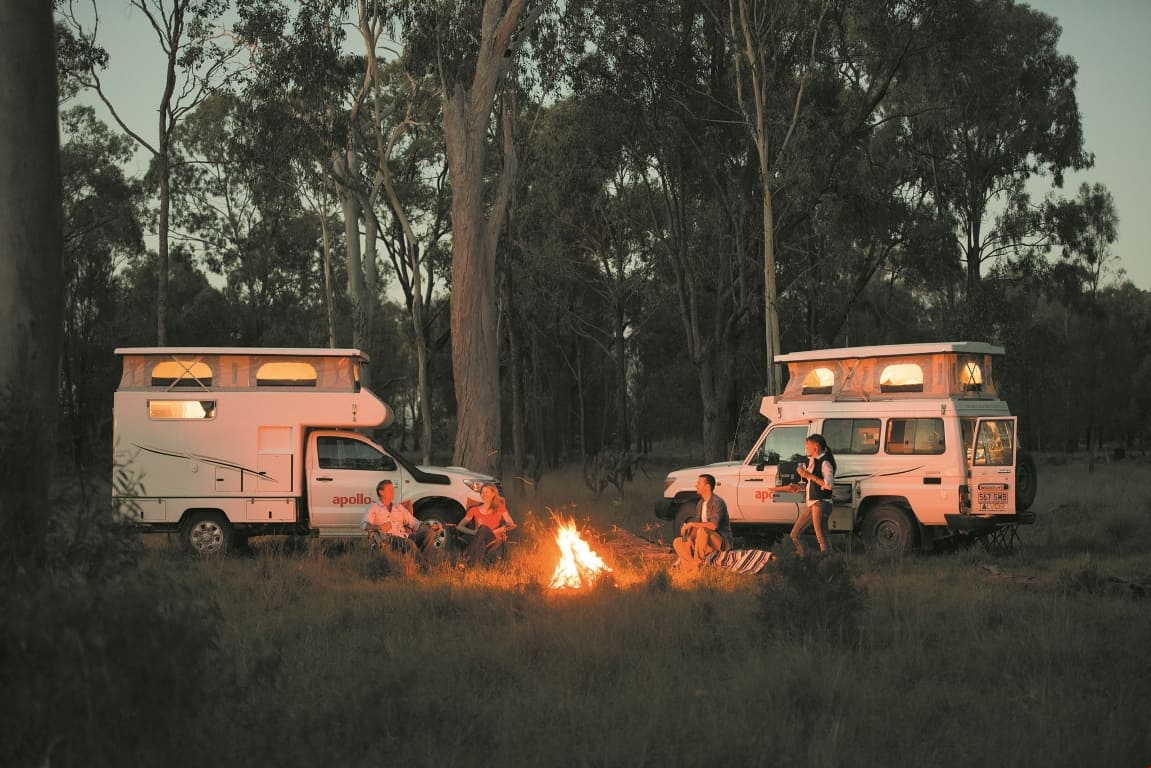 Our top tip is to make sure you don't pile on too many coals on top of the camp oven otherwise it will get too hot inside.
Great meal ideas on the fire this way are nachos layered with cheese and then sprinkle some olives, salsa and sour cream on top. With the Dutch oven you could cook up a tasty lasagna!
If you get to camp early enough or have a 'rest day' an Aussie favourite is to cook a roast inside the camp oven. So easy and so delicious. Damper or making bread is also another popular choice.
Cooking things using foil packs
If you don't fancy buying any cookware, then this is the alternative! Absolutely anything can go in them.
The idea is to place most, if not all, of the ingredients into a large piece of foil. Wrap it together like a parcel and place in the campfire or on a grill to cook. Best to buy heavy duty foil for this type of cooking. If you only have the thinner stuff, then make sure you double or triple it over to get the thickness – its better to have too much foil than not enough!
You could make chicken fajitas this way. Slice up your chicken, onions and capsicum, pop in your taco seasoning and wrap in a flat packet. Cook for 25 mins or until the chicken is done. Serve on a tasty bed of tortillas!
Perhaps you prefer to cook up scrambled eggs? Place your beaten eggs with grated cheese in the foil. Wrap it lightly so you leave some space in the packet and cook for 10 – 15 minutes on a low heat.
With any meal you cook this way, as the foil traps all the juices, the taste of the food really packs a punch! Just be careful when you open the foil packets as the food will be piping hot!
Another Aussie favourite when out in your campervan hire is to try cooking baked spuds in foil over the campfire – yum!
Cooking with sticks
If you've never cooked on a campfire before then this is probably what springs to mind when you think of campfire cooking! Marshmallows toasted on sticks perhaps? This is one camping activity the kids will love! However, you don't have to be restricted to just marshmallows! You could test your roasting skills with hotdogs or even damper.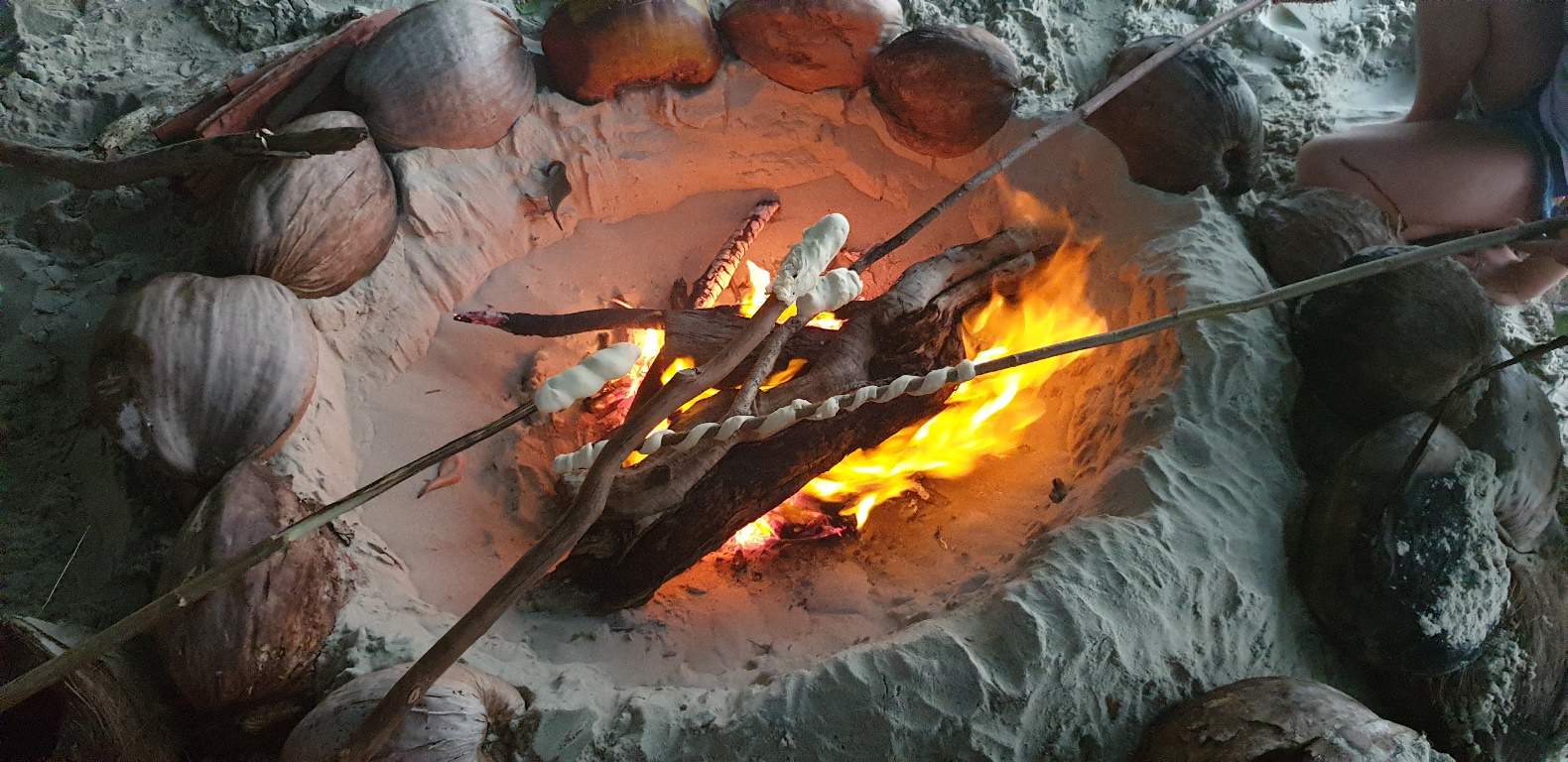 Grab yourself some sausages and a packet of frozen pastry. Place the skewer in about ¾ of the way down the sausage, wrap the sausage in a triangle of pastry and place it loosely in some aluminium foil. Roast over the fire, turning the stick and cook for about 15 – 20 minutes.
Damper is even easier to make! All you need is 1 cup of self-raising flour, 1 tsp sugar, 1 tbs butter, ¾ cup of milk and a pinch of salt. Rub the butter through the flour until it is crumbly. Mix the remaining ingredient a little at a time until it forms a dough. Divide into pieces and roll around the stick like a snake and hold over the campfire to cook for about 7 minutes.
With all these great ideas when you're travelling your campervan hire, cooking will be a breeze!
Cooking straight on the coals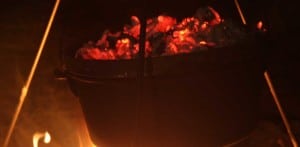 This is an easy one to try if you are out in your campervan hire. It requires no cooking equipment. There's nothing easier to cook than throwing food directly onto the coals! You'll get that wonderful, char-grilled flavour cooking this way! Best off cooking foods that has a natural protective layer such as sweetcorn. Let the fire burn down until the coals are completely covered with ash. Move the coals away from the fire and place the sweetcorn in their husks directly on top of the embers. Turn often until husks are charred and are starting to peel back from the cob easily. Cook for about 15 – 20 minutes and hey presto, with a generous dollop of butter on they're ready to eat!
Onboard Kitchen in your campervan hire
There is of course the option of cooking in your campervan hire. If you don't fancy setting up your own campfire to cook on, then you might want to use the onboard kitchen in your motorhome. All motorhomes with onboard toilet and showers have a well-equipped kitchen such as gas hob, electric grill, microwave and some even have an onboard external BBQ. Chat to one of our team members if you are keen to find a motorhome option with an onboard BBQ. This is a very popular feature, especially if you are going to be on the road for a while and you like the idea of the flexibility of using the onboard kitchen along with outdoor cooking!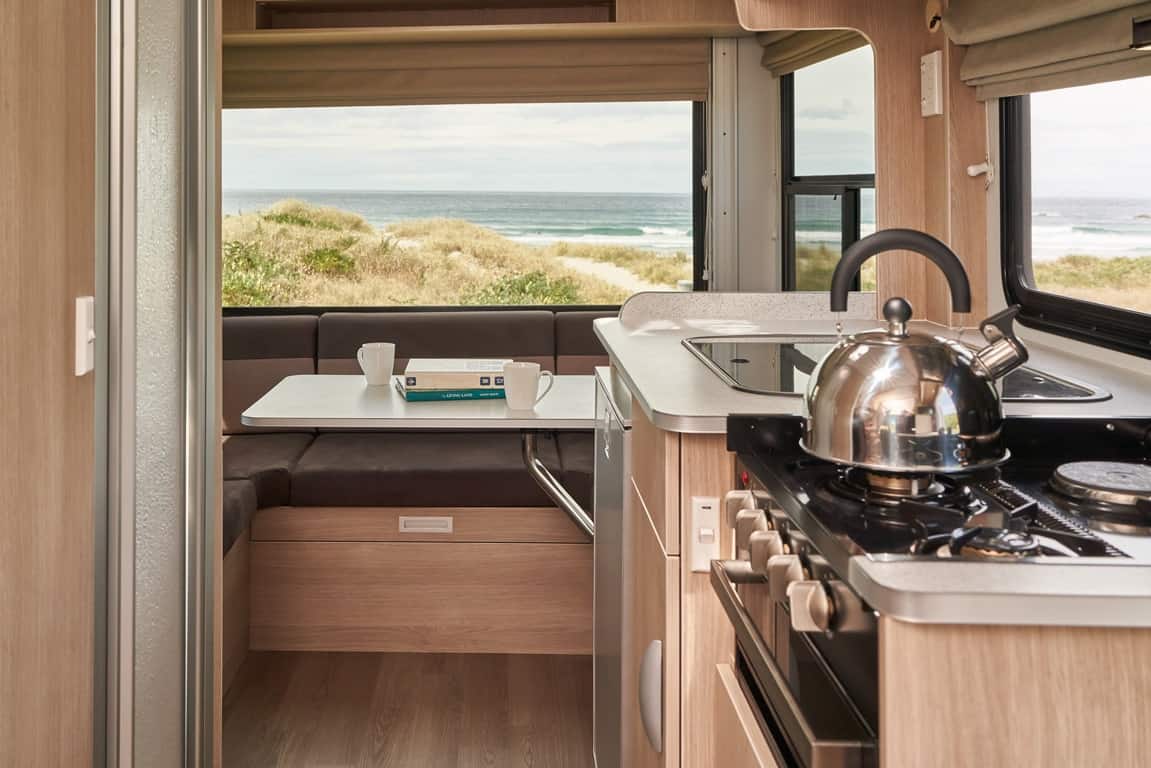 Our smaller types of campervan hire with no toilet and shower also have a functional kitchen space for cooking. Even the 4WD camper hires coming with cookers and cookware.
All our motorhomes and campervans have varying features, no two motorhomes are the same. It's the small differences that we understand. If you are looking for a motorhome hire for your next holiday, chat with one of our travel experts who can take you through the features and find one suitable for you and your upcoming trip.