What you need to consider when planning your motorhome hire holiday!
You'll often hear travellers talk about 'freedom camping' for their campervan hire holidays, and you might not be sure what this term means. Quite simply 'freedom camping' is free, or low-cost camping. Opportunities for freedom camping are more commonly situated away from the bigger cities, or within national park settings and they can also be referred to as 'bush camps'.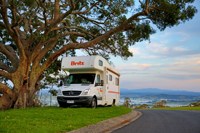 Some are simple road side rest areas to break up a longer drive, but others are located in some of Australia's most picturesque locations such as national parks, and stunning beach side spots – perfectly set up for a BBQ breakfast, relaxing mid-morning coffee or campfire dinner.
There are few things you need to consider before heading out to 'freedom camp' and we have outlined some of these below:
Campervan Hire – Freedom Camping: Consider a self-contained motorhome with onboard shower and toilet
In most cases, freedom campsites are low-cost or free as they have the most basic facilities and don't always include onsite toilets, showers and access to power. For that reason, if you are thinking about freedom camping – it's always worth considering a self-contained motorhome hire that has an onboard shower and toilet as this will allow you more flexibility and a wider range of locations to choose from, as well as the comfort and convenience of having these facilities onboard at all times.
If you are travelling in a 4WD vehicle, or a 2WD campervan hire 'hi-top' without an onboard shower and toilet – there still are a number of freedom campsites that do have public toilet and shower facilities, or alternatively upon arrival you can purchase a basic portable camping toilet and privacy screen from large camping stores if you like to get off the beaten track.
Motorhome Hire – Freedom Camping: Consider your vehicle battery life and how long it will last
Remember that you are operating on a battery system and the motorhome hire depots will usually recommend that you plug into power every second or third night – so you can 'freedom camp' but best only for a night or two at a time.
The fridge, water pump and lights all work off an ancillary battery – as long as it still has charge. The ancillary battery is separate to the battery that starts your motorhome. The ancillary battery gets charged by plugging into power and driving – this means the amount of driving you do will affect how long the battery lasts. Also, some vehicles have a solar panel which trickle charges the battery too, if it is sunny. The solar panel comes in a range of sizes with some only providing a small trickle charge and others a greater charge.
It's good to plan to be in powered sites every second or third night and be a little conservative with your power on the nights not on power. For example, even though you can watch a DVD when off power, you probably shouldn't too much as it will drain your battery pretty quick.
It's also always best to plan to have your first night on power after collecting your motorhome hire, and not too many hours drive from the depot – as this allows you to charge up the battery, while becoming familiar the vehicle and stocking up on the essentials before heading out on the open road. A super rushed first day is not a great start to the motorhome hire experience.

Camper Rental – Freedom Camping: Know the best places to camp, and where not to camp
We are often asked "can you camp anywhere in Australia?' The short answer is 'no', you can't just park up your motorhome hire where you feel like it to camp overnight however you will find many designated areas throughout all states and territories of Australia that do allow free or low-cost camping.
The team here at Gallivanting Oz love the wikicamps app (wikicamps.com.au) as it has online reviews and charges (if applicable) for freedom campsites as well as commercial ones. The online reviews are especially useful to get a feel for each of the campsites and feedback from fellow travellers. Of course it is always a good idea to read a few reviews to get a balanced report of the camp. The app costs around AU$8 and can be downloaded to your smart phone/tablet and is a great low cost option to get the latest information. It also has the most useful trip planner feature to help you keep a track of all of the fabulous places your friends/acquaintances will be telling you about to visit in your motorhome hire.
For longer trips, and those to more remote locations we also would suggest travellers get their hands on a copy of the Camps Wide Guide as it's also very useful for having physical HEMA maps in front of you too and for seeing the big picture.
The requirements for freedom camping and visiting national parks do vary by state so it's worth visiting the websites of each state authority to understand what the requirements and conditions are for booking freedom campsites, and if pre-booking is required.
Campervan Hire – Freedom Camping: Consider the uniqueness of each location
Finally, as the old saying goes "take only photographs, leave only footprints"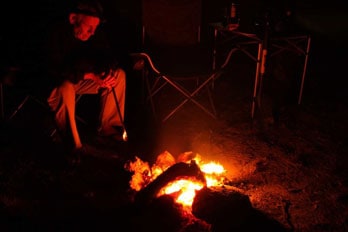 Ensure your time freedom camping in your motorhome hire is done carefully to make sure there is no traces left behind of your visit, and not to upset the delicate eco-system. Remember not to leave your rubbish around, and ensure you carry it all out with you when you leave. Check before starting a campfire as some areas ban fires in the summertime or a particular dry winter. When leaving your freedom campsite, make sure there is no trace of you visit left behind – take one last look before you leave an area.
Are you thinking about motorhome hire in Australia but still aren't sure which option is right for you?
Talk to the team at Gallivanting Oz who are the expert's campervan hire in Australia. It costs you nothing extra to chat with us, however you do get the benefit of our many years combined industry experience. At Gallivanting Oz, we use a range of suppliers to ensure we match the best motorhome hire and campervan rental to your needs, we happily share our experience so you can have the best possible trip.
Get in touch if you would like to learn more about campervan hire in Australia by emailing campers@gallivantingoz.com.au or completing our easy to use quote form available here.