Unlike Sydney or Perth, the cosmopolitan Victorian capital of Melbourne is the lesser well-known of the big Australian cities. A campervan hire from Melbourne, however, needs no introduction! When it comes to Australians looking for a chic, cultural city break, look no further. We Aussies can't get enough of that fab coffee culture. We also can't get enough of the unrivalled shopping districts, theatres and galleries, the nightlife and let's not to forget those famous graffiti laneways!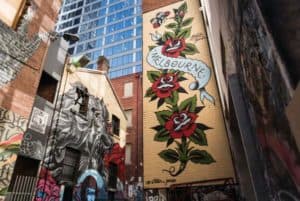 But…what about campervan hire holidays from Melbourne?
Often, Melbourne is not on people's radar. Especially when they think of great destinations for hiring a motorhome and heading off on a road trip. Folks, we're here today to explain why this is a COLOSSAL blunder, and to let you know how you can set things right!
One of the best things about hiring a campervan to travel around Victoria is that you travel in self-contained comfort. You'll be ready for any weather eventuality. You can check out our huge range of campervan hire from Melbourne here.
There are so many routes and activity options on a campervan hire road trip around Victoria. It can be hard to know where to start! Read on for the top spots for exploring the great outdoors, and ideas for a fabulous road trip focused on history, relaxation and gourmet fare!
With no further ado, here are some of our favourite Victorian campervan hire holiday experiences!
The best of the Great Outdoors on your campervan hire from Melbourne
Victoria is an outdoor-lover's paradise! You are spoilt for choice on a Melbourne campervan hire holiday. With its picturesque scenery, incredible flora and fauna. There is also an abundance of beautiful walking trails which meander the length and breadth of this stunning southern state!
The Great Ocean Road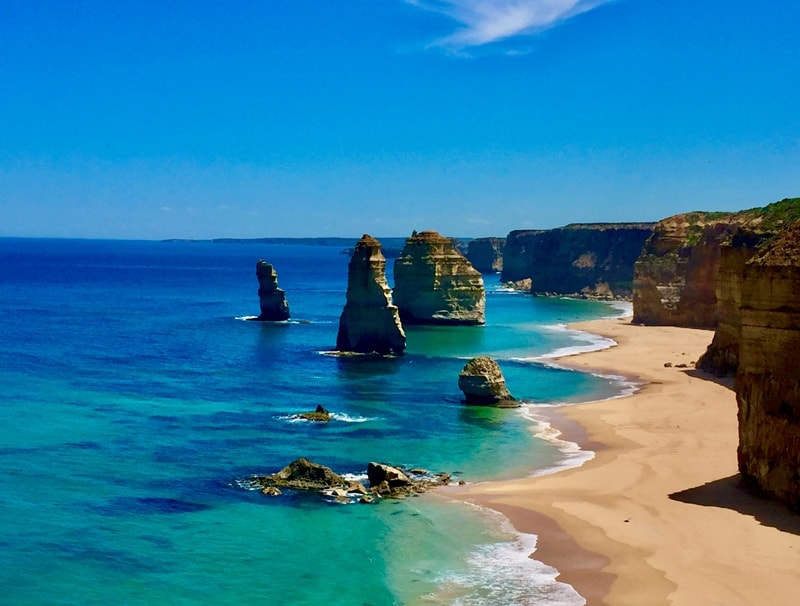 Less than 2 hours' drive from Melbourne's campervan hire depots, discover one of the world's best road trips. The Great Ocean Road! It negotiates 250km of the country's most spectacular coastline. Revealing raw, rugged beauty as the ocean meets sheer cliffs and rainforest. Explore the region's national parks. Where pristine beaches line turquoise bays and impossibly pretty waterfalls tumble down into lush, fern-fringed gullies. When you're weary from all that exploring, stop off at gorgeous little seaside resorts. You'll find galleries, adventure activities and award-winning wining and dining!
(PS: Keen to know all about campervan hire Melbourne to explore the Great Ocean Road? It's all here in The Great Ocean Road: why it's perfect for your next motorhome hire from Melbourne.
The Grampians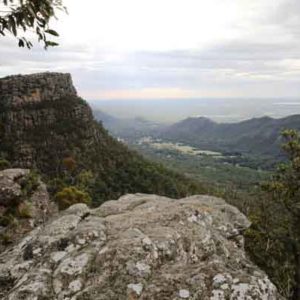 Located just three hours from Melbourne's campervan hire depots, you'll find the Grampains. These dramatic sandstone-peaked Grampians region is one of Australia's most-loved hiking destinations for a reason. It's utterly glorious!
Bushwalking trails wind through exquisite scenery. You'll enjoy breathtaking views, wildflowers, cascading waterfalls and an abundance of wildlife. The Grampian National Park is also where you'll find the best examples of ancient Indigenous rock art! For the best of ALL worlds, we recommend basing yourself at one of the region's excellent campgrounds in the pretty town of Halls Gap.
We think staying at Halls Gap Lakeside Tourist Park is a great choice. With wildlife galore and two wood-fire heated pools, kept at 33C year-round! This way, you have access to all the facilities that the campground and the pretty little town has to offer. You'll have the Grampians right on your doorstep. Balance out the exercise with a little indulgence. This area is also known for its local produce and quality wines, including the historic Seppelt Wines.
Top spots for history, relaxation and eats in your Melbourne camper hire
Bendigo
Within two hours of Melbournes depots, you can be exploring the historic town of Bendigo. The grand old buildings, Chinese heritage and living museums are a visible legacy of the 1850s gold rush. It wasn't just any old gold rush either. Between 1850 and 1900, Bendigo produced the most gold in the whole world! Pay a visit to the Central Deborah Gold Mine. Here explore the exhibits, underground tunnels and old machinery of this historic former mine. You'll also find that Bendigo also boasts a flourishing art and culture scene. Leading the way is the Bendigo Art Gallery, one of the country's oldest, biggest and best regional galleries. Known for its shiraz, and the region features over 60 cellar doors!
The Mornington Peninsula
The Mornington Peninsula is located an easy 1-hour drive from Melbourne. This beautiful corner of Victoria is Melbourne's secret playground. You'll want a couple of days to take in all the fabulous activities here! (Bear in mind this region gets busy on weekends and holidays. Book your campsite and any top restaurants well in advance.)
What are the best things to do on the Mornington Peninsula on your campervan hire holiday
Arthur's Seat Eagle is a great place to start! As the name suggests this fully-enclosed gondola gives magnificent birds-eye views. Views over the Mornington Peninsula, across Port Phillip Bay towards Melbourne and beyond. For incredible native wildlife encounters, you can't beat the Moonlit Sanctuary. Here wildlife wander free-range in this huge, beautiful park. If your campervan holiday falls in the summer months, enjoy picking fresh fruit at one of the many farms and orchards in the area. There are cherries, strawberries, apples and more bursting from the rich red soil!
The Peninsula Hot Springs is an exercise in pure relaxation with over 70 baths to soak in, surrounded by nature. Pure bliss! Our favourite place to visit on the Mornington Peninsula is Fort Nepean National Park. This is a place of untouched beaches and spectacular views. It boasts many beautiful walks. There's fascinating abandoned forts, lookout towers and tunnels to explore!
The Murray River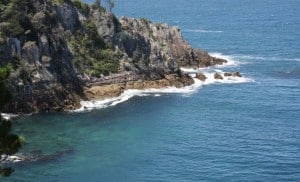 At 2,508km the mighty Murray is Australia's longest river. It forms most of the state border between NSW and Victoria. The very name conjures up images of historic towns and paddle steamers chugging the slow-flowing river, sandy banks shaded by towering river red gums.
A road trip through the Murray River region is a popular choice. It ticks everyone's boxes! You'll find an eclectic mix of activities. They take in the magnificent river to ensure that your campervan hire adventure is one to remember. These range from fishing, canoeing and river cruises. Youu can also absorb the fascinating Indigenous and colonial history, or trekking the riverside bush walking trails.
Whatever you choose, you will be soaking up the striking natural landscape and enjoying the abundant native wildlife. Picturesque historical towns such as Echuca, Mildura and Rutherglen stretch the length of the river. The 'high country' region surrounding Rutherglen is also famous for fortified wine and regionally sourced cuisine. We're sure you'll agree a little decadence is mandatory. What we love most, is that everything around here is served up with a big dose of Aussie country hospitality! There are over 15 RV friendly towns. And more excellently-run campsites than you can shake a stick at, you'll find exploring this beautiful region a breeze.
Ready to book your campevan hire from Melbourne?
If you're ready for a break, we're here to help! We will answer all your questions about campervan hire! Find a vehicle to perfectly match your destination and your wish list. And, as always, we'll find you the very best price too! Chat to our friendly travel team today.