For a lot of travellers – having some of the small comforts of home while out on the great open road in a campervan rental is key to having a great holiday experience and a good night's sleep – ready afresh for a new day of exploring.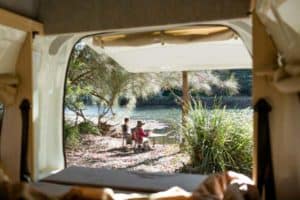 Often, we have travellers asking our team at Gallivanting Oz about the benefits of a campervan rental with a toilet and showers onboard as opposed to the 'HiTop' vehicles that come without toilets and showers included.
There are quite a few differences to consider between the two options including internal space within the vehicle (much less in a HiTop), preferred layout, who is travelling and daily hire rates. However, the biggest differentiating factor is the ability to have access to a toilet and shower with ease.
As every trip is completely different, so is every traveller – so while some are happy to utilise campsite facilities (keeping in mind with national park camping this can include 'long drops' and/or very basic waste management systems) a lot of travellers tell us that they simply love the convenience and ease of an onboard toilet and shower with their campervan rental.
Here are our top 3 benefits of camper rental with onboard toilet and shower:
The ability to freedom camp, and a wider range of camping options
If you are after the experience of being able to pick and choose your stops without having to check if there are shower or toilet facilities (and if they are 'ok'!) and give yourself much more variety of choice for freedom camping – then a campervan rental with toilet and shower is for you.   You are much more likely to secure yourself some great low (or no) cost freedom camp spots during your trip if you don't have to eliminate them based on lack of facilities… and you can find yourself camping in some magical, unspoilt locations. Please do note though, that overnight parking must be in designated areas – the rule regarding this vary from each council district.
No long walks in the middle of the night, and no queues!
Depending on where you are travelling, and how far away it is from toilet and shower facilities once the sun goes down you might not wish to venture out too far from your campervan to go to utilise a shared bathroom or shower facility.   Even if you are situated in an established camp ground with facilities close, they are often in hot demand during peak times (and this hot demand may leave you with limited hot water!), so having your own onboard shower and toilet gives you the freedom to use it whenever you wish, without the hassle of lines and waiting.
Extra convenience while on the open road.
Of course, you aren't able to utilise the shower and toilet facilities while the campervan is moving, but still…. having the freedom of onboard shower and toilet while on the great open road is priceless.  Never again will you have to google search the next available location for a toilet, or have to venture into service station rests stops.  As long as your vehicle is stopped and parked – you can utilise all toilet and shower facilities whenever you wish.
For those who are new to campervan rental you might ask "how hard is it to look after the toilet?" and "will I need to get my hands dirty?"
Our travellers need not worry – the modern camper toilet is extremely user friendly, and not difficult at all to use.  Don't forget, when you collect your vehicle from the depot, you will also get a full briefing from the site staff on how to correctly utilise all elements of the campervan rental including instructions on how to empty the toilet.
Did you know that special chemicals are added to the water to make it turn blue (depending on what brand you use)? These chemicals then break down the contents – so you only need to empty the blue liquid into a designated 'dump point'.   As the contents now has been broken down by the special chemicals, most of our travellers then find no issue emptying the contents (now a blue liquid) into the allocated dumping points.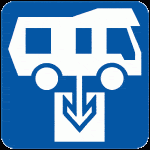 Although some campers can go longer, it's really best to do this every 2-3 days (even if it's not completely full) to reduce any possible odours that can occur if it is left for longer!
Campervan rentals with onboard toilets are extremely popular so you'll find that most caravan parks have a dump point these days.   Otherwise you can also keep an eye out for the blue signs while travelling on road or a quick google search will do the trick – you'll probably be surprised how many dumping points there are out there.
As a condition of hire, it's important to remember to ensure the toilet is completely empty before returning the vehicle to the depot – each campervan rental will have different instructions on how to do this, and a depot team member will take you through this upon vehicle collection.  So please check in with the depot staff before you leave as to what is expected upon return.
Are you thinking about campervan rental in Australia but still aren't sure which option is right for you?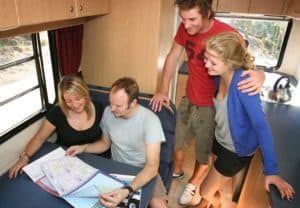 It doesn't matter if it's your first trip or you are a seasoned traveller, it's easy to become quickly overwhelmed with all the choice on the market.  The great thing about choice is that it gives you the opportunity to narrow down exactly what is important to you on your trip, and what isn't.
Take the opportunity to work with experts who have themselves taken the motorhomes out on the open road and know all the small details, features and benefits – and can share their hands-on experience before you hire.  This can mean the difference between an average experience and an exceptional one.
Talk to the team at Gallivanting Oz who are the experts in campervan rental in Australia.  It costs you nothing extra to chat with us, however you do get the benefit of our many years combined industry experience.  At Gallivanting Oz, we use a range of suppliers to ensure we match the best motorhome and campervan hire to your needs, we happily share our experience so you can have the best possible trip.
Get in touch if you would like to learn more about campervan rental in Australia by emailing info@gallivantingoz.com.au or completing our easy to use quote form.