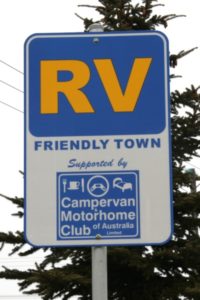 We are sometimes asked what the difference is between campervan hire and motorhome hire, as the names do tend to be used interchangeably in Australia.  This can be confusing to someone trying to workout if they are looking at campervan hire or motorhome rental.  Some countries also use the term 'RV' which can also cause confusion when trying to plan a motorhome hire here in Australia.
RV (Recreational Vehicle)
RV does stand for Recreational Vehicle and encompasses all the motorised camping vehicles.  Essentially if you can live in it and drive it, then you're looking at an RV of some description.  This means both motorhomes and campervans fall under the umbrella of an RV.  Here at Gallivanting Oz, we hire RV's, which could be a motorhome, campervan or 4WD that can be slept in.  Some countries use the term RV more commonly than we do here in Australia.
But, that still doesn't clarify what's best in the debate between campervan versus motorhome!
Campervan Hire
A campervan is basically a 'smaller' RV that's been modified/custom altered to fit the function as a vehicle that you can sleep in and explore Australia.  Campervans tend to be more compact and perhaps are perceived as being a little bit easier to drive, than a full-size RV or Motorhome.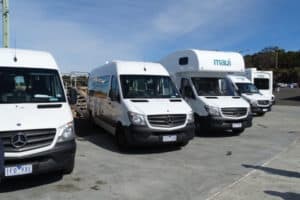 Campervans usually are more fuel economic, mainly because they are smaller and also create less wind resistance while travelling.  Being smaller, campervans are usually cheaper to hire and tend to appeal more to the backpacker market or those that are more budget conscious.  They are usually a modified van, which can range from something small like a Toyota Hiace van, to the larger courier/transit style vans like maybe the Mercedes Sprinter with a sliding door.
Campervan hire usually are for 2 – 3 people and some even have a toilet and shower on board.  We have 2/3 berth campervans for hire that have a toilet shower, air conditioning (when plugged into 240 volts), kitchen facilities and a comfy bed.  Some of our campervan hires even have an external BBQ.
We would say that this style of campervan hire, with the toilet/shower is very popular for our pre-retiree/retired clients who are happy with a smaller RV and would rather spend the extra money on sightseeing than more space where they are sleeping. This style of campervan is 7 metres long, so it's really not that small at all!
If you are 4 people, we also do have a small campervan hire, which has no toilet or shower on board, and does have you sleeping in quite a small space.  These are perfect if you are a group of friends travelling on a very tight budget, or a small family looking for a budget holiday.
Motorhome Hire

Motorhomes are larger RV's, and in Australia, when you hire a motorhome, it can be driven on a regular car licence.   They are purpose built and usually on the chassis of a small truck with fibreglass (or something similar), sides.  There can be a range of sizes still when we are talking about motorhomes and they do tend to have the 'cab over' or luton bed above the cab, but not always.  They are more like a box on the back of the vehicle and usually have the ability to walk through from the driving cab to the living space.
They will have a kitchen on board, toilet/shower and air conditioning. Like the smaller campervans that offer the air conditioning in the motorhome hire space, this will only operate when the motorhome is plugged into power at a campground.
We mentioned earlier that some people think a campervan is easier to drive as it is smaller.  That is true, however most find the larger motorhomes very easy to drive and not that different to driving a car.  You're sitting up a little higher in a motorhome hire which gives great visibility and the mirrors certainly give you the opportunity to see around you easily.  Many motorhomes also have a reversing camera which is a great safety feature too.
The motorhomes we hire, many of them have fly screens – having a fly screen door to the rear living space, and opening fly screened windows.  The smaller campervans tend to have no fly screens on the sliding side door or rear door, however some do have at least one opening window with a flyscreen and roof vent.
What does 'berth' mean?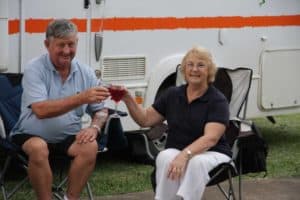 Another terminology that sometimes trips up people is the term 'berth'.  This is the number of people the campervan or motorhome hire will sleep.  This doesn't necessarily mean how many 'beds' there are, as it is assumed that two people will be happy to share the same bed.  An example of this, is a six-berth motorhome which usually has 3 double beds.  What is important to note, is that if you are 5 people, but think that your three children may be happy to share one bed, you would still need to look at a 6-berth motorhome hire, rather than a 4 berth motorhome hire.  The reason for this, is that when we refer to the number of 'berths' we are also talking about the number of seatbelts.  By law, everyone travelling in motorhome hire in Australia, must be wearing a seatbelt.  So, 5 people cannot legally travel in a four-berth motorhome.
We hope this article on campervan versus motorhome gives some clarity as to what the best option may be for you.  We'd suggest though, don't worry too much about the 'type' of RV – think more about the features you are after and the benefits that may offer you on your road trip.
These are a couple of questions you may like to ask yourself?
Do you want the comfort and convenience of a toilet and shower on the road?
Are you taller or larger and prefer a bigger motorhome to give you more space for relaxing when on your road trip in Australia?
Are you wanting to explore off the beaten track and specific 4WD tracks?
Let us know the answers to these questions along with how many people are travelling (including children), and when/where you'd like to go, and we'll be happy to show you some suitable options along with their features to help you narrow down the perfect RV hire for your holiday in Australia.