We're hopping over the ditch for the 3-day Covi Motorhome, Caravan & Outdoor Show in Auckland.
We'll be there for the 3-days: Friday 13 – Sunday 15 March 2020.
If you have plans to visit Australia come and chat with us as we can help take the hassle out of searching for information on where to go, what to do and when to go.
Make sure you grab a seat at our FREE seminar (11 am daily) where Belinda (our travel guru from Gallivanting Oz) will provide you with really useful tips on travel, such as:
The best travel routes around Australia, making sure you don't miss out on any hidden gems along the way
Know when the best time of year to travel in, Australia is large with varying climates depending on what time of year it is– this can be crucial to making the most out of your holiday!
What vehicle should you hire? There's nothing worse in hiring a vehicle that turns out to be wrong for your type of holiday requirements. Get some tips about the types of things you need to consider when hiring your motorhome!
We'll also be sharing some hot insider tips and useful information to get the best out of your motorhome holiday around Australia – which could even save you money!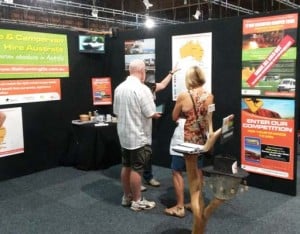 Whether you're seasoned at motor home holidays or you are new, you'll find this seminar invaluable and will help you plan your next Australian adventure. Don't miss out!
Where: Covi Motorhome, Caravan & Outdoor Show, ASB Showgrounds, Greenlane, Auckland
When: 13th – 15th March 2020
Seminar Time: daily seminar, 11 am
If you're keen to chat with us before the show, then please get in touch with us to see how we can sort you out with motorhome hire or find out more information on our tours for next year!