Have you heard people talking about the Horizontal Falls and wondered where and what they are?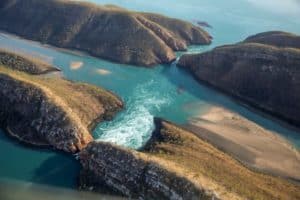 Many of our clients who hire a motorhome or a 4WD camper from Darwin to Perth have this on their bucket list. Or perhaps you've been asked if you are going here, but not sure what it is!
Described by David Attenborough as "one of the greatest natural wonders of the world," the Horizontal Falls are located deep inside a remote and untouched area of the Kimberley region of Western Australia. Surrounded by the pristine waters of Talbot Bay in the Buccaneer Archipelago, this isolated phenomenon can only be observed by air or by sea.
Where and what are the Horizontal Falls?
The location of the falls is Talbot Bay in the Buccaneer Archipelago and there is no road access. You can access the Horizontal falls when travelling in your motorhome hire from Darwin to Perth by calling into Derby or Broome, in the Kimberley Region, and taking a scenic flight.
The Horizontal Falls are tidal waterfalls created by narrow channels in the McLarty Ranges. Unlike a typical waterfall, this natural phenomenon is caused by to the enormous tides, which often have a 10-metre variation, which, during king tides, reaches a huge 13 metres and is up to thirty metres deep over a 6 hour period, pushing the intense current through a narrow gap between two coastal gorges. The fast-moving tides bank up between the gorges before surging out across the bay's surface, creating a breathtaking horizontal waterfall!
How do you get to the Horizontal Falls?
You'll need to join with a local tour operator such as Horizontal Falls Adventures where you can enjoy a half-day or full-day trip to the Horizontal Falls. There is even the option for an overnight stay if you wish.

Most of those travellers going from Darwin to Perth in a motorhome hire, find the half or full-day tour perfectly meets their needs. The half-day tour has you flying both ways and is certainly an actioned packed morning.
The full-day tour from Broome gives the opportunity to also enjoy a 4WD experience along the Cape Leveque Peninsula which is north of Broome…more bang for your buck!
It is not possible to drive in a 4WD camper hire from Darwin, Broome or Perth as there is no road to this location, deep in the McLarty Ranges.
How do you experience the Horizontal Falls?
Experience the Horizontal Falls in a breathtaking seaplane flight from high up above, then a heart pumping fast boat ride through the gaps!
By joining a local operator such as Horizontal Falls Adventures, you'll enjoy a scenic flight over the falls where you can see the water rushing in and out of the small gap into the sound. Once you've landed at the base, you'll jump aboard a powerful jet boat and be whisked over to see the racing water at sea level. Often, depending on conditions of the day, you'll also be driven through the falls which are certainly memorable and something you will remember as one of the many highlights on your motorhome holiday from Darwin to Perth.
Should I pre-book the Horizontal Falls?

Yes, we strongly suggest you pre-book the Horizontal Falls experience if it is on your bucket list. There are a few reasons for this.
The horizontal falls trip does not operate every day through the dry season. When there is a neap tide (i.e. a small gap between high and low tide) the local tour does not operate, as the experience is not as dramatic as when there is a larger rise and fall. If you are having trouble locating the dates the tour is not operating for when you're travelling, let us know and we can point you in the right direction. By knowing which days the tour is operating you can plan your holiday around this. Our Darwin to Perth escorted motorhome tour ensures our clients are in Broome at the right time if the Horizontal Falls are on their bucket list.
There are only a certain number of seats on the small planes that take travellers like yourselves, and often certain travel dates book out in advance, particularly around June, July and August.
To avoid disappointment, it is worth booking in advance, even, if the worst case, it is only a few days out, once you see how you're travelling time-wise in your motorhome hire. You can then 'speed up' or 'slow down' the travels so you don't end up missing out when you get to Broome or Derby.
To assist you with your planning, most end up in Broome about halfway through a motorhome hire trip from Darwin to Perth (or vice versa), presuming you haven't already experienced some of the route first, such as around Kakadu NP etc.
Is a 2WD motorhome hire suitable when travelling from Darwin to Perth?
Yes, many of our clients prefer the comfort and convenience of an onboard toilet and shower when travelling from Darwin to Perth. It is a sealed road all the way, with the main highway skirting through the eastern Kimberleys. There are some areas that are unsealed or 4WD tracks which are not accessible by the 2WD motorhome, however, you'll find local tour operators offer day trips either by a 4WD or scenic flight into these areas.
For some travel dates and 2WD motorhome hire options, the bottom-line cost can actually be cheaper doing this and incorporating some day trips, than hiring a 4WD camper for the entire period. It really depends on the type of travellers you are and what sort of experience you are looking for.
Is it better to hire a 4WD camper when travelling from Darwin to Perth?

The answer to this one will certainly depend on the type of travellers you are, what you are wanting to see and do and if you like to get off the beaten track. While there are many stunning places to see and experience on the sealed road from Darwin to Perth, there are certainly some areas that are on unsealed roads and 4WD tracks. If the Gibb River Road is on the bucket list, you'll definitely need a 4WD camper hire. We also offer 4WD campers to and from Broome too, although it is worth noting that there is a remote location surcharge fee to/from this depot. This is why it tends to be more popular to travel all the way from Darwin to Perth in a 4WD camper hire, or vice versa if you have enough time available.
A few popular areas that people may like to explore on their own, and therefore a 4WD camper hire will be necessary, are Karijini NP (only parts of this are sealed at the time of writing); Cape Leveque; Windjana Gorge; Tunnel Creek; Gibb River Road; Bungle Bungles; El Questro; Jim Jim Falls/Twin Falls (Kakadu NP).
When you are ready to look at motorhome hire for your trip to get you to either Derby or Broome, get in touch with us to find out what vehicles will best suit your needs for your trip and we'll send you a personalised information pack. You can see our vehicles here and can get a quote here.
Images supplied courtesy of Tourism Australia.