Planning to drive from Perth to Darwin and through the Kimberley region road trip?
Travelling in a motorhome hire or 4WD camper is very popular between locations like Darwin and Perth. A drive through the Kimberley region considered the pinnacle. For some lucky travellers this also involves a chance to see the natural phenomenon the Staircase to the moon.
The Kimberley. The words alone summon up images of a wild and remote beauty that is close to intangible. This place evokes a feeling of freedom and adventure, of the innate human desire to explore, discover and to be one with nature. Which is probably why, in the world of motorhome hire holidays, this magnificent region tops the list of ultimate Australian drive destinations.
A drive to the Kimberley region offers a myriad of once-in-a-lifetime experiences; discovering the rich Aboriginal culture from bush food to rock art, visiting remote pearl farms, taking a scenic seaplane flight over some of Australia's most pristine coastline to the spectacular Horizonal Falls, before riding the rapids on a high-powered speed boat. No drive trip to the Kimberley is complete without an outback adventure to soak up the age-old landscapes of vast savanna woodland, boab trees and deep red gorges forged over millions of years. Then, toast the perfect day with a sundowner as the sun sets over the ancient Bungle Bungle Range.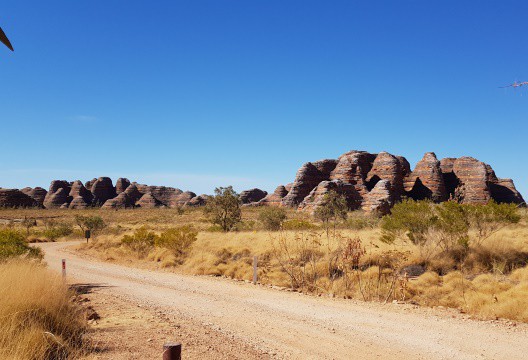 The outback resort town of Broome is known as the southern gateway on a drive trip to the Kimberley region from Perth to Darwin. Broome is the home to the iconic 22km-long Cable Beach and famous camel trains that trail along it at sunset silhouetted against the blazing sky and the turquoise Indian Ocean.  It's a popular driving holiday destination these days withplenty to keep you entertained.  From craft breweries and old pearl luggers, to beautiful Roebuck Bay where you'll get the best seat in the house for one of nature's most splendid shows……the Staircase to the Moon!
See the Staircase to the Moon in Broome
On two or three nights per month between March and October, an incredible natural phenomenon occurs as the full moon rises over the exposed mud flats on an extremely low tide, creating an optical illusion of a staircase, leading from the beach right in front of you all the way up to the moon!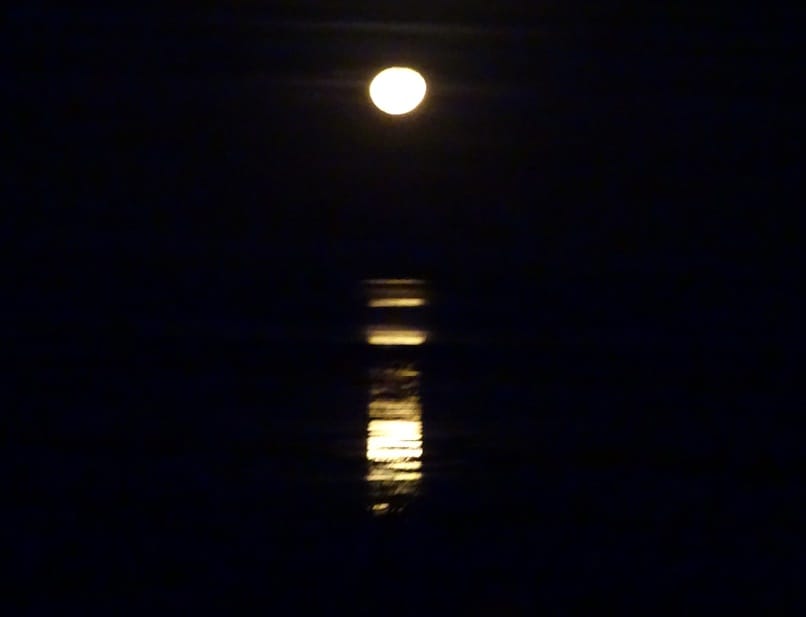 The full effect of the staircase is best enjoyed from Town Beach, which on the first two 'staircase nights' takes on an almost carnival feel with night markets lining the Town Beach Reserve; a showcase of regional handicrafts, live tunes from local musicians, tasty multicultural cuisine and all of the vibrancy and colour that this town is so loved for. Kick back under the stars on the sandy beachfront in front of the Mangrove Hotel and take it all in.
A popular caravan park to stay in Broome when you're on you drive to the Kimberley region is Discovery Parks – Broome, formerly known as Roebuck Bay Caravan Park. This caravan park is the perfect location to see the staircase to the moon.
Our top tip? If this is a bucket list item on your big Kimberly drive adventure, don't leave it to the last minute. This is a popular time to visit Broome and motorhomes and campsites book up quite early, whether you pick up your motorhome hire from Perth WA, or fly in directly. Check the 2021 Staircase to the Moon dates below. At Gallivanting Oz we have many great 2WD and 4WD campervan hire options available to suit your needs.
Staircase to the Moon dates and times in Broome for 2021:
March:
29 March at 6:32 pm
30 March at 7:16 pm
31 March at 8:03 pm
April:
27 April at 5:50 pm (17 minutes after sunset, so may be too bright to see the effect)
28 April at 6:40 pm
29 April at 7:34 pm
May:
27 May at 6:13 pm
28 May at 7:15 pm
29 May at 8:19 pm
June:
25 May at 5:58 pm
26 May at 7:03 pm
27 May at 8:06 pm
July:
24 July at 5:47 pm (13 minutes after sunset, so may be too bright to see the effect)
25 July at 6:49 pm
26 July at 7:48 pm
August:
23 August at 6:30 pm
24 August at 7:24 pm
25 August at 8:15 pm
September:
21 September at 6:06 pm
22September at 6:56 pm
23 September at 7:46 pm
October:
21 October at 6:29 pm
22 October at 7:19 pm
23 October at 8:10 pm
It is worth noting it is also possible to experience the Staircase to the Moon in Port Hedland if your dates don't quite line up.
Plan you Perth to Darwin road trip dates
The Staircase to the Moon is only one of the once-in-a-lifetime experiences you can have in in the Kimberley region on your big drive trip from Perth to Darwin. It is important to understand planning is key, as many of which only happen at certain times of year. The biggest wildflower spectacle on earth, for example, or the migration of the whales. Perhaps swimming the huge gentle manta rays or whale sharks on Ningaloo Reef is on your bucket list, or visiting the Horizontal Waterfall, which we mentioned at the beginning of this story, described by Sir David Attenborough as "one of the greatest natural wonders of the world'.
How to get to travel from Perth to Darwin
Whether you'd like to pick up a 4WD campervan in Broome and head out into the world-heritage listed national parks that run the length and breadth of the state, or cruise in comfort with a luxury motorhome hire from Perth, stopping at tiny fishing towns, pink lakes and national treasures such as Karijini National Park. If you have the time, continuing on to Darwin and the tropical Top End makes for a road trip of a lifetime. Find out more about the Darwin to Perth route if you're planning a self drive adventure…or you may like to take a look at our Darwin to Perth escorted motorhome tour, which also runs along this incredible route.
If we've whet your appetite and you'd like more information on the best time to travel to the Kimberley, the best vehicle for you and a hand to put together you holiday plans, then please do get in touch. We'd love to hear from you and make your dream Darwin to Perth motorhome holiday come true!