The team at Gallivanting Oz are often asked about the benefits of an escorted motorhome tour as opposed to freestyling it with just a motorhome hire.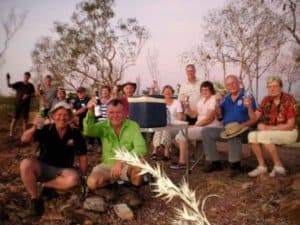 Escorted motorhome tours have definitely gained in popularity in the last few years, and we are finding that many of our routes for 2019 have either completely sold out or have limited availability to only a few more travellers.  This means our team has already started on the 2020 tour schedule to ensure we are able to deliver an extensive array of options to meet the high demand for the Gallivanting Oz Escorted unique tour experience!
Most of the time, new travellers come through word of mouth from friends and family who have taken an escorted tour and can't stop raving about their experience gallivanting Australia with our dedicated and highly experience tour guides!
There are so many reasons why travellers keep coming back to Gallivanting Oz for escorted motorhome tours including exceptional value for money, the opportunity to travel with a great bunch of people, and largely a unique and 'real' Australian travel experience – that's impossible to find elsewhere.
So, if you have never been on an escorted tour, or are considering your next trip here are the top 3 things we are sure that you are going to love about escorted motorhome tours with Gallivanting Oz.
Reason 1 – Gallivanting Oz does all the work for you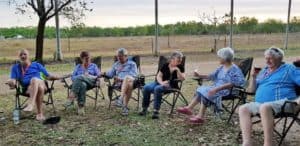 The team at Gallivanting Oz leave no stone unturned when it comes to planning the tours.   Each escorted motorhome tour and route is meticulously planned to maximise traveller's experience and the opportunity to see some great Australian iconic locations – not forgetting meeting the locals who make Australia great!  When you join an escorted tour all the hard yards have been done for you.  Each escorted tour comes complete with an extensive travel guide book which is customised by our team for each escorted tour and yours to keep as a souvenir after the tour.  This is complete with photos and loads of information and interesting facts in addition to all the important details to ensure you have the opportunity to see and do as much as you'd like to do each day …and don't miss a thing!
Reason 2 – You get to expand your networks and travel with similar likeminded people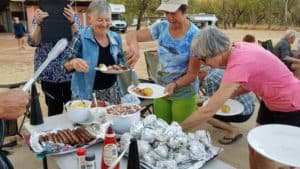 It's really a bit like the quote "There are no strangers here; only friends you haven't yet met" when it comes to escorted motorhome tours!
Do you want to explore the beautiful countryside of Australia, but your friends aren't interested in joining the adventure? Then the best part of an escorted tour is that you will be travelling with a great bunch of like minded people who have similar interests and the drive to explore this great country.  What starts as independent people from different locations and cities, swiftly becomes a group of firm friends that you'll be sharing a yarn with over the campfire, a glass of wine under the open skies, or a swim in some of Australia's most remote and idyllic swimming spots.
Reason 3 – our team and tour leaders… they know, because they go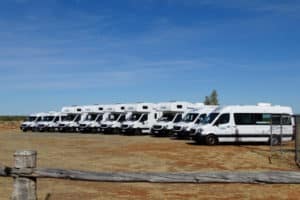 Our tour guides and back office team are known as the "google" of the Australian travel world, what they don't know about this great country isn't really worth knowing.  Imagine having years of travel and motorhome experience at your fingertips while you are on your motorhome adventure.
With extensive travel experience, our tour leaders know those secret must do spots that are easily missed by some travellers.  As they know the areas so well, it will also put you at ease if you are concerned about safety – with GPS car navigation units made for easy driving along with detailed travel notes, maps and driving instructions provided. While this is an escorted motorhome tour, we encourage you to explore at your own pace during the day with the support of our tour escorts close at hand.  This way you'll get the best of both worlds with the independence and flexibility that many travelers crave but take comfort in the knowledge that everything is organised for you.
At Gallivanting Oz, we know it's the small details that make all the difference.
Still undecided about a Gallivanting Oz Escorted Motorhome Tour?
Here's what some of our previous clients say about their experience on the road:
"We had a fantastic time.  Thank you so much for organising everything perfectly.  Things couldn't have gone more smoothly"
 "This was an extremely well organised trip with a huge variety of interesting experiences. Great camaraderie amongst the group and the very professional tour leaders kept us all well informed and cared for."
"All the headache of organising our holiday was taken care of by Gallivanting Oz.  No worries about anything and the tour leaders are brilliant. Recommend to anyone."
Rest assured that after you complete an escorted tour with Gallivanting Oz, you will be able to sit proudly in any Aussie pub or around a camp fire telling stories just like a local!
Are you wanting to know more? The best place to start is by checking the Australian tour routes we have planned and access our detailed escorted motorhome tour details available here.
While you are there don't forget to check out our escorted motorhome tour videos which will give you a taste of what you can see and do on tour.
Ready to find out more? Reach out to our friendly and experienced team at Gallivanting Oz today by completing an escorted motor home tour expression of interest form, where we can tell you all the details you need to know and check availability for you.