Three things to consider if you are thinking about heading out on a family motorhome hire for an adventure.
A family motorhome or campervan hire adventure in Australia is sure to be a memorable trip filled with sun filled days spent by the beach, exploring natural wonderlands and lazy sleep-ins (well probably not with young children, but you can dream right?), and a family motorhome adventure will create memories which can be cherished for years to come!
The perfect motorhome hire will ensure your family can get out and really enjoy what Australia has to offer….and it's so easy to camp without 'roughing it'!
One of the most important factors to work out firstly is that the motorhome or campervan hire has a layout which is suitable for your family's needs.
Here are some important points to consider when planning your motorhome or campervan hire:
1. Sleeping arrangements in your campervan hire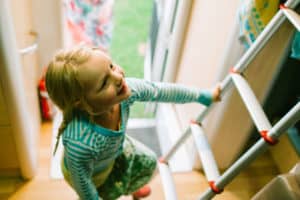 Different vehicle layouts offer different features and benefits in regards to sleeping arrangements. Most four-berth campervan hire options incorporate a bed at the rear of the vehicle and a luton bed over the cab of the vehicle although we do have other layouts as well in the four-berth options which are two rear beds.
For young children, a luton bed can provide a safety risk as the bed is at a height which they need to climb a ladder and into the cab every night – so there is a risk of fall. Although, once the children get to about 4 or 5 years and older (depending on the child) they just love the idea of climbing up into the luton bed and having their own little haven!
In these instances of families travelling with some younger children – we would recommend a six-berth vehicle which has an additional bed which is made up from the dinette area in the centre of the vehicle.
2. Child seats in your campervan hire
In Australia, children aged under six months (up to 9 kg) must travel in an approved, properly fastened and adjusted, rear facing child seat restraint. An anchor point is required for this seat and children in this category cannot be seated in the front passenger seat of the motorhome. Not all vehicle options accommodate rear facing child seats in their vehicles – so ask our expert team and we will be able to point you in the right direction if you have a child travelling who is under six months of age (or an older child who is rear facing).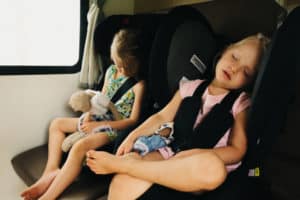 Children aged between six months and under four years (8-18 kg) must travel in an approved, properly fastened and adjusted, rear facing child seat restraint OR a forward facing child restraint with an in-built harness. An anchor point is required for these seats. Children in this category also cannot be seated in the front passenger of the motorhome.
Children aged between four years and under seven years (14-26 kg) must travel in an approved, properly fastened and adjusted, forward facing child seat restraint with an in-built harness (anchor point required) OR an approved booster seat which is properly positioned and fastened with a standard diagonal sash seatbelt. Whilst it is legal (under certain circumstances) for a child in this category to sit in the front seat, we do not recommend any child under seven years (under 26 kg) travels in the front passenger seat.
Child seats are available to hire for AUD$30-AUD$40 depending on the supplier you choose, and we can arrange for the seats to be available when you collect the family campervan hire.
The majority of our suppliers do supply the child seats for free when you take the great value 'inclusive package' – ask us for more information when booking.
3. Other layout options to consider in your campervan hire
Having an on-board kitchen is also a great way to save money while on the road, and gives you the ability to deliver simple meals and snacks while on the go wtih a family campervan hire. There are variety of options with different numbers of grills, burners and fridge sizes – which will assist you with keeping the troops well fed on your trip.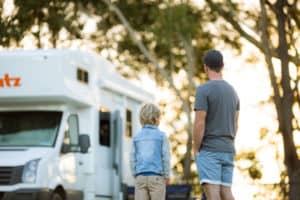 Do keep in mind that most of the fridges will be smaller than those that you are used to at home, depending on your travel route – there are plenty of opportunities to stop, stretch your legs and pick up further supplies. We do have a few vehicle options which offer larger fridges if that's important to you please let our team know and we can point you in the right direction however the majority of our travellers find the fridge size sufficient for keeping key items cold during the trip.
Along your travels, depending on where you are exploring, you'll usually find plenty of rest areas to pull over – these are not only a great opportunity for a coffee break but will also give the kids the opportunity to have a run around. Visitor Information centres can be found along most routes, and are also a good opportunity to stop and learn first-hand what each region has to offer first hand from the locals.
If you have older children, before you set off – check out our travel route planner page which is available here it's a great resource to show them a visual of your travel route, and watch our short videos to get them really excited about the trip! Also, ask us about our free DVD with tips and ideas to get you started.
Are you thinking about motorhome or campervan hire in Australia but still aren't sure which option is right for you?
It doesn't matter if it's your first trip or you are a seasoned traveller, it's easy to become quickly overwhelmed with all the choices in the market. The great thing about choice is that it gives you the opportunity to narrow down exactly what is important to you on your trip, and what isn't. It is important to take the time to do this before you book your family campervan hire.
Talk to the team at Gallivanting Oz who are the experts in campervan hire Australia. It costs you nothing extra to chat with us, however you do get the benefit of our many years combined industry experience. At Gallivanting Oz, we use a range of suppliers to ensure we match the best motorhome and campervan hire to your needs, we happily share our experience so you can have the best possible trip.
Get in touch if you would like to learn more about campervan rental in Australia by emailing info@gallivantingoz.com.au or completing our easy to use quote form.