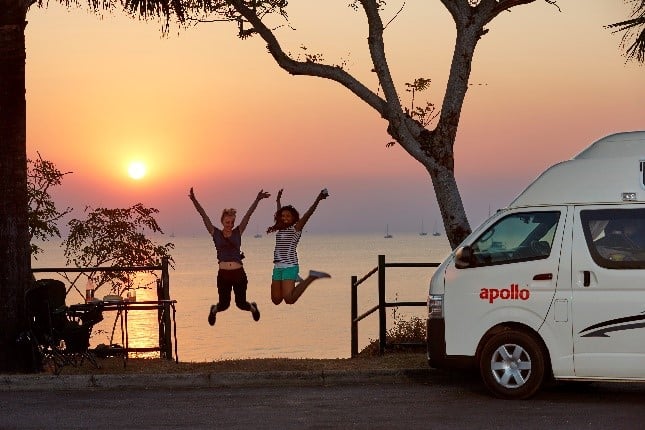 There was a time when camping out at festivals was a sleepless and smelly affair. (Albeit a heck of a lot of fun!) We're happy to report that those pungent days of cricked necks and damp canvas are over! Take a comfortable, fully kitted out and self-contained campervan hire. You are guaranteed all the festival fun, without the fatigue (or the fragrance).
So, what are the best festivals to visit on your next campervan hire holiday? Join us on a journey across Australia. We check out some festivals that could, nay SHOULD, feature in your next campervan hire adventure! (And do bear in mind that in 2022 some of these dates have moved a little and it's not too early to plan for 2023!)
The Parkes Elvis Festival
Parkes, New South Wales (usually January / April for 2022)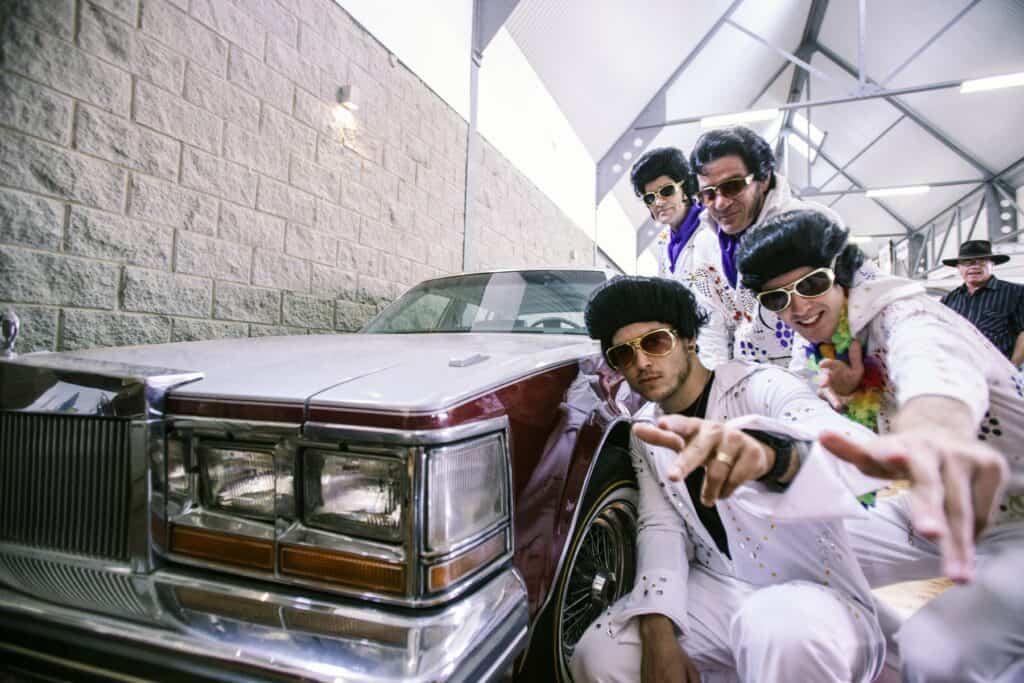 It may be 45 years since Elvis left the building, but the Parkes Elvis Festival just keeps on growing! From Sydney campervan hire depots, it's a leisurely five-hour cruise west to the friendly country town of Parkes. Park up your self-contained, airconditioned home-away-from-home, and shake, rattle and roll with more jumpsuit-ed Elvis impersonators than you can shake a blue suede shoe at! All the campgrounds in Parkes and surrounding towns are serviced by shuttle buses. This makes it easy to travel to the festival.
And here's where a campervan hire from Sydney comes into its own! The festival runs for five days, but if you get 'Elvis-ed out' there's plenty more to do and you're mobile! The other king in this town is mining. If you'd like to check out the gigantic Peak Hill open cut mine, there's an excellent viewing platform just off the Newell Highway. PS: There's plenty of parking there too…even if you hired a big 6-berth motorhome! Parkes is also home to the 64-metre-wide telescope that once saved NASA's bacon; made famous in the movie 'The Dish'. The Parkes Observatory is just a short drive out of town and definitely worth a visit!
The Grampians Grape Escape
Halls Gap, Victoria (April/May)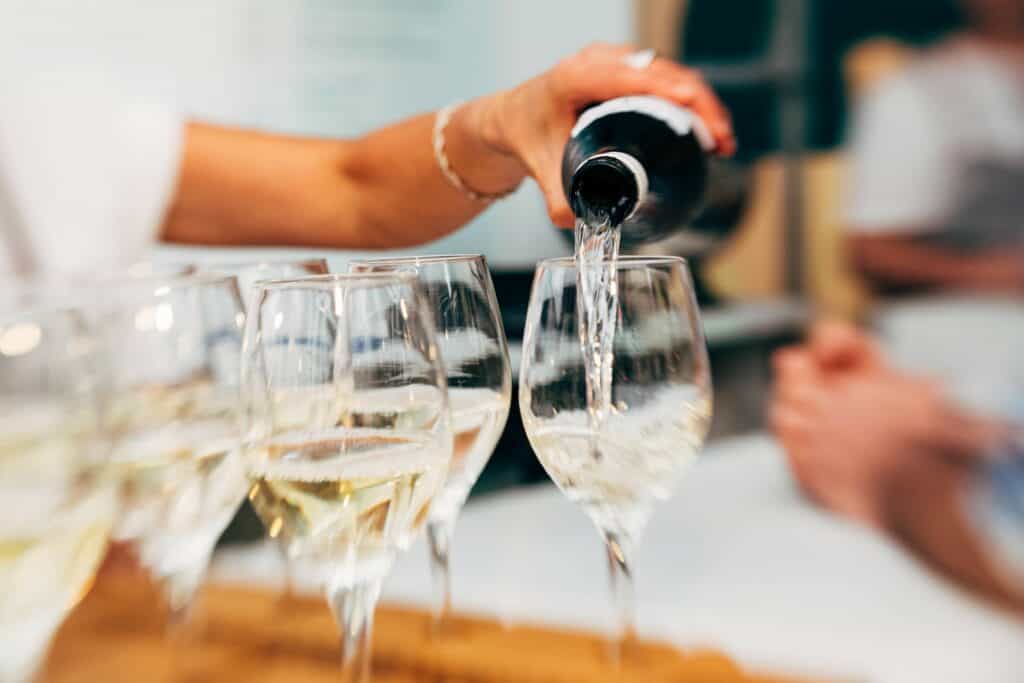 There are lots of food and wine festivals all around the country, large and small. The Grape Escape in the magnificent Grampians isn't the biggest, but it can't be beaten for its gorgeous location. And its fun and friendly atmosphere! Indulge your senses with award-winning local and international wine, artisan food and local produce, live music and masterclasses run by celebrity chefs. And the best news? Sort a campervan hire from Melbourne. It's less than three hours' drive to Halls Gap, in the heart of the Grampians National Park.
The Grampians is a motorhome-friendly region. So you're spoilt for choice when it comes to finding great places to stay on your campervan hire holiday! Apart from the Grape Escape, this stunning region is much loved for its sandstone peaks, waterfalls, wildflowers and incredible native wildlife.
Dark Mofo
Hobart, Tasmania (June)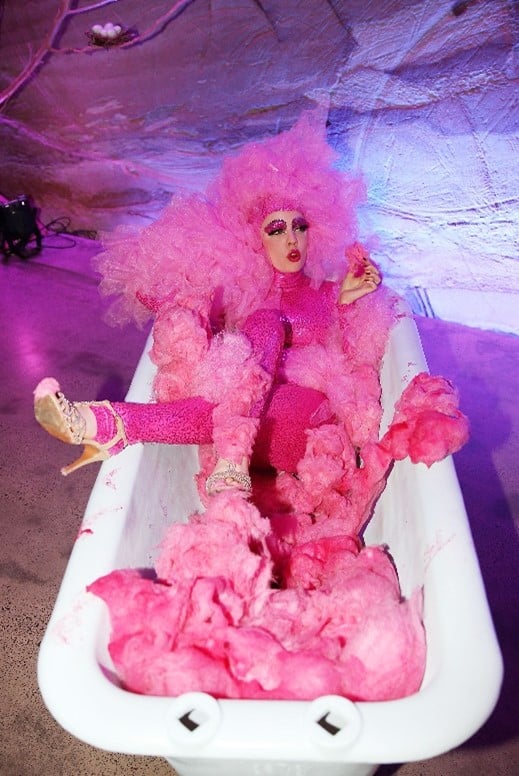 The lovechild of winter solstice and the controversial Museum of New and Old Art (MONA). Dark Mofo is far from your average festival. It's strange, it's dark, it's confronting…and it's very, very popular! For those looking for an experience that's wildly different, this is the perfect start or finish to your Hobart campervan hire holiday. Be mesmerised by the thought-provoking (and sometimes disturbing!) public art and performances. Indulge in late night films, alternative music, a light show, a nude solstice swim and the famous Winter Feast; every foodie's delight.
But how does Dark Mofo tie in with a Tasmania campervan hire holiday? Winter might not be the first season you think of for campervan hire in Hobart. However, those willing to brave the cool temperatures (daytime average is 3-13 °C) reap rich rewards! Winter campervan hire holidays in Tasmania offer an eclectic treat of arts festivals, boutique food and wine events and gorgeous hikes through scenery that looks like it's straight out of a fariytale. Not to mention you'll enjoy off-season prices on both your Hobart campervan hire and caravan parks too. (Heads up: you will need a powered site this time of year!)
The Big Red Bash
Birdsville, Queensland (July)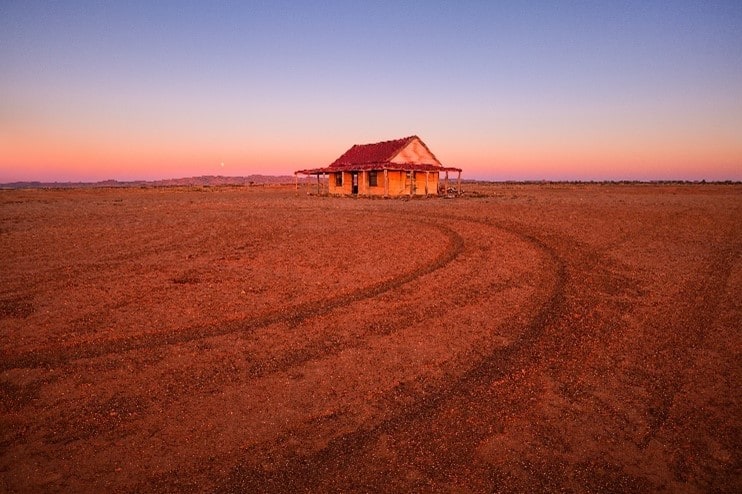 You can't get much more remote or much more iconic than this festival! The family-friendly Big Red Bash takes place every July on the edge of the Simpson Desert, past Birdsville in the very centre of Australia. Or, to quote the organisers, 'In the middle of bloody nowhere!' It draws nearly 10,000 festival goers each year, keen for an adventure and to experience a legendary line-up of Aussie artists.

Make no mistake friends, getting to this festival is no leisurely drive – it's an epic outback adventure! Keen to tackle the 1,900 km from Sydney, 1,200 km from Adelaide, 1,500 km from Brisbane or 2,100 km from Melbourne? You're going to need time, and you're going to need to hire a 4WD campervan hire to drive over 300 km of unsealed roads! Luckily, the Big Red Bash takes place over the winter school holidays. So, families have time to get there, and we've got the 4WD camper to get you there in! Get in early to avoid disappointment with 4WD campervan hire.
Is there more to do here than the festival? Why yes there is. Such as checking out the hat collection in the Birdsville Hotel, munching your way through a camel pie, or dune surfing in the desert. There's also the Burke and Wills Tree. Standing 3 km south of Birdsville, this old Coolibah tree bears the marking 'BW-C76 1860'. This was one of the final camps of the incredibly intrepid and famously ill-fated explorers.
We have a range of 4WD campervan hire that suit a couple, a family or even a group. Find out more here or have a chat to our travel team.
*Love the idea of a remote outback festival but would prefer to hire a 2WD campervan from Brisbane with all the bells and whistles? Why not check out the Mundi Mundi Festival that takes place in Broken Hill every April. You still get an awesome line-up of artists, an outback road trip, gorgeous scenery, fascinating history…but with sealed roads all the way!
Henley-on-Todd Regatta
Alice Springs, Northern Territory (August)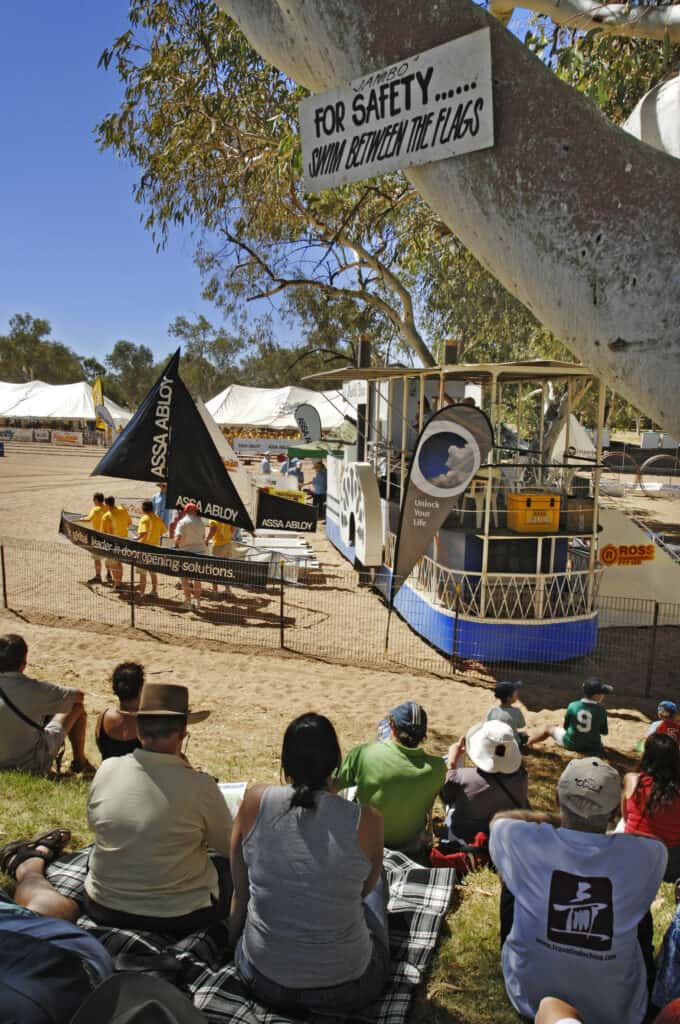 In a brilliant display of notorious Territorian humour, this outback regatta on the bone-dry River Todd is the NT's version of London's famous Henley-on-Thames Regatta. The teams of 'rowers' race across the hot sand Flintstone-style, carrying brightly coloured 'boats' fashioned from all manner of materials! Then, on the final day of the festival, The Battle of the Boats involves a raucous colourful water fight with water cannons and water bombs!
Grab either a 2WD or a 4WD campervan hire from Alice Springs depots, or take the incredible road trip from Adelaide or Darwin. We recommend staying in caravan parks in Alice Springs as you'll want easy access to power, water and security (in case of petty crime). There are also a diversity of fabulous attractions in Alice, as it's fondly known. A must-do is Alice Springs Desert Park, to be introduced to the diversity and beauty of the Australian desert, its people, plants and animals. Surrounding Alice, the magnificent East and West MacDonnell Ranges, whose glowing red canyons and picturesque waterholes were made famous by beloved Australian artist Albert Namatjira.
Shinju Matsuri 'Festival of the Pearl'
Broome, Western Australia (August/September)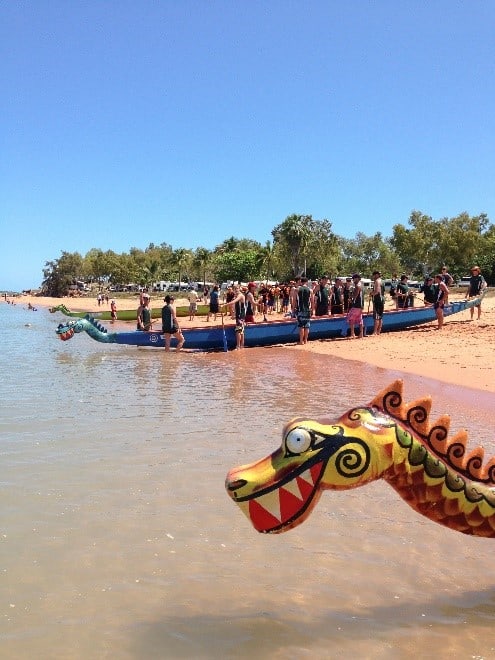 Planning a campervan hire to travel from Perth to Broome, or Perth to Darwin? Why not time your trip to coincide with the vibrant Shinju Matsuri Festival in Broome? Japanese for 'Festival of the Pearl', Shinju Matsuri is the proud celebration of Broome's unique origins, history, and cultural diversity. Join in the festivities as the town bursts into a fiesta of colour, light, sounds and flavours in over 20 separate events. The highlights are the Wake the Dragon Ceremony, Sunset Long Table and for a mesmerizingly beautiful Floating Lantern Matsuri.
Grab a campervan hire in Perth to embark on one of the world's greatest road trips: Perth to Darwin. Or if you plan to hire a campervan in Darwin for an epic journey to Broome or Perth, August/September is a great time to do it! And the Shinju Matsuri festival is just one good reason! This time of year wildflowers carpet national parks, humpbacks and whale sharks are migrating up the coast and the days are warm and sunny. Time it right and you can even catch that special treat staged by mother nature in the Kimberley; the magnificent Staircase to the Moon!
Ready to get your festival on?
Awesome! Let's get cracking on finding you the perfect campervan to hire for your big adventure! Check out our huge range of motorhome hire optins, plan your route or have a chat with our expert travel team!