If you're planning on travelling around Australia, one of the driest inhabited continents on earth, it's a very good idea to be aware of how you can access water on your travels!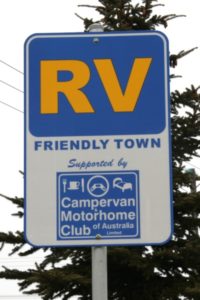 Water is available from many locations in Australia.  There are many different publications such as the Camps Australia Wide Guide which let you know the locations of the free and low-cost camps including the facilities on offer, like water.
You'll also see signs in some towns throughout Australia which say 'RV Friendly' towns.  This is a scheme set up to assist councils in attracting self-contained tourists to their town.  These towns provide drinking water to fill your tank, along with a dump station (where you empty your toilet waste).
Commercial campgrounds usually also offer water to fill your tank.  In a few remote locations such as Coober Pedy there is a very small charge to fill water as this is shipped into town. Many fuel stations have potable water available, although some aren't as keen with you filling up your tank, so do make sure you ask first.
We suggest keeping an eye out for places that you can fill up your water tanks and drink bottles along the way, especially if you are planning on doing a few days of free camping, or perhaps you are travelling in a 4WD camper and going quite remote.
How much water is generally consumed in one day?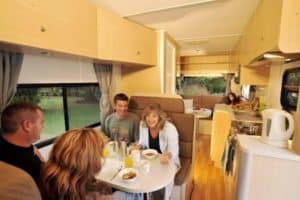 This can depend on how many people there are in your group, what the weather conditions are, what types of activities you'll be doing and even the physical condition everyone is in. Our suggestion is to average 2 litres per person per day just for drinking and you could increase that to 5 litres if its hot dry weather!
If you have an onboard shower you can easily use 15 to 20 litres of water, 5 litres for washing and up to 2 litres for cooking – when you start adding up all these numbers, you can begin to work out just how far the water capacity of your motorhome will stretch to. This is where the planning can come in and be vitally important depending on what type of trip you are going on.
Storing water when you are out on the road
Storing water when camping, is important and shouldn't be underestimated. This is especially true if you are heading off into the Outback and dry remote areas of Australia.
Besides the motorhomes or 4WD inbuilt water tank, it can be advisable to store an extra 20L container or two if you are planning a remote trip.
We'd also suggest filling up regularly when you see water is available – like fuel, it is always better to be using the top half of your tank, rather than the bottom half.
Generally, it is pretty easy to fill up your water tanks when travelling around Australia in a motorhome or camper. We've written a previous blog with a few more hints and tips you can read here.
Have a look at various camper options which may suit you – we have noted the size of the water tank to assist your planning too, but don't forget to get in touch with us if you have any questions and need some help in choosing the best vehicle to suit your needs!