Why settle for motorhome camping in Qld when you can upgrade to motorhome glamping in Qld, in a luxury Maui campervan? As an agent for Maui campervan, we offer quality campervan hire to help you enjoy Australia's treasures in a motorhome camping holiday.
Motorhome camping can become an extraordinary luxury experience if you choose the right vehicle and the right company to hire from. Here at Gallivanting Oz we use a range of partners to provide the best campervan hire for you. You do not pay any extra to deal with us, however you will benefit from our service, range of motorhomes and our experience.
Maui campervan offers premium modern motorhomes with panoramic views and all the luxuries needed for a fabulous glamping adventure. Glamping is a camping experience without the hard work but with the same wide-open sky, great adventures and beautiful fresh air that draws many of us to the great outdoors in the first place. All Maui campervans are near new, designed with comfort and convenience in mind and have the latest technology. Everything you need to motorhome glamping in Qld.
Places to explore in sunny Queensland in a Maui Campervan
To explore Queensland you can easily hire a Maui campervan from one of the pick up points Brisbane or Cairns. From there, the glamping adventure can begin following the beautiful Queensland coastline and its tropical destinations.
If you are heading North, Brisbane is a great place to start your motorhome travel.
Glass House Mountains and Noosa
The Glass House Mountains are in the Sunshine Coast hinterlands and recognised as one of South East Queensland's most iconic skylines. You'll pass these, heading north after collecting your Maui Campervan, or one of our other great options for motorhome camping. The 11 lofty peaks dominate over open forests, pine plantations, and wide grasslands. Combine a hike with a stop at the late Steve Irwin's nearby Australia Zoo.
Noosa is a popular stop on the East Coast of Australia, and for good reason! Stunning beaches, a national park right at the shoreline, plus a burgeoning foodie scene. You will love exploring Noosa National Park, especially heading out along the 3-hour Coastal Walk. You can look up for koalas, and out for migrating whales. You'll find a range of nearby options for motorhome camping too.
Hervey Bay and Fraser Island
You can then drive with your luxury Maui campervan to the whale watching capital of the world, Hervey Bay, if you're travelling July to November.
From there, take an off-road tour, swim at the Champagne Pools, or seek the exceptional wildlife you can find on the UNESCO site of Fraser Island.
Agnes Water and 1770
Pack up your motorhome and enjoy another glamping Qld experience in Agnes Water and 1770. You can choose between a gorgeous beach town and travel back in time to the year 1770. It is so-called after Captain Cook's second landing in… yes you'll guess 1770! It is also the best and most accessible place from which to reach the southern tip of the Great Barrier Reef.
Cape Hillsborough
The Cape Hillsborough National Park rugged rock formations and dense rainforest but the most popular attraction is the presence of kangaroos and wallabies that reside here. It is well worthwhile to stay in one of the motorhome camping options right on the beach to experience the sunset with the kangaroos. This is glamping in Queensland!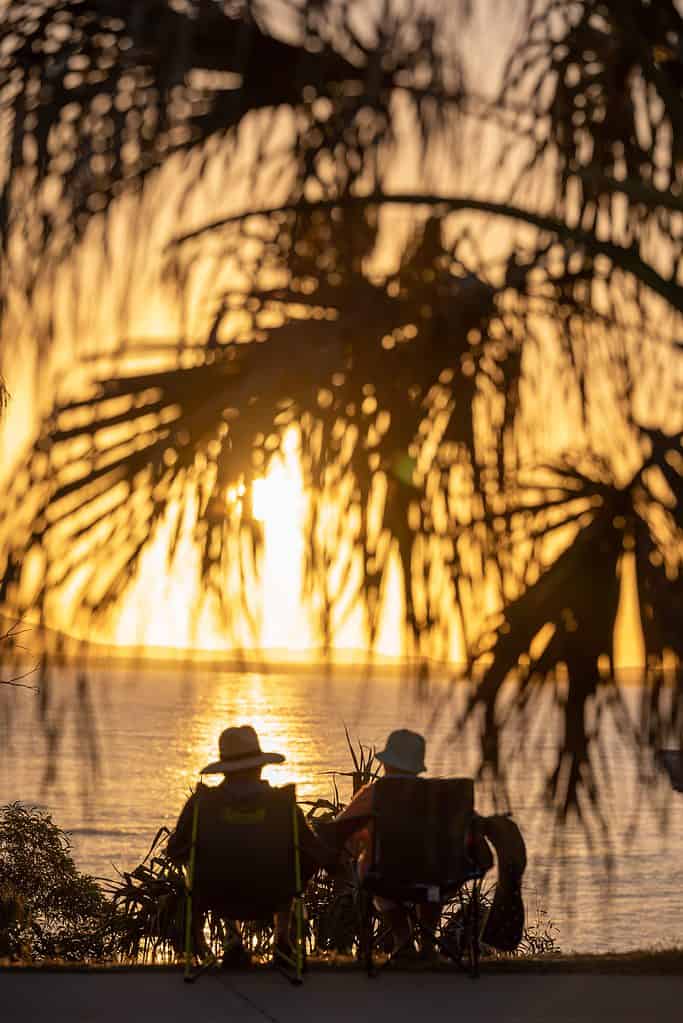 Airlie Beach and The Whitsundays
Airlie Beach is a beautiful, relaxed town and the perfect gateway to the Whitsundays islands. The Whitsundays are a group of 74 islands. The postcard-perfect Whitehaven Beach will surprise you with its glaring white sand and turquoise waters.
The Great Barrier Reef is right there so it is time to enjoy a snorkel or scuba diving boat tour. You won't be disappointed! This could be a great destination for a few days when picking up a maui campervan in either Brisbane or Cairns.
Townsville and Magnetic Island
Townsville is well known for its tropical climate, beautiful beaches and its proximity to the Great Barrier Reef. Offshore, you'll find Magnetic Island in a short ferry ride from Townsville renowned for its coral reefs and a national park full of wildlife. Most tend to just head up for day trip, leaving the motorhome hire on the mainland.
Mission Beach and Cairns
Mission Beach is one of the best spots to see the prehistoric cassowary birds. It is also the closest point to the Great Barrier Reef on the mainland. There are some great places around here for motorhome camping too.
Less than 2 hours drive from Mission Beach you'll arrive to Cairns where you can drop off your Maui campervan or keep exploring the coast around Cairns a bit longer. Why not exploring Port Douglas, the Daintree Rainforest and Cape Tribulation. You'll feel so comfortable in your luxury Maui campervan that you wouldn't want to stop. And we cannot blame you for that!
Our website is packed with more information on what there is to see on the wonderful Cairns to Brisbane travel coastal route. We also have plenty of information about the Brisbane to Cairns travel route via the outback too!
There is so much more to explore in Queensland and our dedicated professional team are here to help you choose the best campervan hire options and make you motorhome travel a glamping experience in Qld.