Our seminars at the Hamilton Motorhome Show (NZ) proved to be extremely popular once again.
If you weren't able to visit the show and pop along to see one of our seminars, you'll have missed out on lots of useful information and travel tips when it comes to travelling around Australia.
But not to worry, we'll give you a quick rundown on where you can access most of this information off our site.
Planning a trip to Australia?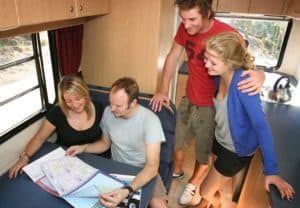 What should you consider first – when to travel? Where to travel to? Where to travel from? How long do you have? So many unanswered questions. Check out our blog 'Planning a trip to Australia', this covers the basics like when is the best time to travel Australia and will give you some information on the seasons and how they differ across the country.
Getting around Australia in a Campervan
If you know 'where' and 'when' you want to go then check out our travel routes that provide heaps of information on which routes are best depending on the time of year and even, go as far as suggesting the length of time you should allow for a particular route.
Some people are amazed at the scale of this country and it's easy to underestimate sometimes how long you'll actually need to travel a route!
Ideas & tips to get you started for a motorhome holiday in Australia

Fancy getting your hands on a FREE DVD (valued at $47) that is full of ideas and tips to help get you started on planning your adventure?
This DVD provides lots of inspiration on where you can go and the types of things you can do while you're here, it also provides information on the types of vehicle hire, campgrounds and some freedom camping and also answers many FAQ's on concerns regarding motorhome travel in Australia.
Check out this page if you're interested in our FREE DVD.
New Zealand Christchurch Motorhome Show
We're at the New Zealand Christchurch Motorhome Show at the beginning of November this year, maybe you'll be able to visit us there?
We love to catch up and chat with those who have travelled with us, whether they've joined us on one of our escorted tours or whether they've hired a motorhome through us – either way we love to hear about all the fabulous things they've got up to and putting faces to names!
Also to say
big congratulations

to Chris and Marie who each won a copy of the 'Camps Australia Wide Guide'. They're looking forward to putting these books into use. If you're unfamiliar with what these books are – then check out this blog. These books are considered to be the travellers bible!

If you have any questions on campervan hire or are looking escorted motorhome tours for Australia drop us a note! We'd love to hear from you.