In the news recently, a little island off the coast of Queensland came into the spotlight. As images of this sleepy tropical paradise were beamed across the country, we had lots of you asking… "Is it possible to visit Magnetic Island on my Qld motorhome hire holiday?"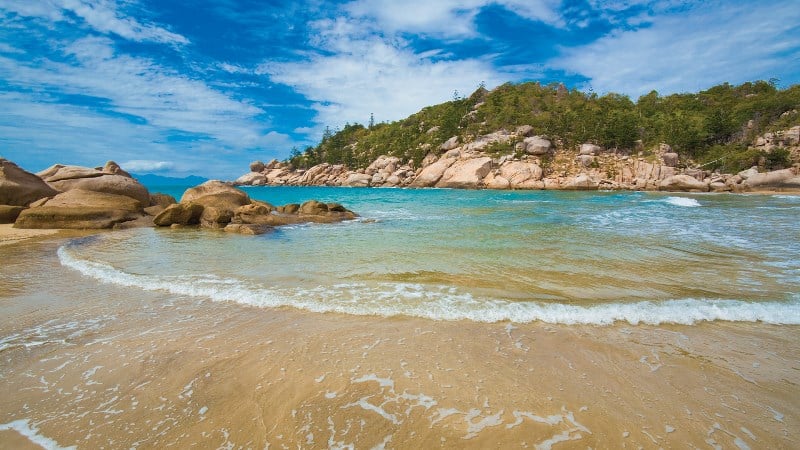 And the answer is…YES!
Beautiful Magnetic Island, or 'Maggie' as the locals call it, is located just off the coast of Townsville in North-East Queensland. And we reckon it's not nearly as well-known as it deserves to be! For those in the know, this wonderful island is a highlight of any Qld motorhome hire road trip.
When in Townsville, to visit the island, choose from a day trip and park up the motorhome hire for the day, or if you want to go for longer, you can even arrange to put your motorhome on a ferry.
So, why do we reckon it's worth the effort?
Let's start with the 23 golden beaches, warm, shallow ocean and the pretty fringing reefs, perfect for swimming, snorkelling and water sport. There's also abundant wildlife to enjoy, including cute little rock wallabies and one of Queensland's biggest colony of koalas! And where do we start with the scenery! Magnetic Island is known for its extraordinary landscape of distinctive granite boulders and stands of towering hoop pines. It is the seventh largest of the 600 islands in the Great Barrier Reef World Heritage Area. And with its tallest peak stretching 493 metres above sea level, it's one of the highest too!
Getting to Magnetic Island on your Qld motorhome hire road trip is easy!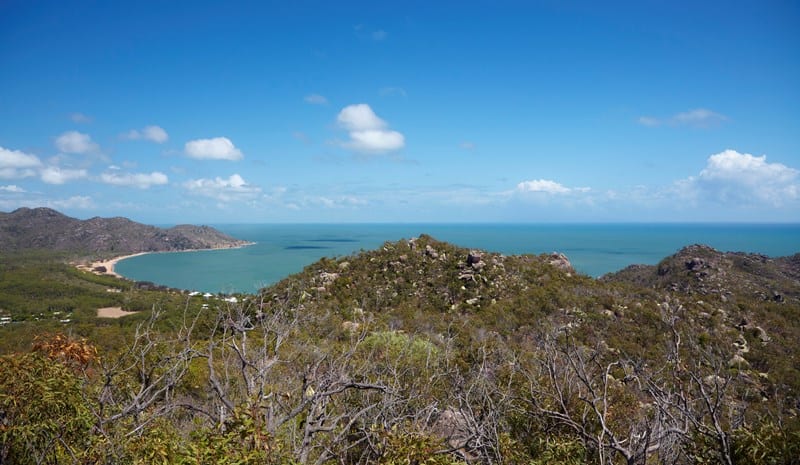 Step 1: Arrange a Qld motorhome hire from either Cairns (350 km away) or Brisbane (1,300 km away) and make tracks to Townsville's ferry terminal.
Step 2: Book your motorhome hire to go across to Magnetic Island on the car ferry. The major roads on the island are sealed which makes it so easy to explore the island's wonderful offerings. Check in with us if you are planning to take your Qld Motorhome hire over to Magnetic Island. There are varying rules on the insurance side of things.
Hot tip: There are often combo-deals available if you book your ferry and your accommodation together. So keep an eye out for those!
Fancy a quick look around?
Leave your Qld Motorhome hire in the secure parking area at the ferry terminal. Board the passenger ferry for a picturesque 20-minute ferry-ride to the island. Once on Magnetic Island, there is a regular public bus that runs the length of the island. You can also join an island tour which will pick you up at the ferry terminal when you arrive. Alternatively, adventure seekers may like to hire a bike or a small 4WD for the day. Literally 'get off the beaten track'.
Choosing where to stay in your Qld motorhome hire on Magnetic Island is an easy decision…because there are only two campgrounds! Bungalow Bay Koala Village is a fantastic place to stay with daily bird feeding and a relaxed pool and bar area. It's a short stroll to the beach, Horseshoe Bay's restaurants and Sunday market…plus there's public bus stops at the door! The other campground is part of Base Backpackers and it also gets great reviews. Especially for its famous all-night Full Moon rave parties. We thought it was important to mention that little detail…
Magnetic Island is much-loved for hiking and many excellent walking trails criss-cross the island. Leading visitors to all the most picturesque places. Both the inland and the coastal paths give the opportunity to spot lots of native wildlife and take in spectacular vistas out over the ocean. The pretty Forts Walk (the local bus stops at the start of this trail, incidentally) is the most popular. This is due to the beautiful scenery, local koala colony and interesting WWII history. You can read about on information boards placed throughout the walk. The 4 km walk leads to the ruins of an old fort and a lookout with spectacular panoramic views out over the ocean.
Have you been wondering how Magnetic Island got its unusual name?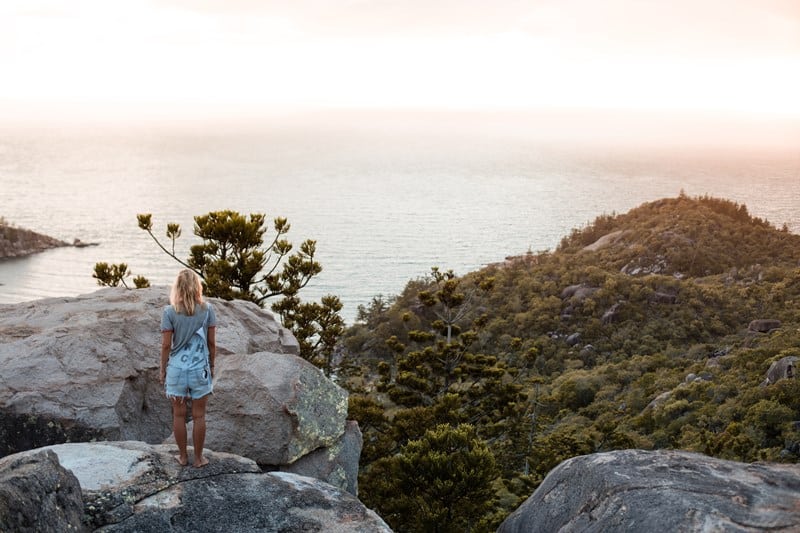 For thousands of years, Magnetic Island has been known as Yunbenen to the local Wulgurukaba people. Interestingly, it only became an island at the end of the last ice age when the melting ice inundated vast areas of low-lying coastal land. But back to the common name. In 1770, Captain James Cook sailed past the island on his exploration of Australia's east coast. Upon passing, he noted that his compass was behaving erratically and named it Magnetical Island. Consequent tests have not managed to replicate the result, but the slightly amended name remains. Reassuringly, people taking a Qld Motorhome hire from our extensive fleet seldom rely on a compass these days. Thank you Google Maps!
Taking the road less travelled. Exploring magical places like Magnetic Island is one of the real joys of a motorhome travel. It's also one of the many reasons that the memories you make on your campervan hire holiday are ones you will treasure forever.
Your Gallivanting Oz travel team are here to help you out with all your questions about Qld motorhome hire destinations, vehicles and costs. Discover which motorhome is the perfect choice to hire for your next Aussie road trip adventure. We love getting you out on the road and exploring this beautiful sunburnt country…your way!
Give us a call today, and turn your motorhome holiday dream into reality.
Images courtesy of Townsville Enter[rise Ltd and Tourism Australia.