Every single traveller has their own unique version of the perfect holiday. Why are road trips, especially when hiring a campervan, universally loved? It's for their unique ability to tailor a travel experience to individual interests and travel styles!

However, when it comes to planning for one of Australia's ultimate motorhome road trips, such as the epic 4,000 km journey from Darwin to Perth, no one knows better than us the amount of time and effort that goes into researching, scheduling and booking before setting off! There are so many incredible experiences and magnificent destinations along the way. It can be hard to even know where to begin…
The Solution!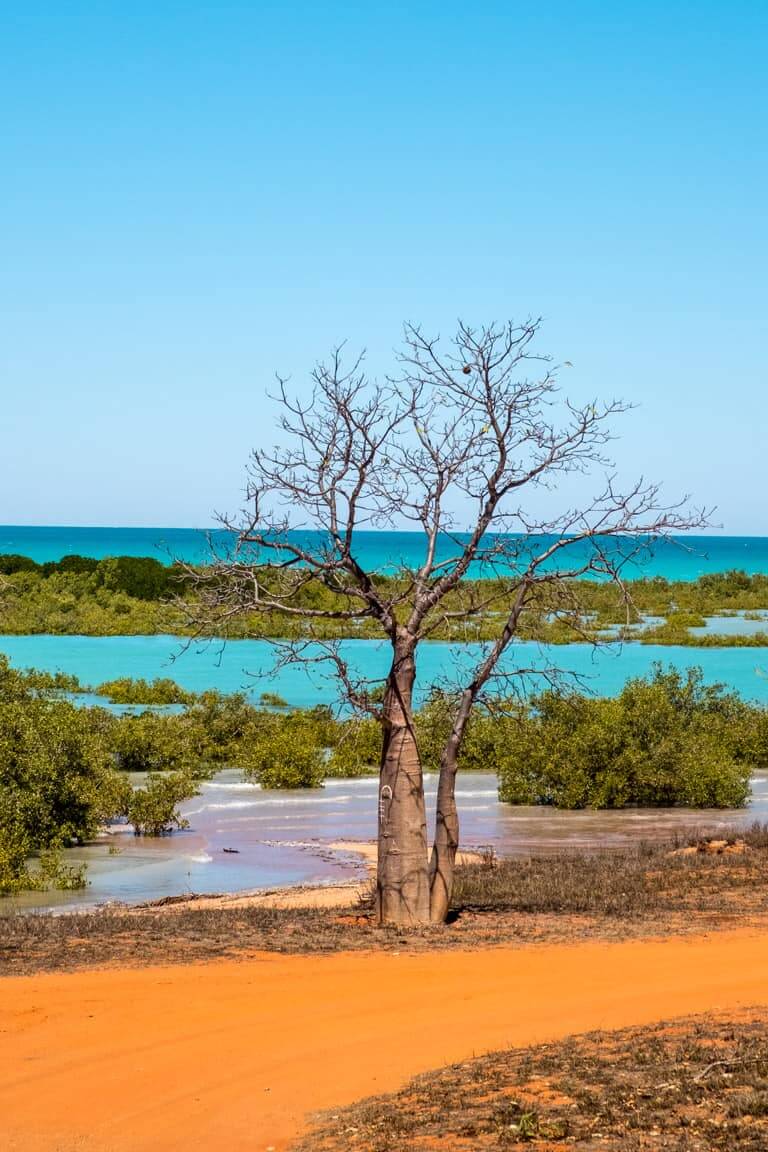 The Gallivanting Oz love sharing our vast knowledge of Australia and Australian motorhome holidays with our customers. We're excited to announce that we're taking this commitment to your perfect motorhome holiday one step further. By presenting the introduction of our brand new product, Motorhome Plus. It's available exclusively for our customers travelling Darwin-Perth and are hiring a campervan through us. Other popular routes being developed for roll out very soon!
Gallivanting Oz run multiple escorted tours running along this route every year. We know this route inside out! We share with you all the best spots to visit. Places to stay, and the best things to see and do.
How Motorhome Plus (Darwin to Perth) will help YOU plan your trip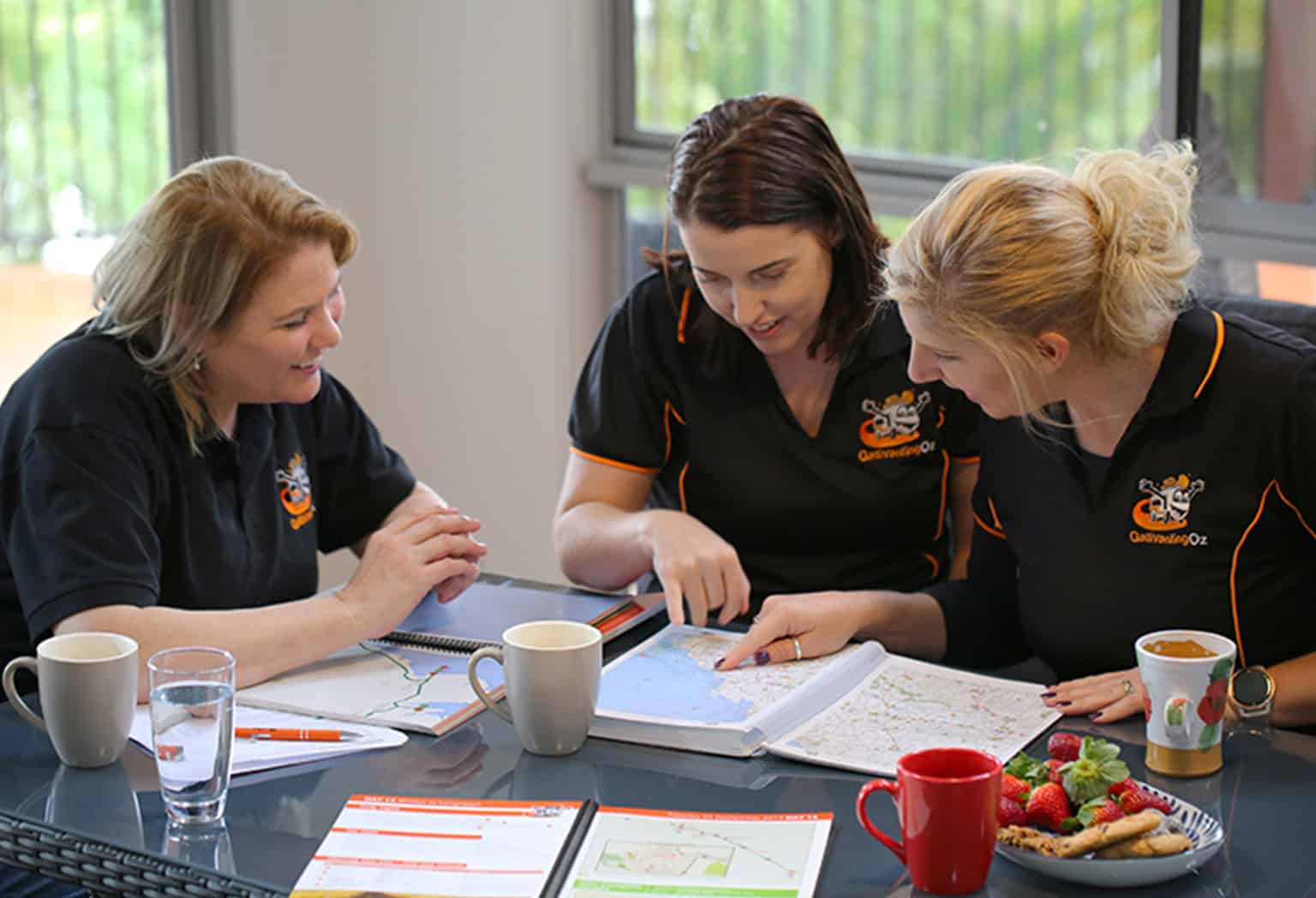 Hiring a campervan is easy! The key concept for Motorhome Plus (Darwin to Perth) is simplicity. Having all the information you need to plan your Darwin to Perth motorhome road trip right there at your fingertips. With Motorhome Plus you can research, record, organise and retrieve your information easily, with everything in one place. It gives you full visibility and full control of the information for your trip. This saves time and money, and ensures a better travel experience!
Your journey is broken down into five sections. Each featuring a unique colour code. This is applied universally across all the different tools/information summaries, for seamless cross-referencing and planning. Attractions and campsites are also uniquely numbered. These numbers appear both on the maps and in the more detailed information for the region.
What does Motorhome Plus (Darwin to Perth) include?
Designed by travel experts with boots on the ground and extensive local knowledge and experience. Motorhome Plus provides everything you need to ensure planning your trip is a breeze. You'll be able to tick every box on your motorhome holiday wish-list.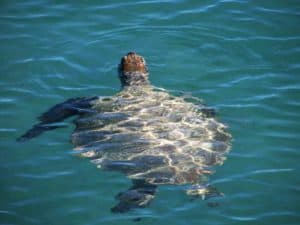 The Motorhome Plus (Darwin to Perth) package includes concise summaries of all the regions you'll be travelling through. It will outline 'must see' activities and hidden gems, the worthy detours and special 'day trips' we think will add to your trip by taking you into more remote areas. It also features:
maps,
distance guides,
itinerary suggestions,
a journey planner spreadsheet ready to customise
comprehensive list of tried and tested campsites on your route, complete with contact details so you can book with ease.
This is the perfect solution for anyone hiring a campervan on the Darwin to Perth route.
Read on for a closer look at the different tools included in your Motorhome Plus (Darwin to Perth) package!
1. Motorhome Plus (Darwin to Perth): Region and Attraction Summary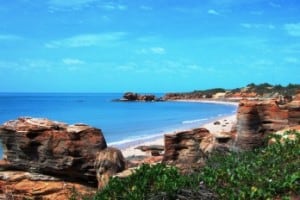 Researching even one small town can take AGES if you start from scratch. From tour companies, museums, cafes and even the local council doing the 'big sell' on what they have on offer for visitors! How do you know which ones are worthy of a stop? Motorhome Plus (Darwin to Perth) gives you a high-level overview of each region, and includes all best experiences and must-sees. Once you have this as a base, all you need to do is add a little extra time for exploring!
At the beginning of each of the five Region and Attraction Summaries, you will find a map and a table. These list all the attractions and campsites mentioned. Each uniquely numbered on the map, in the table, and within the information summary.
Motorhome Plus (Darwin to Perth): Our Favourite Campsites
There are so many different campsite options in Australia. From luxury resorts with all the bells and whistles, gorgeous shady national park campgrounds. Right through to the cheap and cheerful low-cost and freedom camps where you need to be completely self-sufficient. To make things easy for you, we've shown some of our favourite campsites, with links to book them easily.
Our favourite campsites are referenced in two separate places. The first is in a table at the beginning of every Region and Attraction Summary. The second in the dedicated Our Favourite Campsite section. This section includes full details of all the caravan parks, national park campgrounds and free/low-cost camps that we recommend. Including the contact/booking details and the reasons we love them!
Motorhome Plus (Darwin to Perth): Journey Planner Spreadsheet
If you have ever embarked on a big motorhome road trip, you will already know the value of a well-thought out, well-designed and easy-to-use planning tool. Call us 'old school' but despite there being apps aplenty out there claiming to be the cat's pyjamas, we are yet to find one that stacks up against the humble spreadsheet… because when it comes down to it, there is really no need for bells and whistles; just a simple, clear and concise way to capture information and plan your journey.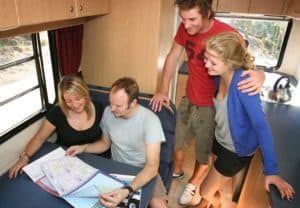 This was the concept behind our easy-to-use and fully editable Journey Planner spreadsheet. We now include this as part of our Motorhome Plus package. It's the perfect place to capture all the information for your trip. With all the major categories set up ready for you to add your own data and make it your own.
Plus, to give you even more of a head-start, your Journey Planner comes pre-populated a basic 32 day plan. Included are suggestions where it would be a good to add extra days and need for rest days along the route.
From here, you will then be able to book key campsites and activities prior to departure. While this is a remote route, it is busy, and we strongly suggest booking as much as you can if you specifically know where you want to stay on what day, to avoid disappointment. This is also true with any activities you wish to book too.
If you are planning on hiring a campervan on the Darwin to Perth route, this is a game changer.
Motorhome Plus. Making planning easier.
Keen to know more? Get in touch with our friendly Travel Team today!