Are you planning to pick up your motorhome hire in Adelaide?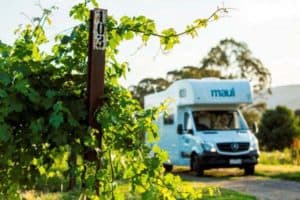 We have plenty of excellent motorhomes, campervans and 4WD camper rentals for you to choose from, whether you are going to Darwin, Perth or Melbourne.  In fact, there are plenty of places you can return your motorhome hire, if you are starting in Adelaide.
Let us share some popular options with you:
Adelaide to Adelaide Motorhome hire
If you would like to stay local and have a more relaxed trip, you can pick up and return your motorhome hire in Adelaide. From world renowned wine regions to the coastal hideaways there is something for everyone in this area.
Adelaide to Darwin Motorhome hire
For those wanting to explore the Red Centre, it is very popular to pick up your motorhome hire in Adelaide and drive north to Darwin.  Or you could travel in the motorhome from Darwin to Adelaide direction if you preferred.
The 'best direction' to travel depends on the time of year you are going. It is best to explore this route between the months of May to September, which is the dry season.  Travelling outside of these times will be very hot around the red centre (dry heat); and hot and humid around the Top End.  If you were to travel in the wet season it would mean storm activity most likely and some roads not being accessible.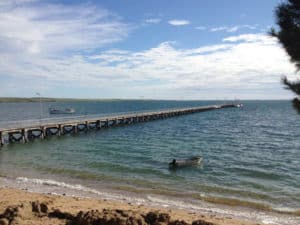 Presuming you are travelling in the dry season, as most motorhomers do, the direction to travel is better Adelaide to Darwin if you are going in the first half of the dry season, or reverse direction, if you are travelling towards the end of the dry season. This will ensure you have the most comfortable weather around the Top End.
Please note that in the winter months when you are travelling around Alice Springs and Uluru you will enjoy nice day time temperatures, however, since it is a desert, you will find it cool overnight. Make sure you pack some layers of clothing for the best holiday experience.
Short on time? We have a motorhome depot in Alice Springs.  This means you can do a motorhome hire from Adelaide to Alice Springs if you wanted to.   Experience quirky Coober Pedy with its underground houses and opal mining on the way to Uluru, Kata Tjuta, Kings Canyon and the stunning MacDonnell Ranges.  You can also collect your motorhome hire in Alice Springs too.
Adelaide to Melbourne Motorhome hire
It is very popular to travel in a motorhome hire from Adelaide to Melbourne along the Great Ocean Road.  This stunning piece of coastline is a great spot for a motorhome holiday with numerous camping grounds – some right on the beach.  You'll find plenty of amazing rest areas for you to pull over to take those memorable holiday snaps.  You can travel this route either direction too, although some do like to do the direction Melbourne to Adelaide with their motorhome hire as they are then driving on the ocean side of the road.  There is plenty more than just the Great Ocean road to explore – you've also got the picturesque Limestone Coast.  For those that enjoy hiking, take your motorhome up to the Grampians National Park. Some amazing walks in this area.
Adelaide to Perth Motorhome Hire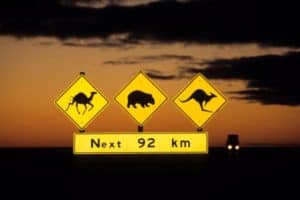 Another popular location to travel to with a motorhome hire from Adelaide is across the Nullarbor to Perth.  This is an iconic trip for many.  The mighty trip across the Nullarbor plain is not one to be taken lightly but is a popular trip in a motorhome hire.  This is another road trip that lends itself very well to a one-way hire.  Most travellers like to spend some time exploring the southern area of Western Australia too – with its beautiful long white sandy beaches with fringing turquoise blue waters contrasting nicely with the Golden Outback.  We love the Nullarbor crossing too – our favourite part is the South Australia section where the highway is nice and close to the magnificent Bunda Cliffs.  This is why so many people like to drive the Nullarbor than take the train – it certainly is an impressive site looking down into the ocean below. Travel at the right time and you may even be lucky enough to see a southern right whale or two playing in the ocean below!
Next step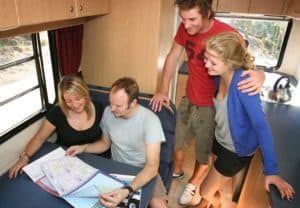 We've given you a taste of some of the popular trips for those considering motorhome hire from Adelaide.  There are so many possibilities – even more than we've shown here today.  We have clients who like to go into Queensland too, either a motorhome hire from Adelaide to Brisbane or further afield to Cairns. If going to Cairns a reminder to consider the wet/dry season with your planning.  For that trip if heading off in Autumn, it is better to go from Adelaide to Cairns direction.  If travelling later, like Spring, pick up your motorhome hire in Cairns and go south to Adelaide so you can benefit from the better climate in both areas.
TOP TIP: when planning a motorhome road trip, that Australia is a big country with a range of different climatic conditions, so some care should be considered with your planning for the best holiday enjoyment. Our advice is to speak to the experts at Gallivanting Oz in the very early stages of your holiday planning from Adelaide, so we can inform you of the best time to travel, depending which of the memorable road trips you are going to choose first.
If you haven't checked out our vehicle options yet, take a look at them here and get yourself familiar with the types of vehicles available and then get in touch us with an idea of your dates and proposed travel route and we'll work with you to create the motorhome holiday of your dreams!