You may be wondering what's the best motorhome for you to hire in Australia for your upcoming holiday.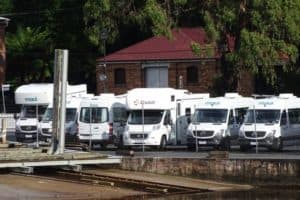 The answer certainly varies depending if you are a couple or family, as well as what sort of features appeal in your motorhome hire.
If you've had a look at online motorhome hire in Australia already, you may be quite confused by all the options and why the cost varies so much between the different brands and layouts.  This is where we can add a lot of value and help you find the perfect motorhome hire so you can have the motorhome holiday of your dreams.
Each couple have a different set of needs when it comes to hiring a motorhome in Australia
Is cheapest the best?
Cheapest is a great option if you are on a tight budget and aren't at all worried about the features or age of the motorhome.  There is nothing at all 'wrong' with the older motorhome options we offer, however it is a good idea to check your expectations are on the right page.  It is good to know, that it is not always the older motorhome that can be the cheapest, however often they tend to be.  What we mean by that, is that the pricing for the motorhomes do change regularly based on supply and demand.  There can sometimes be some great special offers at certain times of the year.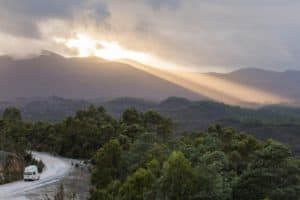 We check this for you to make sure your hard earned holiday savings are working the best for you.
If the cost of the motorhome hire is more than your budget, we'd like to ask the question if you are flexible with your holiday travel dates.  In some cases, you can still travel 'at a great time' but save a few dollars by changing the travel dates.  And who doesn't like getting more for less!  If you are looking to book a 2WD motorhome hire in Australia, we often find that May and June are a little cheaper which is a great time to head north on an iconic route like Perth to Darwin for example.
The quality of the insurance cover and how comprehensive this is, does vary amongst the different options and with some 'older motorhomes' is not as comprehensive.  If you are booking a motorhome with us, we'll make sure you are comfortable about the insurance side of things, as we're sure you are like us, and do not want a surprise at pick up of your motorhome hire.
 Subtle differences in features
When first looking at motorhome hire in Australia you may think that two different motorhomes that appear to be the same age should be the same cost, however sometimes a difference in features and benefits can cause the varying cost.  The differences could be perceived as quite minor when simply looking at a picture, but once you are on the road could become quite important.  For example, in a couple if either person is quite tall, making sure the bed length and interior of the height are adequate is an important feature to check.
A popular option for a couple is a two berth motorhome hire with a toilet and shower.  Some of the variances in this general type of motorhome are:
Some of these have external BBQ's – do you like to cook outside?
Front rotating seats – the benefit of this is that you can keep your rear seating area made up as a bed and still have somewhere to sit
Awning – not all two berth options have an awning option
Extra step – if your knees are not quite what they used to be, you may prefer an option which has a lower pull out step than the higher step up that some of the two berth motorhomes have
Opening windows – do you like to have opening windows with fly screens
Extra seat belt – do you need a third person seat belt in your motorhome hire
On first appearance by looking at a picture, it may not be obvious about the extra features but if you had known at the time of booking, you may have been happy to pay an extra few dollars for specific features. As part of the personalised package of options to you when you have provided us with your travel dates, we like to let you know about these subtle features. In addition to that, some clients prefer a phone call to run for advice as to what will suit them best.  Let us know what works best for you.
What is it that is important to you in a motorhome hire?
The perfect motorhome hire in Australia for a couple may be the two berth campervan with a toilet and shower on board, or if you prefer a bit more space when you travel, you may prefer one of the larger four or six berth motorhome hires (with a toilet and shower on board).
The reason you could benefit from the larger four berth motorhome hire with toilet and shower:
Increased interior height – if you are on the taller side, this may suit better
Prefer two single beds – while some of our two berth with toilet and shower motorhomes have single beds, they are relatively narrow in most cases. The larger motorhomes give the option of two decent sized single beds
Better storage – have other travel plans in addition to your motorhome holiday and are needing to bring a little bit of luggage with you. No problems, the larger motorhomes have more storage
Is four or six berth motorhome better for a couple? In most cases the size of the motorhome doesn't vary too much between the four and six berth motorhome hire, it is more about which layout suits you the best. For example, did you want two beds on the lower living level.  Sometimes we see a six berth option cheaper or the same price as a four berth layout and if that's the case we will always offer you the most cost effective option.
Bigger bathroom space – This is often something important for a couple. While we do have a two berth motorhome with a huge toilet and shower space (with separate shower), sometimes couples prefer the larger motorhome layout because the bathroom is more suited to their needs
Kitchen space – while the two berth motorhome hires (with the toilet and shower on board) do have good features in the motorhome, sometimes the four berth motorhome has a few different features such as a grill or bigger fridge space. We also have some options with a three way fridge – let us know if that is important to you.
 Is the specific motorhome you like too expensive?
As you would have seen earlier in this post, the rates for motorhome hire in Australia regularly vary based on supply and demand. The earlier you book for popular holiday periods, usually the better rate you would receive. Once a motorhome hire is confirmed and you have paid your deposit, the rates no longer change.
If you have some flexibility with your travel dates, please do let us know.  Sometimes, by only moving your travel dates by a few days to a week or two, it may result in some savings for you.
It is also good to know that long hire discount applies for hires of 21 days or longer.  This can mean at times that if you are looking at a 20 day hire, it is often a similar cost for 21 days travel – another way to ensure your holiday budget works the best way for you.
So, in short, the best motorhome hire in Australia for a couple is certainly going to depend if you are more budget focussed or 'feature' focussed.  Often it can be a combination of both, so best value for money ensure you have the basic features desired.  It is always worth spending a few moments considering what you do want in your motorhome hire, or if you are 'first timers' let us know – we love to simplify things and making it easy for you.  By having a conversation with you, it is often very easy for us to give you advice to ensure you do have the motorhome holiday of your dreams…and you'll be back to book your next one with us to explore another corner of Australia before you know it.
If you are thinking of taking a road trip across Australia, check out our Travel Routes and see where it is you might like to explore, then see what vehicle options are available then get in touch with us and we'll help you find the right vehicle for your needs and help you on your way to your dream motorhome holiday.