It can be overwhelming when first considering a motorhome hire in Australia.
Take a read of our top tips for motorhome hire in Australia to save you money and save you time. We'll make planning your holiday a breeze.
1. Speak to us before you book your flights
This is our biggest tip of all – reach out and let us know what you your initial plans are! We've received so much positive feedback over the years from clients who have done exactly this. For example, last week we were speaking with a gentleman from Canada who was planning to travel between Adelaide and Darwin. It was a trip his wife had been wanting to do for many years, to see this beautiful country after being enchanted by her husband's stories from when he had backpacked around Australia 40 years prior.
The only thing was that he was planning the trip so they would be in Darwin right in the middle of the build up to the wet season which is when humidity can be very draining for many tourists and some scenic areas may be closed by then too.
To solve the issue – it was as simple as flipping his route around which he would not have considered as he doesn't have the experience and knowledge of this country that we have. As they hadn't booked flights yet, it was very easy to reverse the route to ensure they had the best climate for the full trip, given they were travelling the entire length of Australia. They're even going to take in the picturesque Great Ocean Road now too, as a 'bonus'! They are now managing to fit more diversity into this big adventure now and we know what a great time they will have. We also know that a huge part of this is because they spoke to us before they booked their flights which meant they plenty of flexibility.
Another reason it is a good idea to speak with us first, especially if you are travelling on a budget, is that sometimes you can move a trip by just a few days, to save a few dollars. Had a client this week who we were able to save AU$300 by simply doing that – literally moved their trip by 5 days.
The rates for motorhome hire in Australia do fluctuate hugely throughout the year, so please speak with us if you are on a tight budget, as we can help you understand the cheaper time to hire a camper, and still be in the areas you wish to explore at the right time of the year for a great experience. At Gallivanting Oz we do so much more than just motorhome hire.
2. Allow enough time for the route you are planning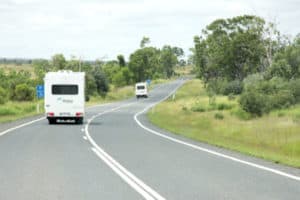 We do hear of people trying to cram so much into whatever time they have available. In the most part, it is much better to break Australia into chunks – do that properly and then come back and do another chunk next time.  And you will come back, that's for sure!
Even if you have decided on one specific popular travel route to experience with your motorhome hire, please do ensure you have allocated enough time. If you're not someone who likes to get up early and squeeze as much into your days, then you'll want to make sure you have allocated a few more days than the 'minimum suggestion' we give you on our website.  Consider how you like to travel, as everyone is different with regards to this
3. Find out what other events are on when you are travelling
Consider specific events that may have an impact on areas that you are planning to travel. An example is Australian school holidays – these will impact camping areas around the coast. Motorhome hire through these times will require a bit of extra planning – consider pre-booking camps/experiences.
Another example is if you are heading to Darwin/Cairns/Broome anytime during the dry season (particularly June/July/August) if you want a night in town after or before returning your motorhome hire, pre-book this in advance to save any disappointment with availability as these are the busiest time in these locations. During these popular months, apart from it being a great time for international travellers to visit these amazing areas, it is also the time that a lot of those from the southern states head north, to experience the warmer weather. This all puts pressure on the camping areas.
4. Take some time to plan a rough route to ensure you will be able to see and do everything you want to do, so you don't end up wishing you had more time or planned the trip differently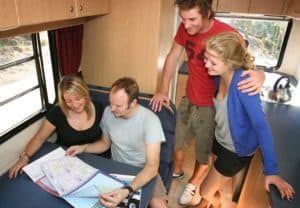 For some, 'winging' their trip will be fine and work well, however if this is a big trip for you and you may not be back for a while, take some time to roughly plan your trip to ensure you have enough time to see everything you wish to see and do. We have loads of tools and resources on our website to help you with this.
5. Travelling with others
You may be travelling with another couple or two. 99% of the time they take individual motorhome hire, however sometimes for those that are new to motorhoming, they may like to share a motorhome with another couple for the trip, perhaps to save fuel etc.  Do think about the experience – sometimes it is worth getting a smaller motorhome each, just so you have a bit more flexibility or space from each other. If you haven't travelled together before, it can be very different being in someones company 24/7 than seeing them occasionaly for social catch ups.  This will impact your holiday experience.
Have a conversation before you leave to make sure you are on the same page too – will you be with each other all the time or will you add in some flexibility with the arrangements of a night or two away from each other if you want to see different things. Great to be on the same page in terms of expectations!
6. Book your motorhome nice and early
Motorhome hire rates can change regularly until a confirmed booking is made. Some of our suppliers also offer an early bird discount, others simply build it into the rates that they offer. From our experience though we can tell you the best rates and how early to book it. It also takes all the stress out of the holiday planning if there is plenty of choice in terms of motorhome hire availability as options get very slim the closer you get to your travel dates.
7. Consider where you are getting your information for holiday planning

There are so many tools and information sites these days to help you plan your motorhome holiday in Australia and our website is no exception! We have loads of information and tips we provide for free to ensure you have the best holiday experience. However, sometimes we hear of people planning their entire holiday around something an acquaintance told them from their experience and often this is great, but sometimes holidays can be impacted because of someone else's experiences and you may avoid an entire area unnecessarily.
An example of this could be Australia's outback – I've heard people say there is 'nothing out there' or 'people are hiding in the bushes to rob you' – both of which are totally untrue. Our perception regarding our experiences differs greatly from person to person so it is important to consider where you are getting your intel from, when planning an Australian motorhome holiday.
We hope you have found our 7 tips for Motorhome Hire in Australia useful.  Our website has so many tips and tools to help you get the most out of your motorhome hire. At Gallivanting Oz we use a range of suppliers to ensure we match the best motorhome to your needs, we share our experience and pride ourselves on our service. Get on touch with us if you'd like to find out about your camper hire!