Sunseekers flock to Brisbane all year round!
The Queensland capital enjoys sunshine pretty much all year (it's not called the sunshine state for nothing!) with its subtropical climate defined by warm or hot weather for most of the year. This makes it the perfect location for picking up your Brisbane motorhome rental and setting off from Brisbane any time of year, the hard part is to choose whether or not you head north, south, north west or loop through Queensland and end up dropping off your motorhome hire back in Brisbane!
Depending on the length of your hire there are a number of routes that lend themselves perfectly for motorhome rental from Brisbane. You could choose to head south
from Brisbane to Sydney (we suggest 7 days minimum as this route is around 1,000 km from Brisbane). Or you could head north from Brisbane to Cairns (we suggest 14 days minimum as this route is around 1,700 km from Brisbane). Another option is to consider doing the Queensland loop (which we suggest 28 days minimum as the loop we recommend is around 4,800 km to do). We have more details on the specifics of these routes here:
The weather in Brisbane
Summer months are December to February and is generally the hottest and stickiest time of year. With the average high temperature of 30oC and lowest 23oC (high 82oF and low 72oF) it can get pretty humid in the summer months. You'll find that many of the highlights and activities are along the coastline, which brings in a sea breeze to keep the temperature feeling a little more bearable! Summer here, is also the wet season, meaning this is when we see the highest rainfall. In saying that though, you'll still spend most of the days in sunshine and if any rain comes, more often than not, it rolls in late afternoon.
Autumn months are March to May and the average day temperatures are still pleasantly warm (average high temperature 26oC and lowest 19oC (high 77oF and low 64oF), some days even hot but most of the humidity will have dropped off and the rainfall noticeably starts to drop off too.
Winter months are June to August and much of the weather is dry and mild with the average high temperature of 20oC and lowest 10oC (high 68oF and low 50oF). Early mornings can certainly be crisp but when the sun is up and raring to go and you will be too on your travels, you'll be peeling off some layers as the day warms up.
Spring months are September to November and the temperatures at this time of year are similar to autumn with warm sunny days and cool sea breezes, with average high temperature of 25oC and lowest 17oC (high 77oF and low 63oF).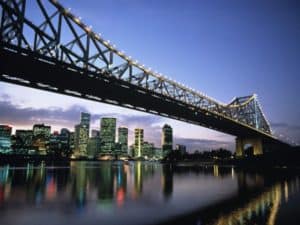 As you can see, Brisbane is an ideal place to start your motorhome rental, not only because of its desirable location but also because of its climate and all year-round wonderful temperatures. All you have to do is decide on what time of year you want to travel, then pick one of the many wonderful destinations and pick up your motorhome hire! There are so many wonderful routes for motorhome hire from or to Brisbane.
There is free access to all the resources and really useful information on our site such as more details on the travel routes and you can check out what vehicle options there are too. Get ready to start planning your adventure and get in touch!