To power or not to power at caravan parks? That is the question we get asked on a regular basis when it comes to motorhome hire!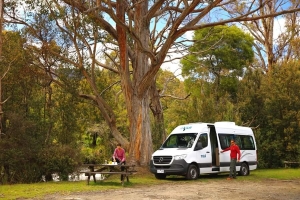 If you are relatively new to motorhome hire and would like to know a little more about whether you need to stay at powered campsites at a caravan park or can stay in an unpowered site, this article is for you.
If you're confused about what you can and can't do with motorhome hire, we have outlined the basic principles of camping on powered sites and freedom camping, and why we suggest doing both is a great idea! Knowing how to mix up your journey with power and unpowered campgrounds will add to your holiday experience.
Let's start at the beginning and explain a little more about your motorhome hire and the 'power' system.
Your rental motorhome has two batteries – one to start the engine as a car, and the other, which is referred to as a house or ancillary battery, runs a few items in the living space, such as the lights, water pump, and fridge.   This means, while you're travelling your fridge will stay cold and you can stop and use the on-board bathroom.
There are certain features in your motorhome hire such as the air conditioning unit in the main living space and the microwave which will not work on this ancillary or house battery as the draw is too great.  For these to work and the power points inside your motorhome hire, you'll need to plug into power at campsites.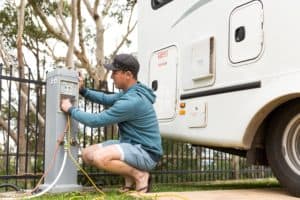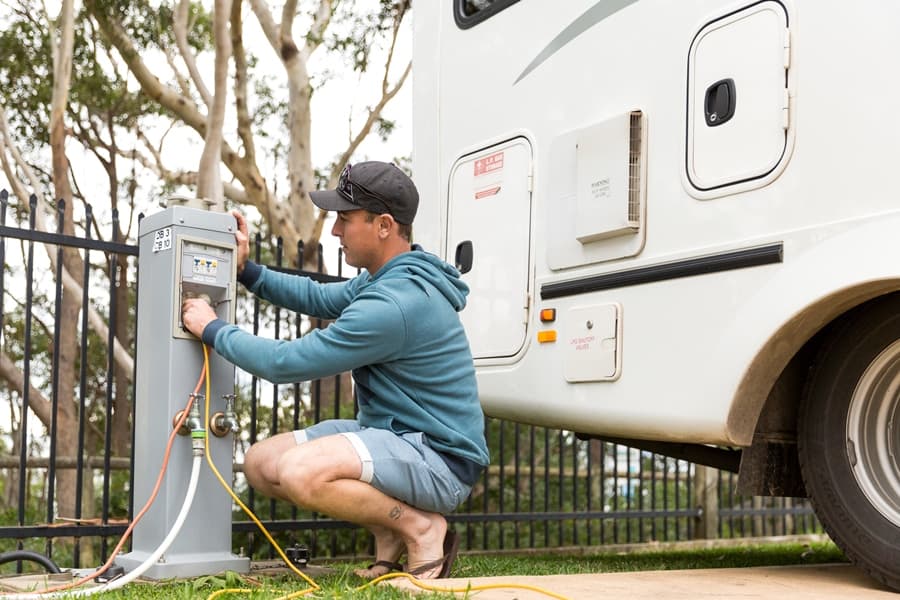 For motorhome hires that have a DVD player/flat screen and/or TV, these often also run off the 'house battery', but as the consumption of power is reasonably high, it's probably not a good idea when not plugged into power at night-time, as it may impact your fridge.
Your ancillary/house battery is trickle charged when you drive and by the solar panel on the roof (if your motorhome hire has one) and properly charged when you plug into a campground overnight. Without any charge going into the battery in these motorhomes, it would usually last 12-14 hrs with average usage (no DVD player being used).  Of course, other factors like heat or how many times the fridge, etc is being opened/water pump being run, will affect how long the battery will last.
We have a range of features with the motorhome hire we offer from our partners, and also some that have a good-sized solar panel on the roof, which gives a bit more flexibility with how often you need to plug into power.  You'll also find some motorhome hires have a 'three-way fridge' which means it runs off your LP Gas bottle when you are stationary (and off the house or ancillary battery while you are driving).
Camping without power (also known as freedom camping) means you can park up in a designated freedom camping spot, which may be something as simple as a rest area, or a beautiful location on the edge of the river for example.  Sometimes they are free and other times there can be a small overnight charge.  These are all great spots to spend the night and enjoy the wonders of nature and really feel like you are out in the wilderness.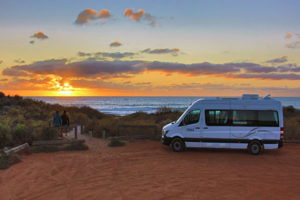 The freedom campsites that are free of charge usually do not have any powered facilities such as ablution blocks or washing facilities including camp kitchens. You are basically camping out in nature! There is one requirement to freedom camping and that is making sure you have an onboard toilet in your motorhome hire…. for obvious reasons!
You may also find unpowered camping sites in areas such as national parks or commercial campgrounds – these usually attract an overnight fee and have some limited facilities at the park.
When exploring in your motorhome hire, the general rule of thumb is that you will be required to plug your motorhome into power every second night so that you can charge up your ancillary battery and keep your creature comforts running while you are camping. We do suggest that you spend the first night in a powered site so you can be sure of giving the battery a full charge but also to familiarise yourself with the motorhome and how it works too.
A couple of our partners have motorhomes that are better set up for freedom camping than others, so please do let us know if that is important to you, so we can advise you of the best option to meet your needs.  This will also affect which are the best campsites to park up your motorhome hire.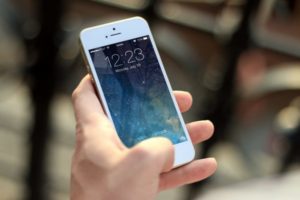 Freedom camping is a great way to mix up your holiday experience if you like going 'off-grid' for the odd night. You will need to make sure you stay in designated Freedom Camp areas and for an up to date list of where these are, we do recommend the Australia Camps Wide guide which is available to buy in book form or for the price of a coffee and cake, you can purchase the app. Find out more details on that here: Camps Australia Wide Guide
Further reading: Best mobile phone coverage in Australia – staying connected!
You've probably also heard of wiki camps which is a crowdsourced app that shares a list of caravan parks, overnight camping spots that are both free and low cost, and like the Camps Australia Wide guide provides a list of features to assist your planning.
If possible, try at least one night 'off power' when out exploring your corner of Australia – nothing beats getting out in nature. Don't forget to look up and enjoy the magnificent night sky!
If you are considering a motorhome hire for your next adventure, take a look at our motorhome options and get in touch with us if you are ready to start dreaming about your next Australian adventure!