If you are picking up your motorhome hire from Darwin then you might want to consider a trip to Litchfield National Park.
Grab yourself a drink and join Belinda and Russell in their happy hour as they share their top tips for visiting Litchfield National Park in a motorhome hire.
Litchfield National Park is a popular day tour destination from Darwin in a motorhome hire and you can choose to stay overnight in one of the campgrounds as camping is available year-round at Wangi and Florence Falls. If you are visiting Litchfield National Park it is free to enter, although you do need to pay for overnight camping. In our experience, the best time of year to visit this region in your motorhome hire is somewhere between May and September as this is considered the dry season. You will find that the temperatures and humidity are much more tourist-friendly and tourist attractions are open.
Litchfield National Park sits around 100 km south-west of Darwin and covers approximately 1500 km² of land and is home to a surreal, tombstone-like field of iconic magnetic termite mounds, some measuring up to 2m tall! These tiny little creatures have created a magnificent presence with their termite mounds built on a north-south axis which is cleverly designed to protect the interiors from the intense sun.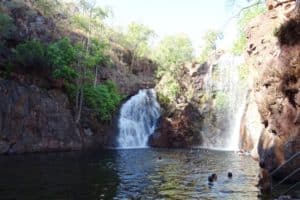 While you are in Litchfield National Park you'll find it hard to miss its stunning waterfalls that cascade into crystal clear pools. Popular stops for those travelling in a motorhome are Buley Rockhole, Florence Falls, Tolmer Falls, and the must-see Wangi Falls.
Buley Rockhole with its series of natural spas and whirlpools is fringed by tranquil bushland and nearby is the spectacular Florence Falls, that cascade into a plunge pool, set in a pocket of monsoon forest. If you then hop back in your motorhome, head towards Wangi Falls, stopping at attractions en route like Tolmer Falls where these falls cascade over a high escarpment and fall into a deep plunge pool. Here you'll find a viewing platform at the top and access to the bottom of the falls is restricted in order to protect the habitat of colonies of ghost bats and orange horseshoe bats.
While you are here, you'll want to visit Litchfield's largest and most accessible waterfall, Wangi Falls. Here you can swim in the plunge pool, picnic with roosting fruit bats and take a walk to the top of the falls.
Litchfield National Park is a spectacular place to visit and has all the following facilities situated within it:
Public toilets
Disabled access
Picnic areas
Campgrounds
There's a café at the Wangi Centre located at Wangi Falls
There's a ranger station
Watch out for the 4WD roads and be sure not to take your 2WD camper hire down any of these!
Fire pits are allowed in signed areas only
Plenty of stunning walking tracks
If you are thinking about a motorhome hire from Darwin and are keen to find out more about what type of motorhome you could hire for your trip, get in touch with us and we can show you the range of vehicles we have on offer and make sure it is going to suit your needs.