Tasmania is a beautiful island that gives you the feeling as though you are on the edge of the world!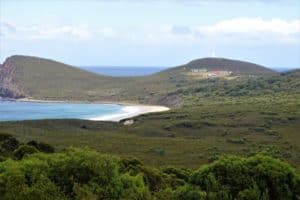 This island state off the south coast of Australia is well known for its vast, rugged wilderness areas, heritage estates, rich farmland, fine foods and cuisines and world class views displaying nature at its best!  And picking up a motorhome hire from Hobart is a popular thing to do!
The stunning city of Hobart  is an incredible place to begin your adventure of this remarkable island state, however it will be worth checking out the weather for the best conditions, so you can maximise the activities you plan on doing while you are there!
You'll be picking up your motorhome hire from Hobart, the only depot location in Tasmania, so unless you plan on returning your vehicle to the mainland, you'll be doing a loop and ending up returning your motorhome hire in Hobart.
If you really want to absorb yourself in the true wonders of Hobart and Tasmania then we recommend a minimum hire of 14 days, but if you can stretch to any longer, it won't disappoint! Most of our retired clients, tend to go for 21 – 28 days and some even longer. Check out the Tasmania travel route here where you'll pick up your motorhome hire in Hobart and drop off Hobart too.
So, when is the best time to go?
Tasmania has four distinct seasons (unlike the majority of Australia) and if you want to know about the weather today in Tasmania, you need to keep asking every five minutes!  This is because that is how often the weather can change. It's so different from the rest of Australia!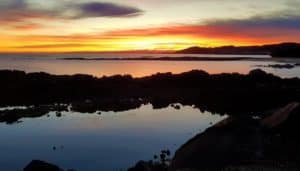 Summer months are December to February with an average high temperature of 22oC and an average low of just over 11oC (71oF – 52oF). It is usually found that the hottest areas of the state are in the valleys west of Hobart whereas up in the highlands temperatures are much cooler. Regardless of where you are in Tasmania over the summer months, you'll want to pack lots of layers as weather patterns can suddenly change.  The summer months are generally wet but in saying that Hobart is often Australia's driest state capital, yet just 5 hours drive west to the coast at Strahan – the gateway to the rainforest, is one of the wettest places on earth!
Autumn months are March to May the weather is changeable as are the colours of the land as autumn sets in. The average high temperatures are 15oC and average lows of 60oC (59oF – 43oF). Rainfall is slightly more than you can expect over the summer months.
Winter months are June to August and it is still absolutely gorgeous in Tasmania, even with an average maximum temperature of 12oC and an average low of 4oC (53oF – 39oF). Although the temperatures vary drastically depending on where you are in Tasmania and winter sees the most rainfall, this can be a beautiful experience where you could be standing on the shores of Lake St Clair in the snow with a wild wallaby standing just a few feet away and there's nothing that beats going back to your motorhome hire from an exhilarating bushwalk and cracking open a delicious bottle of Tasmanians finest wine to soak up the memories of the day!
Spring months are September to November and is the season of frequent changes as the winter months start to take shape of summer weather patterns. Average high temps are 17oC and average lows of 7oC (63oF – 45oC). This is a great time to set off from Hobart on the shoulder season of one of the busiest times of the year to explore Tasmania.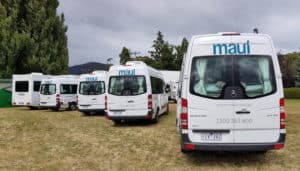 We offer escorted motorhome tours of Tasmania which are very popular – let us know if that is something you'd like to find out more about that. Otherwise, if you'd like to do it on your own, we have a wide range of motorhome hire options from Hobart in Tasmania to suit your needs and budget.
If you are looking to pick up your motorhome hire from Hobart, then check out what vehicle options are available here and get in touch so we can send you a personalised report with costs for the best vehicle to suit your needs.