With an average of 8 hours of sunshine a day, Queensland is often beautiful one day and perfect the next, making Brisbane or Cairns the perfect pick up location for your motorhome hire.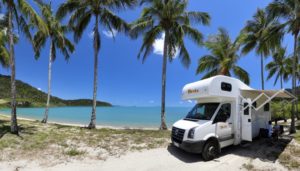 Queensland is the second-largest state in Australia and with such a diverse landscape, it makes it the perfect playground. With its pristine beaches, the breathtaking Great Barrier Reef, lush rainforests to the vast outback – when you holiday in Queensland in your motorhome hire you do it against a backdrop of natural wonder.
Brisbane is the capital of Australia's Sunshine State and it is a great place to start your Queensland motorhome hire adventure or you could collect your motorhome hire from Cairns.  Famous for being the gateway to the Great Barrier Reef, Cairns is also home to the Wet Tropics World Heritage Rainforest.
We have lots of Queensland locations for you to visit.  Also, on our website, are two popular suggested routes which are perfect to explore in your motorhome hire and family road trip through Queensland. One takes you along the coastline from Brisbane to Cairns, where we suggest 14-21 days and the other takes you on a loop through the Coast and Outback, where we'd suggest at least 28 days for the loop. Each of these options will give you a very different experience, so depending on what type of holiday experience you want (besides time) will determine most likely which direction you will want to go.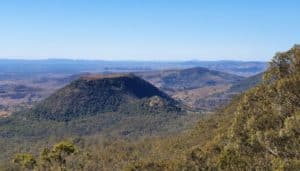 With the iconic red dirt, big skies and even bigger characters, there's no better way to experience the spirit of Queensland than with a visit to the outback. If you are heading inland to do the Outback loop up to Cairns then you'll have a great time exploring one of the most diverse touring routes in Australia! Deeply ingrained in Australian heritage, history and folklore you'll come across some wonderfully weird and whacky things like a musical fence in Winton which is also the town where Banjo Patterson wrote Australia's beloved song Waltzing Matilda (…that back in the 70s very nearly became the national anthem for this country!) or you could tread in the footsteps where dinosaurs once roamed the earth.
The route for this Outback loop usually takes most people from Brisbane, out to Roma, through Longreach, Winton and Mount Isa.  From there, heading to Cloncurry, you can either head directly out to the coast to reach Townsville before making your way up to Cairns, or if you prefer a bit of a longer adventure, take our favourite route to Normanton, before heading out to beautiful Karumba, which is in the Gulf of Carpentaria, From there, you can take the sealed Savannah Way, from Normanton to Mt Surprise back out to Cairns.  If you have time, call into the Undara Lava Tubes for something different, and you may also like to dip your toes into the creek beside the highway at Innot Hot Springs.
Once you arrive at the beautiful Queensland coastline near Cairns, you are now essentially on the coastline route from Cairns/Brisbane or Brisbane/Cairns. If you are not dropping off your motorhome hire in Cairns you're in luck as you'll get to explore more of this beauty as you travel south along the Queensland coastline.  Experience a great mix of stunning beaches, tropical rainforests and of course the worlds largest coral reef, the Great Barrier Reef.
From Cairns you could also venture north a little to Port Douglas, the Daintree or even Cape Tribulation before heading south; or perhaps as part of a smaller trip if you were going to pick up and return your motorhome hire to Cairns.  It is also a sealed road to Cooktown if you'd like to learn more about this fascinating area and are travelling in a 2WD motorhome hire.  It is worth noting that if you wish to visit Cape Tribulation, you will need to put your motorhome on the ferry – some of our partners require special permission to do this.  It is a 4WD track, called the Bloomfield Track from Cape Trib to Cooktown, so for those travelling in a 2WD motorhome hire, you will need to head back across the Daintree River to the southern or Cairns side, before heading up to Cooktown.
Continuing your road trip down the Queensland coastline the top picks to explore on your way down could be:
Stopping into the beautiful coastal village at Mission Beach
Pop-into Townsville and drive up to Castle Hill for some spectacular views over the city and beyond
You can go snorkelling at Horseshoe Bay at Bowen or visit the gateway to the Whitsundays at Airlie Beach
Stop off at Rockhampton before a fabulous detour to 1770 and Agnes Waters
From 1770 you can take the pretty secondary road down to Bundaberg and then head out to Bargara for more enjoyable scenery
If you fancy taking a day trip out to Fraser Island, then Hervey Bay is a great place to stop at if you want to check out one of the largest sand islands in the world
Continuing your journey south on the Bruce Highway make sure you save some time to spend around the Noosa area. It offers everything from boutique shopping, lots of water sporting activities as well as the nearby Noosa National Park, the area is full of great walks and wildlife. Wonder if you'll get lucky and spot a koala!
On your back down from Noosa, we suggest heading back to Brisbane in your motorhome hire through the Sunshine Coast Hinterland which takes you through places like Maleny and Montville. These exquisite little towns have a certain charm to them, in their style of shops, little boutique cafes and restaurants. They make a great place to stop for lunch as you are passing through to the Glass House Mountains. From here is about an hour's drive back to the Brisbane depot, making it the perfect place to spend your last day in your motorhome hire.
Whether you are doing the Queensland loop or starting from Brisbane or Cairns, it won't be hard to fill your itinerary and you'll wish you had more time to explore! Did you know that Queensland has over 250 national parks?
If you are keen to get out on the open road, feel the sun on your face, the wind in your hair and the sand between your toes, we can help!  To get you started, you would probably like to see what type of motorhome hires are available – you can take a look at your options here. Get in touch with us here if you would like to receive your personalised information pack for your next adventure!