If you are a little nervous or worried about driving something that seems big, such as a motorhome hire, then these top tips might help you feel more comfortable with what to expect.
We often get asked how easy it is to start driving a motorhome hire once picked up from the depot.
Here is a list of the top 5 questions we get asked about driving a motorhome hire:
Can I drive a motorhome hire on my normal driving licence?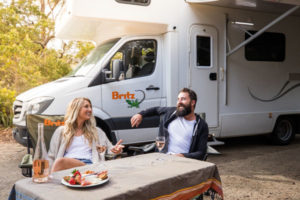 Great news! The answer is yes. You do not need to have a special driver's licence to drive the motorhomes that we hire. As long as you have your open drivers licence and meet the minimum age criteria, you're good to go! It is worth noting if you are heading from overseas and your driver's licence is not in English, then an accredited English translation and/or an International Driver Permit is required. Make sure you bring your licence with you as you will be asked to produce it when you collect your motorhome hire.
We strongly suggest that even if only one person out of a 'couple' usually drive, that you pop both names down to drive if you both hold licences.   It's a great idea if one of you is more of a nervous newbie when it comes to driving motorhomes, to have a 'go' in a non-pressured situation to get used to the motorhome before you 'have' to if the main driver was not feeling well on one of the days while on holiday.
Most of our partners do not charge extra fees for multiple drivers, or it is included in the popular package, which makes it super easy to split up some of the driving over the duration of your fabulous road trip!
There are some restrictions regarding the age of the driver and how long one has had their full drivers' licence.  These vary from partner to partner, but in the most part, the driver must be at least 21 years of age.  Some of our partners have a requirement of the driver having held their licence for a minimum of two years, where others have a maximum of 80 years of age for the drivers.  For our more 'seasoned' drivers, some of our partners have no maximum age…if you have your licence, you're good to go!
So, now you know that you can drive one of these beasts, what is it like driving one?
Is it difficult to start driving a motorhome hire?
Truthful answer? Well no! They are not difficult to drive; although initially, it will seem a lot larger of course than your sedan you may usually buzz around town in and of course you will have to make certain allowances due to its size. Most of the larger motorhomes are automatic transmission with many modern features like a car.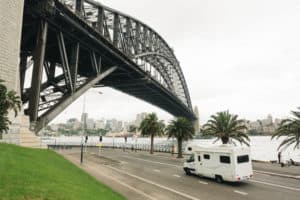 So yes, you'll find that there is an adjustment period, however, it won't be long, and you will be feeling confident with its driveability and actually how easy they are to drive.
Motorhomes come in various sizes, depending on the features that you'd like onboard.  You'll find that the more people they sleep the bigger they are…but don't let that put you off!
The motorhomes are equipped with oversized mirrors and you'll even find that a number of motorhomes for hire are also equipped with reversing cameras, which as you can imagine, is comforting! If you do pick up a motorhome hire without one, then you can always ask your passenger to guide you in and out of any tricky parking spots.
Another great benefit to driving a motorhome is that the seats are positioned higher up than you would normally be used to in a car, which is great as it adds to your visibility.
Are motorhome hires easy to park?
The answer to this one depends on where exactly you are trying to park it! If you are trying to park it outside the front door to a shopping centre, you will be challenged as many of the motorhome hires do not fit into a standard-sized park, and not really suitable to drive into an underground car park!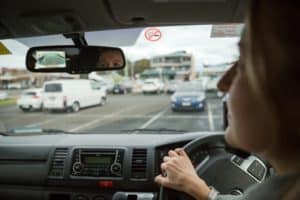 The great news though, is that many shopping centres, especially outside city centres which is where most travellers head to, offer specific parking for oversized vehicles such as your motorhome hire.  Otherwise, if you are looking for parking at shopping centres have a look for parking spots further away from the entrance as you'll find that most of the time these spaces are empty.
While most of our partners offer protection for overhead damage when taking the popular top-level insurance package, it is still a very good idea to look up when in car parks for any low hanging sunshades/awnings. While you might have peace of mind protection, it is still an inconvenience to your holiday if you do have an accident, so much better to be diligent with these!
You will also find once you're out on the road, many regional tourist attractions also offer special parking for larger motorhomes hires to keep things nice and simple for you too.
Our top tip for parking is to make full use of your passengers to help you out as they make great spotters to check for low hanging branches or anything sticking up out of the ground that you may not see when pulling into a camping area at the end of the day.
Just remember that these vehicles are longer and wider than you are used to so take it slow and give yourself plenty of room for manoeuvres!
Will I be shown around the motorhome?
When you go to pick up your motorhome hire, you will be given a thorough briefing of the vehicle. This will include a run-through of all the features of the motorhome inside and out, including how to change the toilet cassette (if you have an onboard toilet and shower)!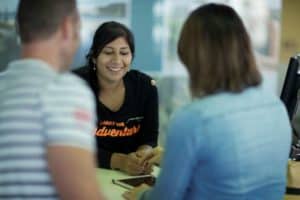 Pay full attention to this briefing! This may seem obvious, but it may be overwhelming with all the information you will be given on pick-up day, plus possibly changing time zones and flights all on the same day. Ask questions! If there is something you are not sure of ask away. The depot staff are used to talking to customers who are new to motorhome hire and they would much prefer to send you on your way knowing you are happy and confident about the motorhome.
You'll also find some of our partners have a video system inside the motorhome where you can watch little videos of some of the important features of the motorhome you're in – this is perfect for our first-timers, or even our weathered wanderers who might be in a different model of motorhome to what they are used to. Sometimes things can seem quite straight forward at the depot, but after a couple of days, once you are in holiday mode, you may forget how to do something (like empty the wastewater or toilet cassette for example).
You'll also have an on-road support team along with you too, should you have any questions.
Who do I contact if I need to get in touch with anyone regarding the motorhome hire while I am out on the road?
All motorhome hires come with 24-hour roadside assist. If you have any questions while you are out on the road regarding your motorhome hire, you can easily contact this number with your questions, and you will be assisted.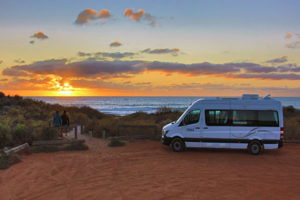 You'll get all the details when you collect your motorhome and you'll also find the phone number for your ease, on the key tag. Most of our partners also have an email address if your question is not urgent and that is easier for you while on the road.
Once you are accustomed to driving your newfound home on wheels and recovered from the hassle of having to unpack only once, then the only thing standing in your way is the tough decision of which idyllic location you are going to visit first!
With the flexibility of a motorhome hire and having the freedom to stop and stay longer in one location if you want to, you'll find that you'll already be planning your next adventure before you've finished this one!   We're constantly told by our lovely clients, that wherever you end up, it is one of life's treats when you are exploring this amazing country in a motorhome hire!
If you are still looking at itineraries and planning your trip, take a look at our Travel Routes page, which gives you lots of information about where you can go, suggested length of time to hire and the best time of year to go. You could also check out our range of motorhome vehicles here and get in touch with us if you would like to receive a personalised information pack for your trip.