Gateway to World Heritage listed Kakadu National Park and the lush and remote Top End, Darwin is a popular waterfront city, fringed by tropical parkland and beaches. You'll love the relaxed outdoor lifestyle here – colourful beachfront markets, friendly locals, vibrant international food scene and breathtakingly magnificent sunsets.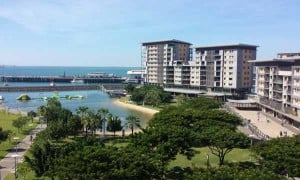 Stroll through the city centre of Darwin any night of the week and you'll be greeted with music, chatter and laughter from the alfresco restaurants and pubs that line the streets, the warm air scented with delicious food and fragrant frangipani trees. With its eclectic fusion of Asian food markets, crocodile encounters, open air movies and sunset cruises, Darwin may be laid back, but it could never be described as dull!
And when it comes to this tropical capital, we know it like the back of our hand – we begin or end over half of our escorted motorhome tours here!
If your motorhome or campervan hire in Australia begins or ends in Darwin then it will be worth your while reading this blog.  If you haven't yet organised your motorhome hire, or are unsure on what vehicle options are best suited to your travel needs, get in touch with us and we will happily work with you to find you the best motorhome solution for your travels!
We've put together some useful information on the Darwin area such as where the depots are located, where to stock up on groceries and our pick of spots to get your head down, in case you have a few days in Darwin on either side of your motorhome hire.  Keen to check out the best attractions? Make sure you get your hands on our Highlights of Darwin printout!
Darwin Motorhome Depot Locations
For those of you who have just arrived in Darwin and plan on picking up your motorhome or campervan, then the great news is that the two main depots are easy to get to and very close to each other.
Our tip: grab yourself a taxi from the airport to get to the depot and collect your motorhome.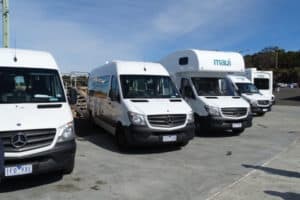 Unfortunately, the motorhome hire companies don't provide transfers to or from the airport, but there's no need to struggle onto a bus – all the depots are really close to the airport, so a taxi is definitely your best option.  There are always a few taxis awaiting the arrival of flights, so there's no need to pre-book.  When returning to the airport from the depot, the depot staff will happily call a taxi for you.
Apollo / Cheapa / Hippie and Star RV depots are located at 440 Stuart Hwy, Darwin City, NT, 0820. Tel: 1800 777 779
Distance (approx.) from airport 9km / City 7km
Taxi Fare Approx. Airport $27 (AUD) / City $21 (AUD)
Maui / Britz / Mighty depots are located at 17 Bombing Road, Winnellie, NT, 0820. Tel: 1800 827 821
Distance (Approx.) from airport 9.5km / City 7.5km
Taxi Fare (Approx.) Airport $27 (AUD) / City $21 (AUD)
Nearest Supermarkets
As we are regular visitors to Darwin, we've been able to check out all the best places to shop – particularly when stocking up on groceries once you have your motorhome… believe us, all supermarkets are not created equal when it comes to parking for motorhomes!  (The depots are located right next to each other, so these directions work from either one)
Karama Shopping Plaza:  This small shopping centre is the one located closest to the depots.  It's in Karama, 6kms away and it has a Woolworths supermarket with open-air parking at the front.   Address: 37 Kalymnos Drive, Karama, NT, 0812.
Nightcliff Shopping Village:  If you're feeling a few nerves about your first carpark in a big vehicle, then we'd suggest driving here – it's under 10 minutes from the depot and has a huge open air carpark where you can easily find 2 end-to-end spaces to park in…and afterwards you might like to pop down to the lovely foreshore (also lots of parking) which is a favourite local picnic spot.  Address: 159 Dick Ward Drive, Nightcliff, NT 0810.
Palmerston Shopping Centre: This is a convenient place to stop if you're heading straight out of town as it's just off the highway, 14km out of Darwin.  As it's a large centre, this is a good option if you prefer more choice.  Address: 10 Temple Terrace, Palmerston City, NT 0830.
Recommended Hotels/Motels
We don't have any affiliations with hotels in and around Darwin, but for ease of reference we have provided a couple of places below that consistently get good reviews. You can also look online for some last-minute deals (Wotif.com and Booking.com are good websites) although please bear in mind that, if visiting between May-September, accommodation gets booked up well in advance.  If you're planning on staying in the city centre, using those general websites is the best idea.
Otherwise, these may work for you:
Mercure Darwin Airport Resort – Sir Norman Brearley Drive, Darwin (650m from airport) T. 08 8920 3333
The Leprechaun Resort – 378 Stuart Hwy, Darwin (5km from CBD/7km from airport) T. 08 89843400
Darwin Central Hotel – 21 Knuckey St, Darwin (In CBD/12kms from airport) T. 1300 364263
Recommended Campgrounds
Again, we have no affiliation with any campgrounds, but are happy to recommend a couple to you, based on our own experience and client feedback.  If you don't want to travel too far on your first day then either of these would be an excellent option!
Discovery Parks (Shady Glen) – 11 Farrell Crescent, Darwin (11.5km from airport). T. 1800 662 253
Hidden Valley Holiday Park – 25 Hidden Valley Road, Darwin (11.5km from airport). T. 08 8984 2888
Getting around Darwin
If you're driving, the traffic is usually free flowing and no one is really in a rush. As Darwin sits out on a peninsular, the CBD is quite compact and easy to navigate.  Regardless of whether you're coming from the depot or the city, the main route out of Darwin is the Stuart Highway so it's very straightforward to get yourself onto the open road!
Darwin is incredibly easy to get around and walking or riding a bike here is a joy, with Bicentennial Park running the length of the Esplanade with a walking/cycling path running from Doctors Gully in the north to the Wharf Precinct in the south.  We definitely recommend exploring on foot. Park up your motorhome and grab a map from the Tourist Information Centre (Tourism Top End at Cnr Knuckey /Mitchell Streets).
To get further afield, there is also a fantastic bus system that will get you to most places that you need to go.  You'll find route details at the Visitor Information Centre (Tourism Top End at Cnr Knuckey /Mitchell Streets) or call NT Transport on 08 8924 7666 (Mon-Fri, 07:00-16:30).  Failing that, ask one of the friendly locals!
On weekdays, parking in the CBD can sometimes be a bit tricky with the timed on-street 'pay and park' spaces in high demand (fees range from $1.30 – $2.50 per hour). Be sure to have coins on you as not all of the machines accept credit cards.  There are a few open air carparks in the CBD area that you can try – along Mitchell Street and a less busy one on Wood/Daly Street ($3.20 per day).  Weekends however, are easy, with all CBD parking being free (with the exception of Zone A parking, which has a free 2-hr limit on Saturdays)
If you are planning a stopover in Darwin before you set off on your travels, we have created a Darwin City Highlights document you can download for FREE here and you can read our blog here.
If you've already got your motorhome booked check out our Travel Routes. We have lots of useful travel tips and free downloadable information sheets to read on 12 of the most amazing routes around Australia.